A Pharmacist Allegedly Denied A Woman A Miscarriage Drug Because Of His Religious Views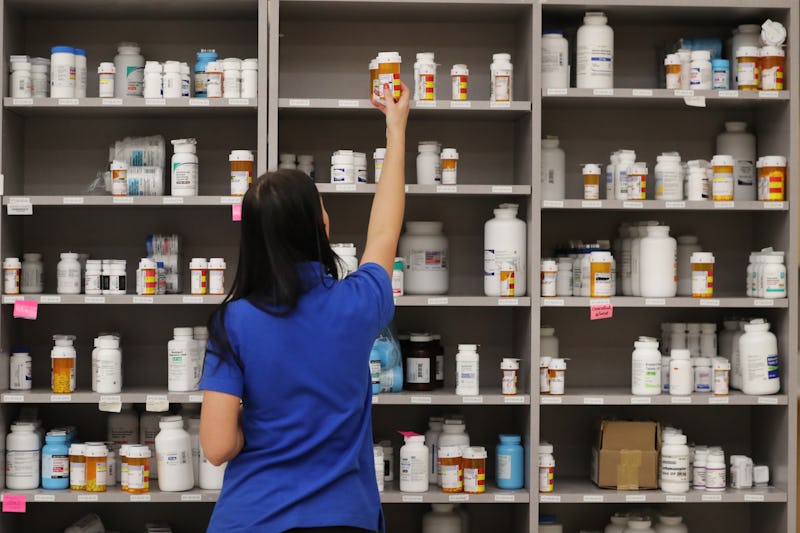 George Frey/Getty Images News/Getty Images
The ACLU is asking a drug store company to take action to protect its customers' rights after a Michigan pharmacist allegedly denied a woman a miscarriage drug, citing his Catholicism. That woman, Rachel Peterson, in conjunction with the ACLU of Michigan, is now demanding that the company, Meijer, take steps to prevent that from happening again.
"When you're at one of the lowest moments of your life, you don't expect this sort of demeaning treatment," Peterson said in a statement, via the ACLU. "A pharmacy should not be able to deny patients medication prescribed by their doctors based on the personal beliefs of a particular employee."
Peterson told the Detroit Free Press that she was trying to fill a prescription for misoprostol, which has several uses, including preventing stomach ulcers, treating postpartum hemorrhaging, and inducing labor. It can also be used to help complete miscarriages.
A Meijer spokesperson told the Press that their policy requires pharmacists with moral objections to filling prescriptions ask another pharmacist to step in, or else transfer the prescription to another pharmacy. The ACLU said in a press release that the pharmacist refused to do so, and the organization has requested that Meijer investigate the situation and implement a policy to ensure patients have access to all medications they are prescribed.
While refusing to fill a prescription — particularly one associated with miscarriages — is noteworthy in and of itself, Peterson told the Press that she had already had a particularly distressing lead-up to needing the medication in the first place. She and her husband, she said, had been struggling to conceive, and upon finding out that she was pregnant with twins, Peterson had a series of complications. First one fetus died, and then, weeks later, the second one died, too. She tried to wait for her body to miscarry naturally, but after waiting a while, her doctor ultimately prescribed her misoprostol, in part to prevent Peterson from developing sepsis.
Peterson attempted to explain to the pharmacist precisely why she needed the medication, but he allegedly told her that he didn't believe her. "Our client clearly was a victim of sex discrimination. Had the customer been a man prescribed the same medication, that is also commonly used to treat ulcers, the pharmacist would have filled it," ACLU of Michigan policy strategist Merissa Kovach said in a statement.
The letter that ACLU sent to Meijer, which was made public, rehashed Peterson's story. "We demand prompt action from Meijer," they wrote. "No one should have to endure humiliation and the inconvenience of driving six hours to receive time-sensitive vital medication. … Meijer must implement a policy to ensure that all customers in the future receive their medication without undue delay regardless of the personal beliefs of its pharmacists."
Peterson's story is not the first of its kind. As it stands, pharmacists refusing to fill prescriptions because of moral objection occupies a legal gray area, per NBC. Only several states currently have legislation requiring that pharmacists fill all prescriptions, and many states have no related legislation at all. Given the current political climate surrounding reproductive rights, the onus to effect change largely remains in the hands of those dispensing medication in the first place. Whether Meijer will alter its policies remains unclear.