There's A Petition To Replace A Confederate Monument With A Statue Of Missy Elliott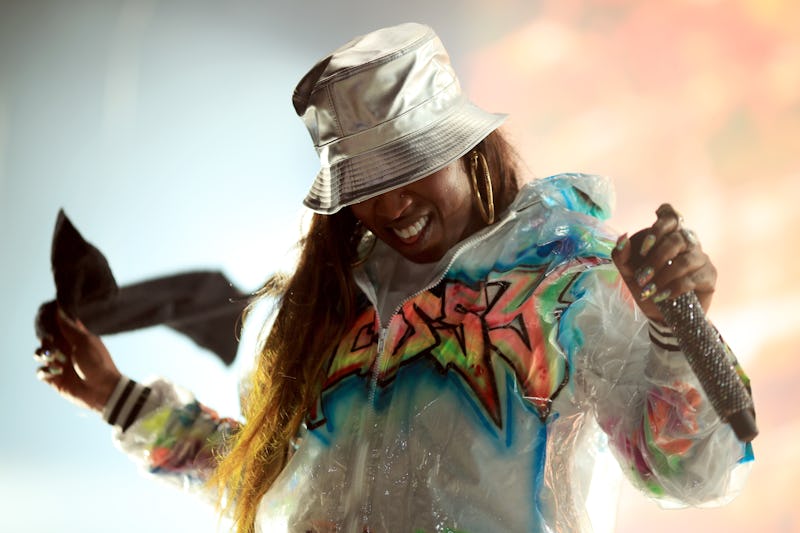 Christopher Polk/Getty Images Entertainment/Getty Images
Debate over what to do with Confederate-era monuments has surged since a rally organized by white nationalist groups protesting the removal of a Robert E. Lee statue ended in deadly violence last week in Virginia. But for one town, there may be a particularly ingenious solution. Thousands of fans are rallying to have a statue of Milly Elliott replace a Confederate monument in the rapper's Virginia hometown.
"We believe it is time to finally replace the Confederate Monument in Olde Towne Portsmouth, Virginia, near the intersection of Court and High streets, with a new statue of a true Portsmouth native hero," a Change.org petition begun last week by Virginia resident Nathan Coflin states. "Who better to encapsulate the culture and spirit of the city enshrined in a new monument than Grammy Award winning rapper, dancer, and record producer Missy 'Misdemeanor' Elliott?"
Coflin's petition has already garnered more than 13,500 of the 15,000 signatures it needs and continues to draw signatures, interest, and publicity daily. As Coflin wrote on the petition, "Mayor Rowe please pick up your phone...we're on the request line!"
You may be asking yourself, why Missy Elliott? To which I'm tempted to just say, who even are you? However, for argument's sake I will instead let Coflin's words help you see why there is simply no better choice:
Before she was "Missy Misdemeanor" she was Melissa Arnette Elliott, born on July 1, 1971 in Portsmouth, Virginia. Hailing from humble beginnings as the only child of a power company dispatcher and a welder at Portsmouth's lauded naval shipyard, she rose to become a platinum recording artist with over 30-million albums sold. All this without even once owning a slave.
Elliott was indeed born in Portsmouth in 1971 and reportedly graduated from the city's Woodrow Wilson High School. In the petition's letter to Portsmouth's mayor, vice mayor, and city council members, Coflin argues Elliott is a "local trailblazer" who "encapsulates the diversity and spirit of the fine City of Portsmouth in a way we should celebrate and honor."
And how does Elliott herself feel about the idea? "I don't know what to say," the rapper tweeted when she found out about the petition Saturday. "Just to see this warms my heart and it's so humbling to me."
Portsmouth residents have recently begun debating the fate of a Confederate monument in the city's Olde Towne. Portsmouth's mayor, John Rowe, has called for the statue to be moved to a less prominent spot in a local cemetery and a recent rally in support of removing the statue reportedly drew hundreds of supporters, according to the Virginia Pilot. But will residents agree to replacing the town's Confederate monument with one honoring a local lyrical legend? A counter-petition launched Saturday hopes the answer is no.