The Mom Whose Toddler Died After Her Release From ICE Custody Spoke Out In An Interview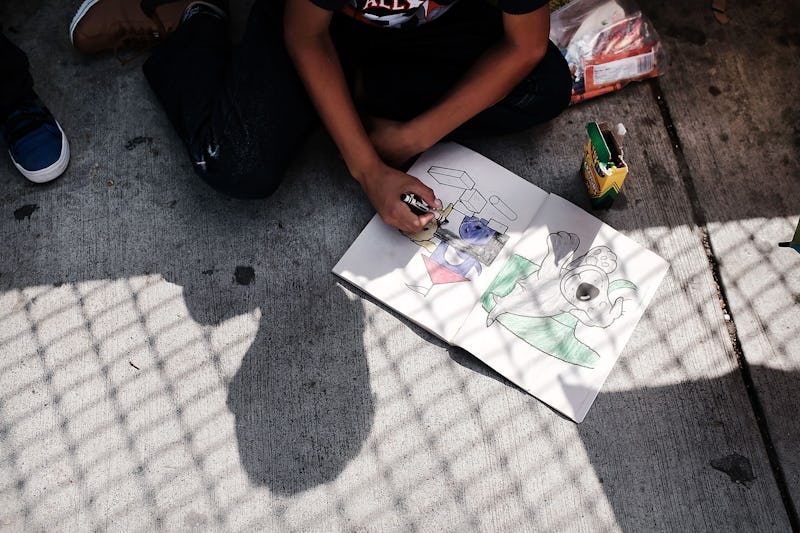 Spencer Platt/Getty Images News/Getty Images
United States Immigration and Customs Enforcement (ICE) faces a wrongful death claim after the mother of a toddler who died following ICE detention in May filed a legal claim seeking $60 million, according to ABC News. Yazmin Juarez claims her 1-year-old daughter, Mariee, developed a respiratory illness while being held in a facility in Dilley, Texas largely used to detain women and children. Even if Yazmin wins her case, though, the Trump administration's asylum policies could make it difficult for her to stay in the U.S.
UPDATE: On Friday, ICE Press Secretary Jennifer Elzea provided the following statement to Bustle:
U.S. Immigration and Customs Enforcement (ICE) ICE takes very seriously the health, safety and welfare of those in our care. ICE is committed to ensuring the welfare of all those in the agency's custody, including providing access to necessary and appropriate medical care. Comprehensive medical care is provided to all individuals in ICE custody. Staffing includes registered nurses and licensed practical nurses, licensed mental health providers, mid-level providers that include a physician's assistant and nurse practitioner, a physician, dental care, and access to 24-hour emergency care. Pursuant to our commitment to the welfare of those in the agency's custody, ICE spends more than $250M annually on the spectrum of healthcare services provided to those in our care.
As detailed in the June 2017 DHS Inspector General's report, the family residential centers are "clean, well-organized, and efficiently run" and the agency was found to be "addressing the inherent challenges of providing medical care and language services and ensuring the safety of families in detention.
EARLIER: Medical records obtained by ABC News show no evidence that Mariee was sick when she entered the Dilley detention center. Juarez claims the respiratory infection the toddler later developed wasn't treated properly, and ABC reports that Mariee was only seen by a doctor (as opposed to a nurse or physician assistant) once during multiple visits to the health clinic.
The mother and daughter were released when Mariee was still sick, The New York Times reports. Juarez's wrongful death filing claims Mariee wasn't examined before they were released, and their flight from Texas to New Jersey made the respiratory illness worse. She died after spending six weeks in the hospital. Bustle has reached out to Juarez's attorneys for further comment.
News of Mariee's death broke in August, when the American Immigration Lawyers Association said that a migrant toddler died after being released from ICE custody. However, the child's name hadn't yet been released, and ICE said in a statement to Bustle at the time that the agency couldn't fully investigate without knowing who the child was. Bustle has reached out to ICE for comment now that the 1-year-old has been identified.
Juarez told ABC that she and her daughter were escaping an abusive situation at home in Guatemala when they illegally entered the United States — a fact that could complicate her asylum claim if she still wishes to stay in the country. As part of the Trump administration's "zero tolerance" immigration policy, then-Attorney General Jeff Sessions announced in July that people would no longer be granted asylum for fears of domestic abuse.
Juarez's release in May indicates that she likely passed the initial credible fear interview. The Dilley Pro Bono Project told Bustle in July that it saw a rise in negative decisions at the same facility Juarez was held in after Session's announcement that month. But coupled with the administration's move to ban asylum for anyone who doesn't cross the border through an official border crossing, the new policy on domestic abuse survivors could still complicate Juarez's attempts to stay in the United States.
Katy Murdza, an advocacy coordinator for the Dilley Pro Bono Project, told Bustle in July that she worries domestic violence survivors seeking asylum will begin to be detained even after passing a credible fear interview.
As for Juarez's wrongful death claim, though, her attorneys told The Times that the government has six months to respond. "Having made the decision to jail small children," R. Stanton Jones, one of her lawyers, said, "the U.S. government is responsible to provide living conditions that are safe, sanitary and appropriate."