How Trump's Immigration Crackdown Could "Re-Traumatize" Domestic Violence Survivors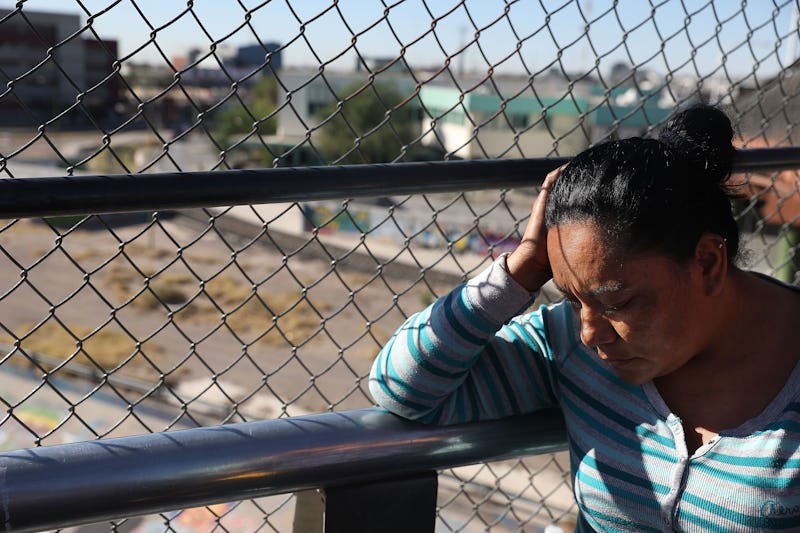 Joe Raedle/Getty Images News/Getty Images
The Trump administration's recent attempts to crack down on illegal immigration reach well beyond keeping criminals out of the country. In fact, Trump's "zero tolerance" immigration policy could have a grave impact on those seeking asylum in the United States, with domestic violence survivors escaping one prison only to find themselves potentially trapped in another.
"People think long and hard about making an asylum claim because they ultimately know that if they don't have sufficient facts and evidence, they're going to ultimately be deported," Jacob Monty, a Houston-based immigration attorney who previously served on Trump's Hispanic Advisory Council, tells Bustle.
Attorney General Jeff Sessions announced earlier this month that people citing fears of domestic abuse or gang violence would no longer qualify for asylum. This change, coupled with President Trump's executive order calling for families to be detained indefinitely, throws two new obstacles in the path of women migrating to the states to seek protection from domestic abuse: It's becoming much harder to obtain asylum, and they risk being detained for an undetermined amount of time if they try.
"If we aren't able to use those cases, it's a huge problem," Katy Murdza, an advocacy coordinator for the Dilley Pro Bono Project, tells Bustle. Murdza worries that domestic abuse survivors trying to escape men who treat them like property will be re-traumatized if they're detained for months on end after crossing the U.S. border.
The Dilley Pro Bono Project, which works with detained asylum seekers in Texas, has already seen an increase in women having their cases rejected after an initial credible fear interview, in which they must convince an asylum officer that they have a valid reason for seeking protection in the United States. The group tells Bustle it has received 21 negative decisions since Session's June 11 announcement, compared to a total of 31 from January through April. Not all of those rejections came in domestic violence cases, but the Dilley Pro Bono Project attributes the rise to Sessions' decision, at least in part.
Families held at the South Texas Family Residential Center in Dilley, the nation's largest immigration detention center, are typically released within three weeks if they pass that initial interview, according to Murdza. This timeline is enforced by the 1997 Flores Settlement Agreement, which dictates that migrant children who entered the United States with a parent can only be detained for a maximum of 20 days. A family's release allows them to move forward with their asylum claim while living in the United States.
However, Trump's executive order sought to end family separation by detaining families together indefinitely. As The New York Times notes, "a federal judge could refuse to give the Trump administration the authority it wants to hold families in custody for more than 20 days." That has yet to happen, although a federal judge has ruled that the administration can't separate families.
Murdza is concerned that the executive order means that women seeking asylum will soon be detained, even after passing their initial credible fear interview.
Indefinite detention would force women to fight their asylum cases while in government custody. Murdza believes that would be "detrimental" to their chances of obtaining asylum, primarily because they would have less access to evidence that could potentially prove they need protection.
When the Obama administration opened the South Texas Family Residential Center in 2014, families were detained for up to six months while they fought their immigration cases in court, The New York Times reported at the time.
"That's what would happen here," Murdza says. "They might never have a chance to fight their claim from outside detention, which is why we're so concerned about access to evidence."
It's still too early to know the full impact of Sessions' announcement, Katie Shepherd, an attorney with the American Immigration Council, tells Bustle. But she says the directive "threatened to drastically narrow the standards by which people fleeing gang and domestic violence can obtain asylum in the U.S."
An internal memo issued to asylum officers, which was written by the head of the Asylum Division for U.S. Citizenship and Immigration Services and obtained by Vox, wasn't as extreme as Sessions' initial statement. Sessions essentially overturned one precedent that established "married women in Guatemala who are unable to leave their relationship" could qualify for asylum.
Although the memo still leaves each case up to individual asylum officers, the guidance makes it more difficult to grant asylum based on what it referred to as "private criminal activity," such as an abusive spouse who won't let their partner leave the relationship.
The odds were already stacked against anyone seeking asylum in the United States. In 2016, 20,455 people were granted asylum — that's just 11 percent of the more than 180,000 people who applied, according to data from the Department of Homeland Security (DHS). The agency doesn't keep track of how many asylum claims are based on domestic violence. But the Dilley Pro Bono Project estimates that at least 20 percent of the women it meets with seek asylum on grounds of domestic abuse.
The Trump administration's "zero tolerance" immigration policy could drastically reduce these women's chances of being granted protection in the United States, as well as force them to fight their immigration cases from behind bars. And losing their asylum cases would inevitably mean facing deportation back to the country — and potentially the abuser — they were trying to escape in the first place.