This Netherlands Church Found A Foolproof Way To Stop A Family From Being Deported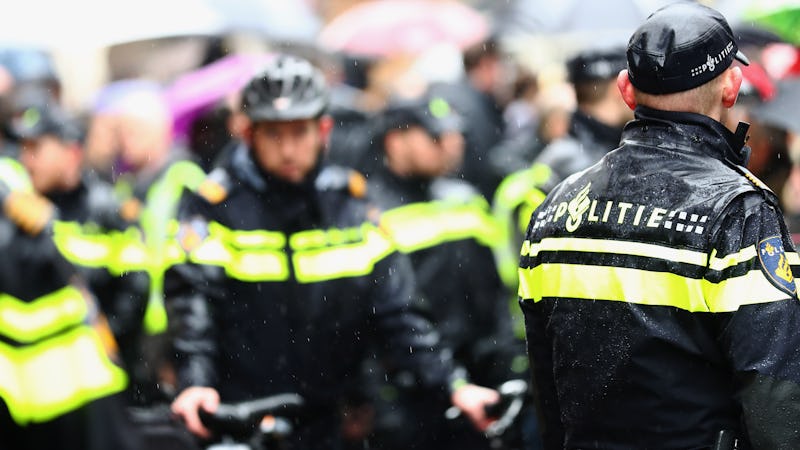 Dean Mouhtaropoulos/Getty Images News/Getty Images
An Armenian family who've lived in the Netherlands for over eight years is at risk of deportation — but not if their pastors have anything to say about it. Dutch law forbids police from entering churches during services, so for over a month now, the Hague's Bethel Church has hosted a nonstop service to protect the family, according to CNN. Participants say they'll continue until the threat is gone.
Per CNN, the service began in October and has already lasted more than 800 hours. It's being run by a mix of pastors and other volunteers, who fill a tightly-planned schedule of sermons that stretches through the night. Last month, Richard Pérez-Peña at The New York Times called it a "pious filibuster relay."
The volunteers come from all over the country and even other parts of the world. Sermons have occurred in Dutch, but also French, German, and English, per The New York Times. The church's main pastor told the paper there were "already more than 450 different priests, pastors, deacons, elders from around the country, every denomination, wanting to be put on the rotation to participate in this service."
All of this is being done to help the Tamrazyan family, who fled Armenia and arrived in the Netherlands in 2010, where they've been living ever since while waiting for verdicts on their asylum applications. They found out in October that their cases were rejected, so now they're at risk of being sent back to Armenia if the church service stops.
Organizers hope the government might intervene to change its verdict on their case. Theo Hettema of the Netherlands' General Council of Protestant Ministers told CNN that "behind-the-scenes" talks are going on with officials, but he can't elaborate for the time being. Reverend Joost Roselaers, a service participant, told CNN he hoped the government would make a new decision before Christmas. "But we will go on and on until it's clear that this family can stay," he added.
As in the United States, the Netherlands asylum process is long and rigorous. Because the Tamrazyan family includes three members who entered the country as children (they're currently 14, 19, and 21 years old), it was hoped they might be able to benefit from a provision in Dutch law called the "Kinderpardon" that's supposed to ease immigration regulations a bit on children. Kids without a residence permit who have lived in the country for over five years may apply to be approved as longer-term residents. But that doesn't always happen in practice, per CNN. Dutch legal expert Martine Goeman told the network that a majority of Kinderpardon applications are blocked.
The Tamrazyan family's case — getting rejected after living in the country for years — is not uncommon in the Netherlands. The country declined the applications of 28.2 percent of those who sought asylum in 2016, per InfoMigrants. In fact, it's such a prevalent experience that a group of denied asylum seekers banded together in 2012 to form the "We Are Here" collective. According to CNN, which profiled the group in 2017, it's made of around 200 asylum seekers who mostly fled conflict in Africa and the Middle East. They squat together in empty buildings in the capital because they have nowhere else to go.
When asylum seekers' applications are rejected, Netherlands law mandates they leave the country. According to InfoMigrants, they're often given four weeks to do so and are typically made to return to their home country on a charter flight.
War, poverty, famine, and other global crises have brought about record levels of forced displacement worldwide in recent years. According to the Dutch Immigration and Naturalisation Service, 16,785 people applied for asylum in the Netherlands in 2017. And like many Western countries, it's experienced backlash to the waves of migrants who've entered its borders.
In 2015, the United Nations published a report on the Netherlands indicating it was concerned about "the increase in hostility towards refugees and asylum-seekers among the population and opposition to the opening of new reception centres," per the Social Work and Society International Online Journal. Human Rights Watch reports there's been a sharp reduction in the amount of shelters offered to asylum seekers in the country.
Despite these trends, there are also those who are determined to fight for asylum seekers' rights. Hettema told CNN that the Bethel Church plans to keep its service going "as long as it's necessary." He added, "We want to love God and our neighbor. And we thought that this was a clear opportunity to put the love for our neighbor into reality."