This Groundbreaking New French Photoshop Law Could Be A Major Game-Changer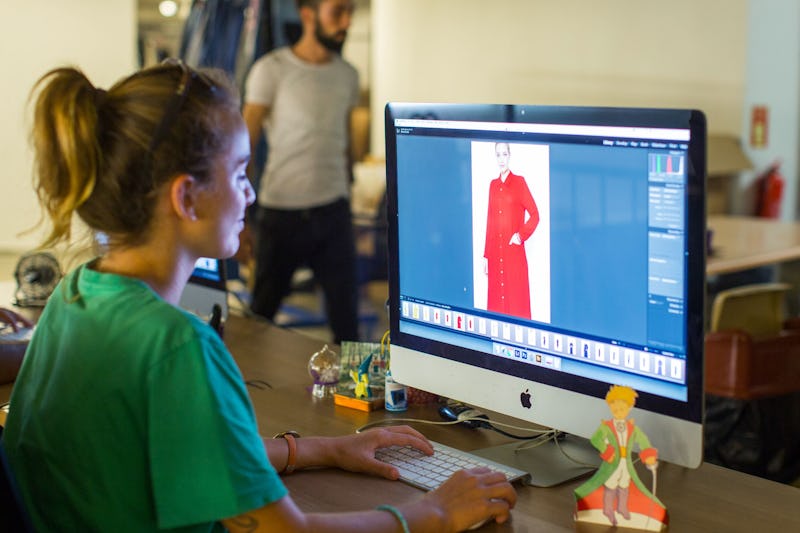 GURCAN OZTURK/AFP/Getty Images
French fashion magazines are changing in a major way. According to Fashionista, France just passed a anti-retouching law that will force companies to clearly label ad images when a model's body has been altered in any way. The new law is meant to help curb unhealthy body standards in the country, and promote size inclusivity in France.
According to NPR, any photo that has been altered in any way will have to be labelled "photographie retouchée," or "retouched photograph." The publication reports that failure to do so will result in a fine of more than $44,000 to offending brands.
"It is necessary to act on body image in society to avoid the promotion of inaccessible beauty ideals and prevent anorexia among young people," Marisol Touraine, France's former health minister, said to Le Parisien about the new law.
As women, we've all been there. When I was young, one of my favorite things to do was look at the models in fashion magazines. I remember my mom showing concern over my obsession with these models in glossy advertisements. Throughout my childhood, I though she was critical of their risque outfits. Now, I know that she was talking about photoshopping and the tendency of all women to compare themselves to airbrushed, unrealistic images.
Thanks to France's new fashion law, it will be clearer to youth when images aren't a true reflection of reality. And, hopefully, the need to disclose will inspire advertisers to steer clear of retouching entirely.
Although the legislation was drafted in May, the law just went into effect on Oct. 1. This move comes only a month after two major French fashion conglomerates joined together to help end model abuse.
LVMH and Kering jointly drafted and signed a charter called "The Charter on Working Relations With Fashion Models and Their Well-Being." The document bans brands from using models under the age of 16, and also bans houses from requiring models to be under a size 2. This standard, in turn, requires casting agencies to present models who are size 4 and over.
LVMH houses brands like Louis Vuitton, Givenchy, and DKNY, while Kering houses Gucci, Yves Saint Laurent, and Balenciaga.
In addition to the French publications making changes to their photo editing laws, Getty Images is also making moved to ban retouching. The photo sharing service, which is widely used in the United States, will no longer stock images of retouched models. This will undoubtedly trickle down into American media, as the image service is used widely by U.S. media outlets for stock photography.
"Our perceptions of what is possible are often shaped by what we see," Getty representative Anne Flanagan told NPR. "Positive imagery can have direct impact on fighting stereotypes, creating tolerance, and empowering communities to feel represented in society."
While changes might not legally be coming to America, there is a shifting tide in the photo industry toward condemning retouching.
According to NPR, eating disorders affect around 600,000 people in France, which is what urged French officials to pass the law back in May. It's estimated that 8 million people in the U.S. are affected by anorexia nervosa, bulimia, and related eating disorders, according to nonprofit ANRED.
Companies are also getting critical of their own retouching practices. Aerie, for instance, has already independently vowed to not photoshop any of their models. Other brands, such as Torrid, have created exclusively un-retouched campaigns, too.
Fingers crossed that these shifts keep trickling throughout the entire fashion and ad industry. Hopefully the next generation of girls can live a life where what they see in the magazines looks as diverse as real life.