Twitter Is Obsessing Over Just A Single Word From The New Trump & Michael Cohen Tape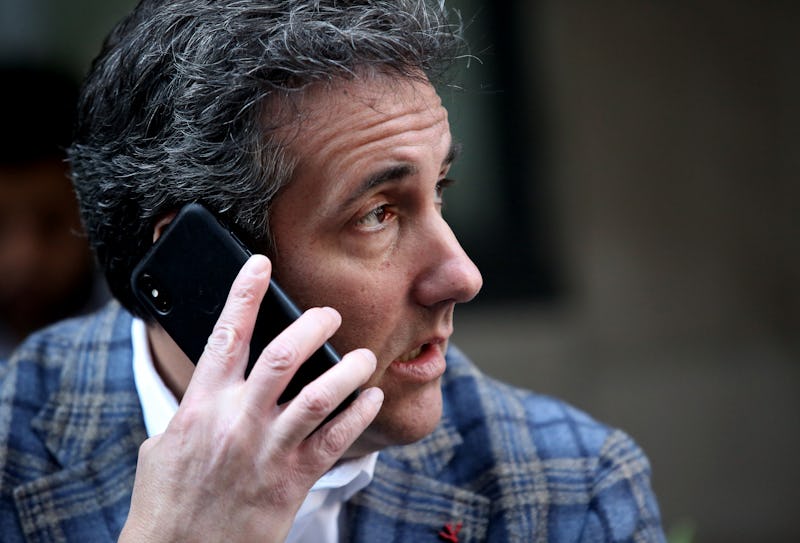 Yana Paskova/Getty Images News/Getty Images
On Tuesday evening, CNN released audio of a recording of President Donald Trump speaking with his former lawyer about buying the rights to a media story about a supposed affair between the now-president and Playboy model Karen Mcdougal. Social media is abuzz about the recording and, indeed, the new Trump and Michael Cohen tape has Twitter obsessing over one word in particular — "cash."
As CNN reported, in the tape Trump and Cohen are discussing setting up a company to apparently purchase the rights to the aforementioned affair story from American Media, which publishes the National Enquirer. According to theWall Street Journal, Trump's representatives have denied the affair with McDougal.
During the recording, Trump and Cohen seemingly discuss creating the company, with Cohen saying "I need to open up a company for the transfer of all of that info regarding our friend David [likely American Media's CEO David Pecker]." The two men then discuss financing for the company, with Cohen saying "We'll have to pay." At that point, it sounds like Trump responded by suggesting "pay with cash." However, as CNN noted, the audio from the tape is not completely clear and it is not known for certain whether Trump says to pay with cash or not.
In fact, Rudy Giuliani, Trump's lawyer, suggested to Fox News host Laura Ingraham on Tuesday night that Trump said, "Don't pay with cash." Giuliani also asserted that "I don't think anyone can suggest this [the recording] represents anything where the president did anything wrong."
However, Cohen's lawyer, Lanny Davis, insisted to CNN that he believes that Trump used the phrase "pay with cash" and that the word "cash" has negative connotations. Davis appeared on Cuomo Prime Time on Tuesday night to reflect on the newly-released recording.
On the show, Davis discussed the Trump-Cohen tape at length, saying in part:
They fear that he [Cohen] has the truth about Donald Trump. He will someday speak the truth about Donald Trump. The truth is that when Donald Trump said 'cash,' which Rudy Giuliani knows that only drug dealers and mobsters talk about cash, it was, you heard Michael Cohen ... say what? 'No, no, no, no ...'
Twitter also had strong opinions regarding the recording. Many Twitter users focused in particular on what they believe Trump said about "cash" and speculated about the potential implications of the now-president's words.
Indeed, one Twitter user, Scott Dworkin, a co-founder of the Democratic Coalition, did not hold back when sharing his take on the tape, tweeting at Speaker of the House Paul Ryan that, " .... This Trump-Cohen tape makes it clear that we have a mobster who makes cash payments to cover up his affairs in the White House. And it's your job to get him out ..."
CNN's Senior Congressional Correspondent Manu Raju also took to Twitter to share his thoughts on the tape. Raju revealed that he believes that the tape and, in particular, the discussion around the "cash" issue, "... opens up a new war between Trump and Cohen ..."
Overall, it is quite clear that a single word in the new Trump-Cohen tape is very much dominating discussion about the topic. Time will tell whether or not Trump, Cohen, and/or their attorneys will comment further on the recording and what, if any, implications the tape will have for the two men.