Helen Mirren Took A Shot Of Tequila On The Oscars Red Carpet & The Photo Is Amazing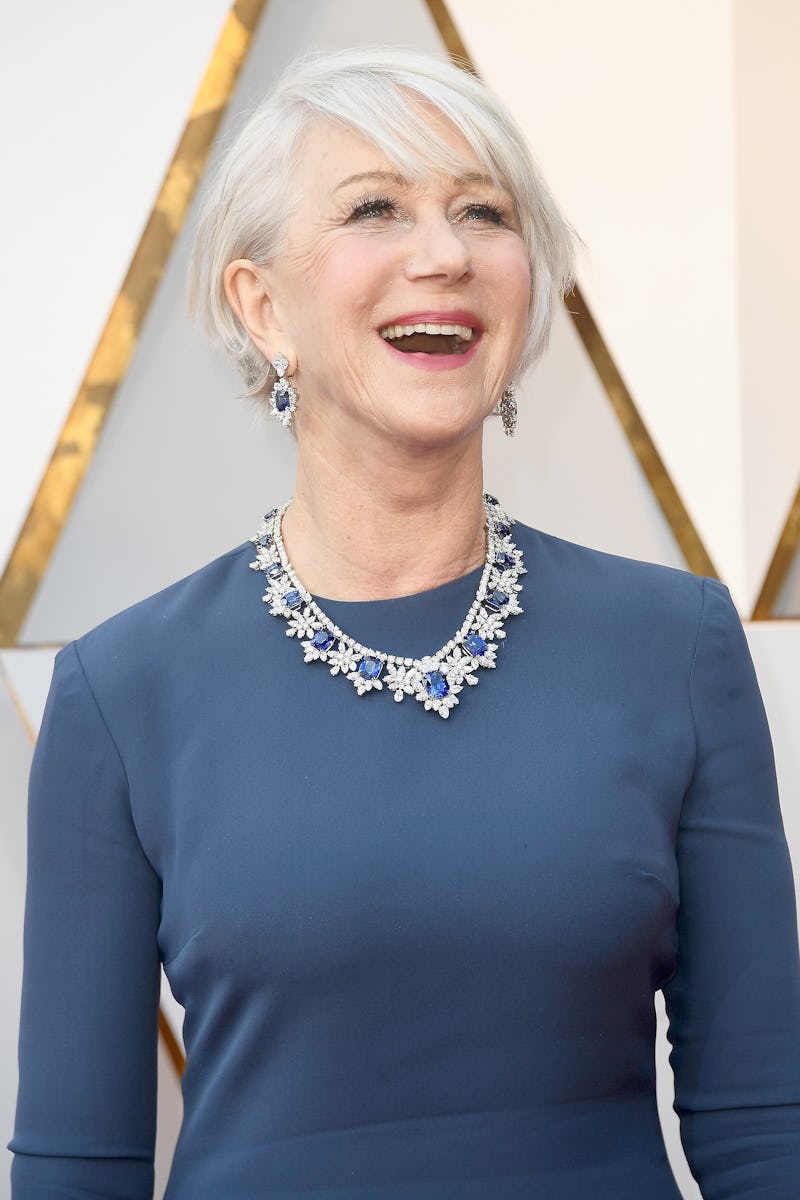 Frazer Harrison/Getty Images Entertainment/Getty Images
The Academy Awards can be stressful for anyone involved. Actors, presenters, nominees, you name it and they probably have butterflies on one of the biggest nights of the year. Some handle it in extremely good ways. For example, Helen Mirren had a tequila shot on the Oscars red carpet and she stole our hearts (not that she didn't have them before). If that's not the most relatable "Stars, They're Just Like Us," moment of the night, then I don't know what is.
Mirren isn't nominated for an Oscar this year, but she is doing something super important. She's at the Oscars this year to present the leading actor Academy Award. In previous years, the tradition has always been that the winner of the previous year's Best Actor award presents the current year's Best Actress award, and vice versa for Best Actress from the year before. However, last year's Best Actor winner, Casey Affleck, withdrew his presenting rights earlier this year, forcing the new changes to the presenters for this year's ceremony. After the lawsuits he had due to allegations of sexual assault against him and all the backlash because of it last year, it's understandable why this was the move this year. Mirren will be joined by Jane Fonda to present Best Actor and Jennifer Lawrence and Jodie Foster will be presenting Best Actress.
So, there Helen Mirren was on the Academy Awards red carpet, downing a shot of tequila. While it probably wasn't for the nerves — Dame Helen Mirren probably doesn't get too nervous at these things — just seeing her casually take a swig has given so many people life. Such class. Such finesse. So Mirren. Turning up on a Sunday night has definitely never looked so refined; she's an aspiration to us all.
Twitter was quick to start loving on Mirren after her tequila shot. There were declarations of love, declarations of crimes to be committed in her honor, and there was just so much pure love for Mirren.
With a regal sip like this, who wouldn't want to pledge allegiance to the flag of the United States of Mirren?
Where did the tequila shot come from? It's not entirely sure, but supposedly from someone on her team or another person working on the red carpet.
Mirren also already had a shining moment early in the show, during the opening monologue from Jimmy Kimmel. She came out in a gorgeous gown — different than her red carpet attire — to show off the jet ski actors and actresses could win if they give the shortest speech. Is this a real award? Probably not. But Helen Mirren for sure is, so many want to take her over the water toy.
Honestly, a tragedy. Why can't we have an evening with Mirren? Why?
This user has the perfect idea.
We need someone on this original movie ASAP. Issa Rae maybe? Greta Gerwig? Anyone? Whoever makes this movie a reality — definitely not a rehashing of RED (again) — should get 1000 jet skis. It's what the world deserves.
In addition to the jet ski bit and the tequila, it seems like Mirren is having a blast at the Oscars thus far, and that's all anyone can ask for.
The tequila shot and the jet ski are just a couple things that this amazing woman does that's hilarious. She's constantly lighting up award shows with her stares or antics and her talk show appearances are also a hoot. Mirren seems to have done it all and she is not slowing down. With really impressive movies in her back pocket and many, many awards behind her, she will be seen at many Oscars to come, for sure.