Helen Mirren Wore A Completely See-Through Skirt That Proves How Much She Loves The F-Word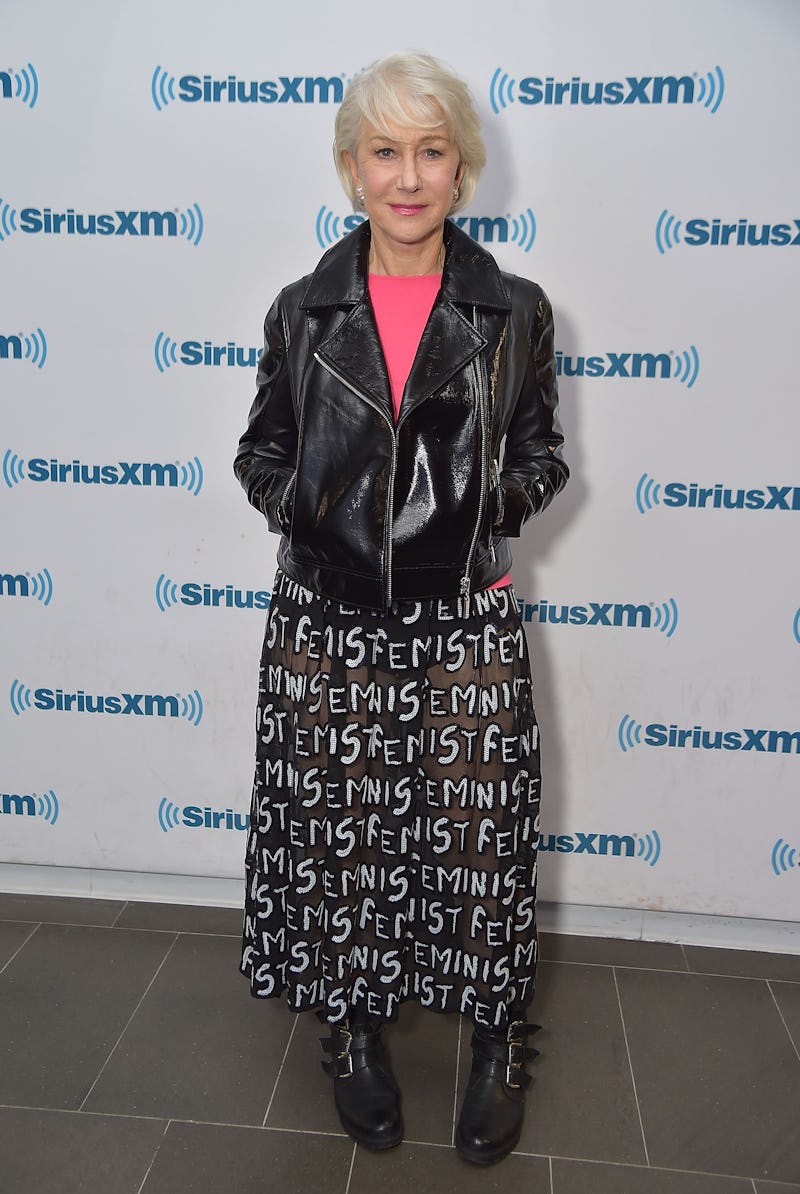 Theo Wargo/Getty Images Entertainment/Getty Images
Helen Mirren is who I'd like to be when I grow up. Hell, Helen Mirren is who I want to be right now, 10 years ago, always. Odds are, Helen Mirren is who you want to be, too and that is: a total badass. Recently, Mirren attended an event at SiriusXM studios in an Alice & Olivia skirt and amazing leather jacket (complemented by a bright pink sweater). However, this particular designer skirt was particularly amazing for a couple reasons. For one, Mirren chose to forgo a slip underneath, opting to style it how the item is designed to be worn (according to the brand's website). So-called rules about what older women can and cannot wear? Who needs 'em? Helen Mirren doesn't, and for that matter, neither do you.
The other great aspect of the mesh skirt had to do with the f-word printed all over it. No, not that f-word (although Mirren is quite fond of that one as well — another reason to love her). The skirt had "feminist" printed from top to bottom, a fitting choice given the #TimesUp movement currently happening in Hollywood and the entertainment industry and the recent Golden Globes protest that involved actors wearing black on the red carpet.
Mirren has been outspoken about her feelings about the unfair, sexist standards that aging women (and women in general) are held to in Hollywood and a variety of other feminist issues. The skirt makes sense as a wardrobe choice for Mirren, and it only serves as an added bonus that it also goes against the popular societal belief that older women should be quieter, more reserved, or more modest.
Mirren looks fierce in the head-to-toe ensemble, which features combat-style boots and aforementioned leather jacket. The actor's style has changed and evolved over the years, like any industry veteran's dressing habits would. The star always looks fashionable, but Mirren has also been consistent in her commitment to wearing things that don't adhere to any sort of standards or rules about what older women should wear, and that's part of what makes her such a positive force in the industry.
Mirren is a legend, both on the red carpet and on the big screen. And this particular feminist skirt is really only notable because it plays into Mirren's refreshing perspective on aging — one that we can all learn from. Age is just a number for Mirren, not something that indicates that it's suddenly time to be quiter, more reserved, or less bold.
"If people treat me like the age I am, I get absolutely insulted, really cross," Mirren told Allure in an interview. "I hate when people give up their seat for me. No, no, no. I don't want your seat."
Helen Mirren talks opening about being 72, but the truth of it is that it really doesn't matter how old she is at all. It doesn't matter to Mirren and it certainly shouldn't matter for us. Most pointedly, though, her age doesn't stop Mirren from being a badass woman and inspiring women of all ages to be a little bolder when society is often instructing us to do the opposite.
While the particular Alice & Olivia skirt that Mirren wore recently is a cool $440 (and is only available in sizes 0-12), the inspiration behind the garment and the act of Mirren wearing it are things that can be translated into any look, really. It doesn't matter that your outfit literally says "feminist" or that it's completely sheer, it only matters that you wear whatever the hell you want.