'Pretty Little Liars' Cast Are Down For A Reunion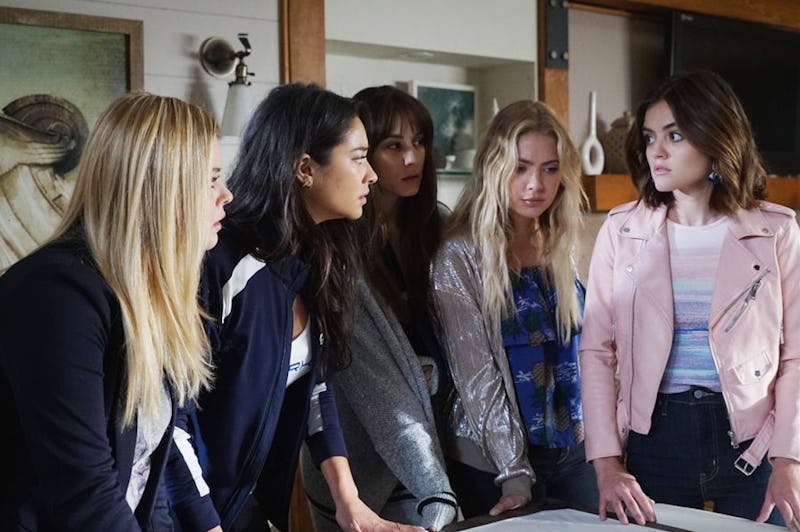 Freeform/Eric McCandless
It's a bittersweet time for devotees of a certain epic, twisty Freeform series. Bitter, because Pretty Little Liars is ending when the final 10 episodes premiere this April. Sweet, because, after speaking with some of cast members and boss I. Marlene King, it's pretty apparent they want a rebirth of the show to happen as badly and quickly as fans do. Chin up, PLL lovers. We might get a Pretty Little Liars spinoff sooner than you think. For example, Janel Parrish, who plays Mona, is totally game. "I don't think any of us want PLL to actually end," she says at L.A.'s PaleyFest over the weekend, so it doesn't look like including the original cast will be a problem for a possible film, spinoff, or revival.
Many fans may wonder how the show could possibly go on after the inevitable plot twists and reveals (namely, who A.D. is) take place in this final season. King has hinted that a follow-up series in Rosewood could happen before, though back then she claimed it might be with a whole new cast. "Although we may be saying goodbye to our current group of PLLs… the town of Rosewood is its own character," the show creator told TV Line last summer.
Thankfully, it looks like we don't have to worry about saying goodbye to the cast anymore. "If it ever came back in any shape or form, we're all on board," Parrish says. "I think there's always a way to start something back up again. All of us are open to the idea."
Andrea Parker, who plays Mary Drake/Jessica DiLaurentis agrees. "There's absolutely room for that," she says. Not only does she believe the original characters could continue their story, but she suggests that a rebirth of the series should include them. "I think the fans are so invested in these characters that those are the ones they will want to see."
Anyone opposed to that? Two additional PLL crew members who certainly aren't are King and executive producer Joseph Dougherty. When I pose the idea of a spin-off, reboot, or movie after 7B ends, King replies with: "All of the above."
"It's goodbye for now," the show creator continues. "The finale is a finale and a real ending to this story we started seven years ago. If we pick up again, it'll be a new beginning." Plus, Dougherty has no doubt King will follow through and that he'd have her back in creating more twisty plots. "The door was opened a crack and I think Marlene and I opened the door further. If Marlene wants to do it, she's gonna do it," he says.
During the group panel, additional cast members seemed to be open to revisiting the series and their storylines as well. When a fan in the crowd pitched the cast a possible spin-off on "Ezria babies," Ian Harding (who plays Aria's fiancé Ezra) didn't totally write if off. He commended how the Gilmore Girls crew went about their Netflix revival, saying, "I think it would be amusing if we come back in like five, 10 years or something and we're all older."
But other spin-offs wouldn't have to wait — like a possible Emison show, perhaps? As of now, it's not impossible to create a series based on Emily (Shay Mitchell) and Allison's (Sasha Pietese) romance, depending on how 7B plays out, of course. Mitchell asks the crowd if they'd want to see that, and, after fans screamed and cheered, she responds, "Good to know."
So dig up those fan theories and get your writer's cap on, because King is taking ideas. No, really. "Taking pitches!" she yelled in the panel. It's your time to shine, PLL fam.