Don't Rule Out A 'Pretty Little Liars' Spinoff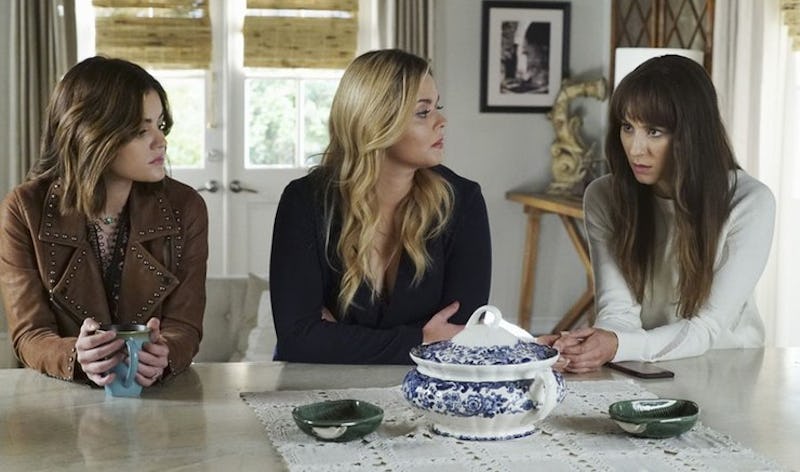 Ron Tom/Freeform
This is not a drill — after the Pretty Little Liars series finale airs this summer, our Tuesday nights (and, let's be honest, our lives) will never be the same. Of course, we have an exciting season ahead of us — A.D. will be unmasked, there will be more than one wedding, Spencer's parentage will be revealed, and we'll finally find out who Beach Hottie is. (Right? Or has I. Marlene King completely forgotten about him?) There are bound to be plenty of twists and turns along the way, but one thing we know for sure is that Spencer, Emily, Hanna, Aria, and Ali's stories will come to a close in the finale. Some of us can't imagine life without Rosewood — so is it possible that Pretty Little Liars will get a spinoff?
It's purely conjecture at this point, but theorizing is basically a way of life for Pretty Little Liars fans — especially the hosts of Bustle's Pretty Little Liars podcast, Taking This One To The Grave, who think there a few hints that King may be considering a spinoff series. As they discussed in the latest episode, in August, King told TVLine that Season 7B will bring the show full-circle, and her phrasing indicates that she may not be through with Rosewood: "Although we may be saying goodbye to our current group of PLLs … the town of Rosewood is its own character." Does this mean the baton of being stalked and tortured will be passed to another group of teenage girls?
There's also the matter of an intriguing new cast member — in August, Deadline reported that Ava Allan will play Addison in Season 7B. Her character is described as "a pretty little bully who's attractive, entitled, manipulative and intimidating, and every insecure high school girl's worst nightmare." In short, she's a mirror image of what Ali was like prior to her disappearance — and, if she's in high school, it seems likely that Addison will be one of Ali's students. It's possible that viewers will meet her through Ali and there will be clues that she's in danger, just like the Liars were during their high school days.
I know, I know — it's a bit of a stretch. But, Season 7B is going to be jam-packed and the show already has a huge cast, so adding a new character seems like a strange move unless King is testing the waters for a spinoff. Fans are extremely active on social media, so the showrunner will know if they're clamoring to see more of Addison. King's previous statement that Rosewood is its own character is also telling — perhaps she thinks the town's story could continue without the Liars.
Saying goodbye to Spencer, Emily, Hanna, Aria, and Ali will certainly be emotional — but it seems like there's a chance that Rosewood will return in a new series with a new tech-savvy villain. If there's one I've learned from Pretty Little Liars, it's that anything is possible.
Listen to more episodes of Taking This One To The Grave here.