Get Your 'Prison Break' Recap Before The Event Series Begins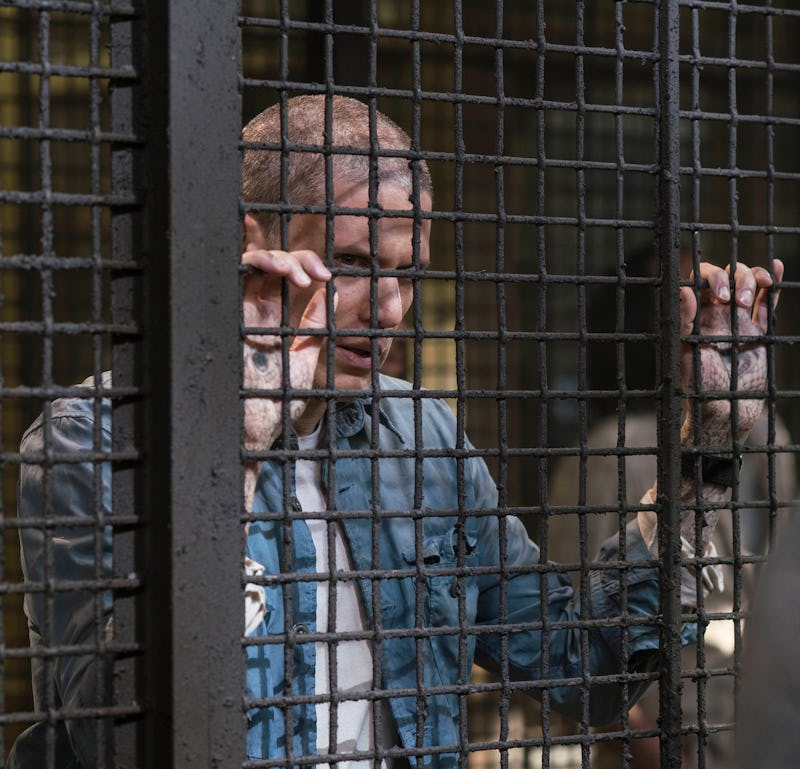 FOX
When Prison Break went off the air in 2009 after four seasons, the great escape seemed to have come to an official end. That is, until stars Wentworth Miller and Dominic Purcell teamed up to play a bad guy duo on The Flash and hatched a plan for a Prison Break sequel. Barely a year later, Fox is bring back the hit show for a nine-episode Prison Break event series. The new series takes place seven years after the original, and, given the gap, I think it's time for a quick Prison Break recap to get fans caught up before the new event series premieres.
Prison Break started with a simple premise: a super smart man, Michael Scofield (Miller) manipulated the system to get arrested and sent to the high security Fox River Prison, where his brother, Lincoln Burrows (Purcell) was awaiting execution for allegedly killing the Vice President's brother. Lincoln insisted that he was being sent up, and so Michael came up with an elaborate plan to break him out of prison (Prison Break, get it?). Of course, nothing ever goes perfectly according to plan, and Michael ended up saving his brother, while also breaking out a handful of more distrustful criminals. Over the course of the series' four seasons, Michael and his brother broke out of prison, went on the run, found themselves planning yet another prison break, and then uncovering a massive government conspiracy.
With so many twists and turns, it's impossible to remember all the important things that happened to the fugitive brothers. Here's everything that happened on Prison Break that you need to know before the event series begins.
Fox River Eight
Prison Break Season 1 was all about saving Lincoln and getting out of Fox River. Using his genius mind and massive tattoos that hid the blueprints of the prison and hints of what tools he might need, Michael was able to break out. To do so, however, he had to make some friends in very low places, and ended up breaking out not just his brother, but a handful of convicts as well — and they became known as the Fox River Eight, the most important of which are Sucre, Michael's cellmate and BFF inside Fox River, T-Bag, a man imprisoned for rape and murder who blackmails his way into the escape, and C-Note, a loyal friend, gang leader, and drug dealer. While Sucre and C-Note have repeatedly been friends to Michael and Lincoln over the years, T-Bag has always been the antagonist. That dynamic will certainly be at play in the new series, with all three characters reprising their roles.
Sara Tancredi
Dr. Sara Tancredi, the medical doctor of Fox River Prison, was an integral part of Michael's plan to break out of Fox River. But, instead of manipulating her, he ended up falling in love. He also ended up ruining her life. After he convinced her to leave the door to the infirmary unlocked so that he could escape, she was fired and quickly spiraled out of control, drowning her sorrows in drugs and alcohol. However, Michael and Sara reunited, and were on their way to a Happily Ever After in Panama when Michael was arrested and sent to prison. While Michael was in Sona, the Panama prison, Sara was kidnapped and killed, or so we thought. She was revealed to be alive in Season 4, after Michael had escaped Sona and returned to the US (but that's another story).
The Company & SCYLLA
It turns out that Michael and his brother were both victims of two huge government conspiracies. The Company, a secret government group, framed Lincoln for murder, and later they sent Michael to Sona in the hopes that he would be able to track down another prisoner crucial to their plans. This prisoner led Michael and Lincoln on a new mission: the recovery of SCYLLA, a massive digital archive of The Company's records, including blackmail material on most heads of state and trade secrets. While tracking down SCYLLA, they learned that their mother was actually heading The Company. The family reunion was short lived, however, after their mother made it clear she didn't really care about them, and Sara ended up shooting her to save Michael.
Prison Break: The Final Break
Season 4 ended with a pregnant Sara marrying Michael on the beach, and years later visiting his grave. Throughout Season 4, Michael discovered he had a brain tumor, the same kind that "killed" his mother when he was a boy. He was cured in exchange for SCYLLA, but in the post-Season 4 special, Prison Break: The Final Break, which was only released on DVD, it was revealed that his disease was coming back. Long story short: instead of letting the disease kill him, Michael sacrificed himself in an effort to break a pregnant Sara out of prison, where she was being held after getting arrested for killing his mother (aka the head of The Company). Though his death happened mostly off camera, the show ended with Michael looking, well, pretty dead.
Prison Break's series finale coupled with Prison Break: The Final Break made a pretty convincing case for Michael's death. But, what is death, really, if not for an excuse to create a super dramatic and exciting return to television? Prison Break event series, here we come.