War Correspondent Marie Colvin's Life Story Will Make You Understand What Bravery Really Is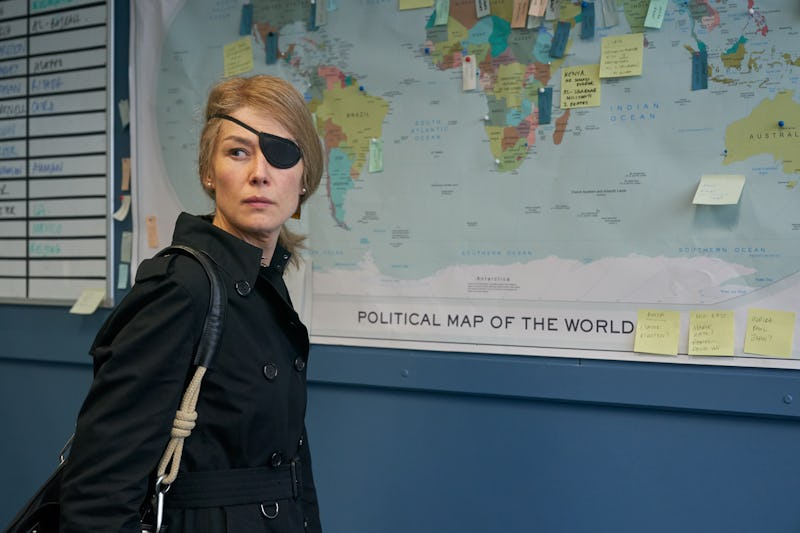 Paul Conroy / Aviron Pictures
In February 2012, journalist Marie Colvin was killed in Homs, Syria while covering the Syrian Civil War. Colvin was known primarily as a war correspondent for many years and received numerous honors. And now, her true story is being told in the film A Private War, starring Rosamund Pike. But, while the movie is about Colvin's time on the frontline, as well as at home in London, some changes have been made in the transition from real life to the big screen.
The film is based in part on the August 2012 Vanity Fair article "Marie Colvin's Private War" by Marie Brenner, which grew into a book, A Private War: Marie Colvin and Other Tales of Heroes, Scoundrels, and Renegades. Colvin, an American, had been a reporter for Britain's the Sunday Times for nearly 30 years at the time of her death. During that time she covered wars around the world, was named Foreign Reporter of the Year at the British Press Awards twice, and helped saved the lives of 1,500 women and children in East Timor, according to her obituary in The Guardian. She also lost an eye when she was hit by shrapnel while working in Sri Lanka in 2001, was a heavy drinker and smoker, and, according to Town & Country, suffered from PTSD due to the nature of her occupation.
All of this is shown in the film, as is her attitude toward her job — some mix of drive and psychology — that kept her going even when she was in clear danger. According to the Vanity Fair story, she once said while accepting an award for her work in Sri Lanka, "Bravery is not being afraid of being afraid." She also wrote in an email to a friend soon before her death, "I would like to have a saner life. I just don't know how."
Also featured in the movie is the photographer Colvin worked with, Paul Conroy, who is played by Jamie Dornan. Conroy was there when Colvin and a French photojournalist, Remi Ochlik, were killed, but he survived. New evidence that was presented in federal court earlier this year in a lawsuit made by Colvin's family against Syria alleges that it was a targeted attack on the journalists. The Syrian government has denied this, reports NPR.
As for the changes in the film, some key ones come in the form composite characters. According to TIME, the character Kate (Faye Marsay) is meant to represent several young reporters who Colvin mentored, and Norm (Corey Johnson) represents some of Colvin's fellow journalist friends. Colvin's love interests in the movie are also fictional, but inspired by her real life.
According to what director Matthew Heineman told NPR, "Many of her friends and colleagues always wondered, you know, how she'd deal with, you know, growing old and not being able to do this any longer. As one of her friends wrote to me, she made sure we would never find out." Now, with his film, viewers can get a small taste of the intensity of Colvin's life, how that life affected her psyche, and unfortunately, how it ties in with her death.