Why Rosamund Pike Almost Gave Up On 'A Private War' — And What Kept Her Going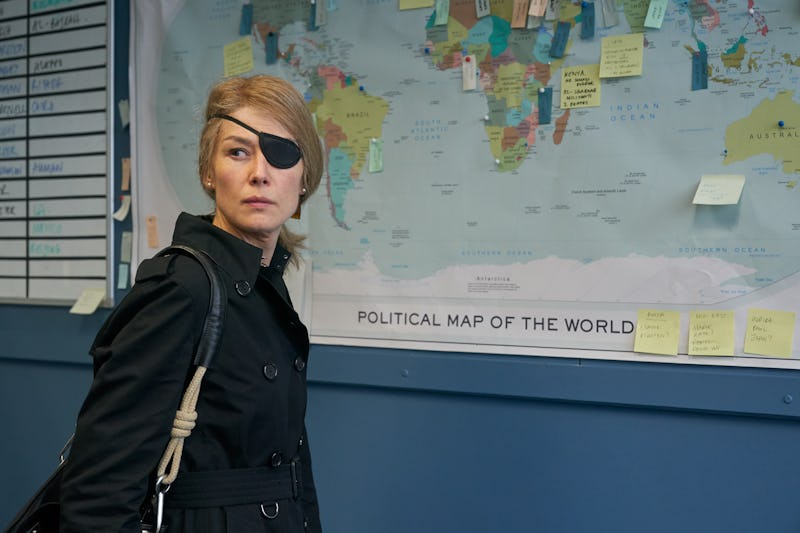 Paul Conroy/Aviron Pictures
In A Private War, out in select theaters now and opening nationwide on Nov. 16, Rosamund Pike plays the late American journalist Marie Colvin, who died in 2012 while covering the civil war in Syria. The movie shows Colvin leading something of a double life, alternating between living in dangerous remote territories as a war correspondent and back at home in London, struggling to deal with her Post-Traumatic Stress Disorder. Her story will likely resonate with audiences who are currently following Donald Trump's rebukes of the media, since it showcases a journalist who is targeted for her reporting. Pike says that she hadn't expected the movie to be so relevant.
"There's been a big change in the past few years that journalists are now targets. We've seen the appalling murder of journalists for speaking out or speaking up," she says, speaking over the phone in late October.
We're talking just days after the death of Saudi journalist Jamal Khashoggi was confirmed, per The New York Times. He died after entering the Saudi consulate in Istanbul on Oct. 2; The Guardian reported on Oct. 31 that the city prosecutor determined that he had been murdered. While Colvin's death doesn't exactly mirror Khashoggi's — who often critiqued the Saudi Crown Prince Mohammed bin Salman while writing for The Washington Post — it's easy to draw a connection between them.
"I think [recent events are] going to make people come to our movie with those things ringing in their ears, and I think you'll doubly appreciate the cost of someone's fight or commitment to bring the truth," Pike adds.
As the movie shows, Colvin had traveled to Homs, Syria in 2012 to cover the civil war for The Sunday Times. The Syrian government had been relentlessly bombing Homs, and just hours before her death Colvin gave an interview to Anderson Cooper on CNN. At first, authorities were uncertain whether or not the bomb that killed Colvin and French photojournalist Remi Ochlik (played by Jérémie Laheurte in the movie) was meant for them, per The Guardian. But in 2018, NPR reported that new evidence from the investigation into Colvin's death suggest that it was a targeted attack that singled the journalist out.
To Pike, Colvin was always a "heroine," and not only for her acts of bravery. "She's someone who struggled. Not everything came easy for her, her reporting was sort of in a way second nature to her because she was inquisitive and empathetic, but I think life was a struggle for her," she says. Colvin's personal battles weren't secondary to her work in Pike's eyes, but an intrinsic part of it. "We need heroines who are not finding everything easy," the actor says.
A Private War could have easily been a movie that focused mostly on the work the Colvin did while reporting abroad — and hopefully one day another movie about the journalist will do that, because A Private War surely didn't cover all of Colvin's career highlights. But Pike says that sharing the struggles that Colvin experienced at home — the journalist's "private war" which the film's title refers to — is integral to telling the story of the journalist's work. "I think the fact that she had such deep empathy and felt things so deeply is what made her a brilliant reporter, but unless we delve into that, we don't understand it," Pike says.
But of course, there's also plenty of action in Colvin's story. An eye-patch like the one that Pike wears for much of the film became a part of the journalist's daily life following a 2001 attack by Tamil Tiger guerrillas in Sri Lanka, per The Telegraph. A Private War portrays the event, which caused Colvin to lose her vision in one eye.
Pike's desire to be as accurate as possible to the real person she plays pushed her to go to great lengths to research Colvin. "It was the most [research] I've done on any part I've played," she says. "It was months and months of carefully gaining the trust of [her] close friends."
The process of playing Colvin didn't always come easy for Pike either. "There were many times that I thought I should give up," she recalls. "You go through lots of stages of feeling very vulnerable and feeling inadequate… And then you take two steps forward and then you think 'Oh, I'm miles away and this is never gonna work... and suddenly find that you've unlocked the voice and that gives you courage and then you start working again."
All of the effort that Pike went into perfecting her portrayal of Colvin — which the actor calls a "collaborative effort" thanks to the makeup and costume artists for the film — came to fruition for the actor. "I feel her very very deeply," she says. Not only has playing Colvin brought Pike close to the journalist's family and friends, but it's also given her a chance to hear from real journalists and female war veterans who connected with A Private War because of its rare depiction of a woman on the front lines of combat.
"There's lots of foreign correspondents... they'll come up to me and often want to impress upon me quite what a heroine Marie was to them," Pike says.
The Gone Girl star's admiration of Colvin makes even more sense once you know how passionately Pike personally feels about the pursuit of truth. "I hate being lied to, and if I sniff out if somebody's not telling me the truth, I'll fight for the truth, whether it's on a work level [or not]," she says. "I think that ultimately the truth is always liberating for everybody when they're allowed to speak it, and you're allowed to hear it."
But perhaps surprisingly, despite all of Colvin's challenges in life and in work, the trait of the journalist that Pike still carries with her the most is her wit. "Her humor was the kind of thing I really relished," she says with a laugh. "And her taste for vodka martinis."