Racist Robocalls Are Now Reportedly Targeting Stacey Abrams And Oprah Winfrey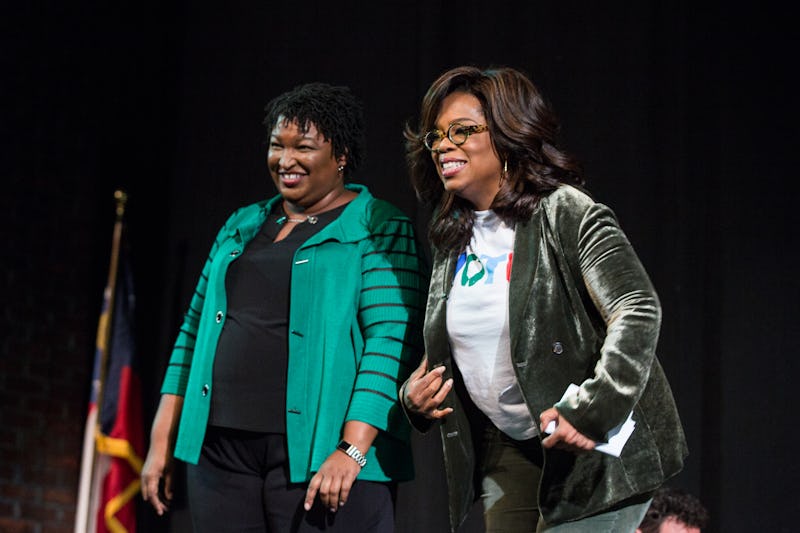 Jessica McGowan/Getty Images News/Getty Images
In recent weeks, racist robocalls have attacked black candidates in tough midterms races. Multiple calls preyed on Florida's Andrew Gillum, and now there's a new one against another gubernatorial candidate. Georgia's Stacey Abrams has been targeted by a racist robocall this week that her campaign says is encouraging voters to engage in "poisonous thinking."
The Hill reported that the calls started on Friday. The voice on the call introduces itself as Oprah (the actress campaigned for Abrams last week). "This is the magical Negro Oprah Winfrey asking you to make my fellow Negress Stacey Abrams the governor of Georgia," the call says, according to The Washington Post. "I promise that every single person who votes for Stacey Abrams, you're going to get a new car! So you get a car! And you get a car! And you get a car! And you get a car! Everybody gets a car!"
The call also reportedly uses racial slurs to refer to Abrams. According to the Post, the robocall was produced by TheRoadToPower.com, an anti-Semitic and white supremacist website that creates video podcasts. The outlet is based in Idaho, and according to the Anti-Defamation League (ADL), it has promoted its work on Gab, the social media platform used by the man who allegedly murdered 11 Jews in a Pittsburgh synagogue last month.
Abrams' campaign denounced the call this weekend. "It is not surprising that in a race that has consistently been very close, we've seen several weeks of increasing desperation from many dark corners trying to steal the election, cheat, lie, and prey on people's fears rather than having the respect to listen to voters and speak to their hopes," a spokesperson told the Post. The campaign also called the call "vile" and said it encouraged "poisonous thinking."
Kemp, Abrams' GOP opponent, also criticized the robocall. He told The Hill, "I stand against any person or organization that peddles this type of unbridled hate and unapologetic bigotry," and called it "racist" as well as "absolutely disgusting."
Abrams' spokesperson did not take kindly to his condemnation. "Brian Kemp has only now suddenly decided to find a conscience," she said in a statement to The Hill, "as polls are tightening and Georgia voters are making it clear that they reject the kind of hate he and his allies have been spewing around the state." Abrams has been very critical of Kemp's efforts to hold up voter registrations for more than 50,000 Georgians, most of whom are minorities who may be more likely to vote Democrat.
Gillum has also been targeted by a series of racist robocalls from TheRoadToPower.com. "Well hello there. I is the negro Andrew Gillum, and I be asking you to make me governor of this here state of Florida," one mocked. Both Gillum's campaign and that of Rep. Ron DeSantis, his Republican opponent, denounced the calls.
According to the ADL, robocalls made by the site have also been sent out in Iowa, Idaho, Pennsylvania, and California. This appears to be the first time that Abrams has been a target.