A Restaurant Is Serving The Spaghetti Sundae From 'Elf' & The Pics Are Glorious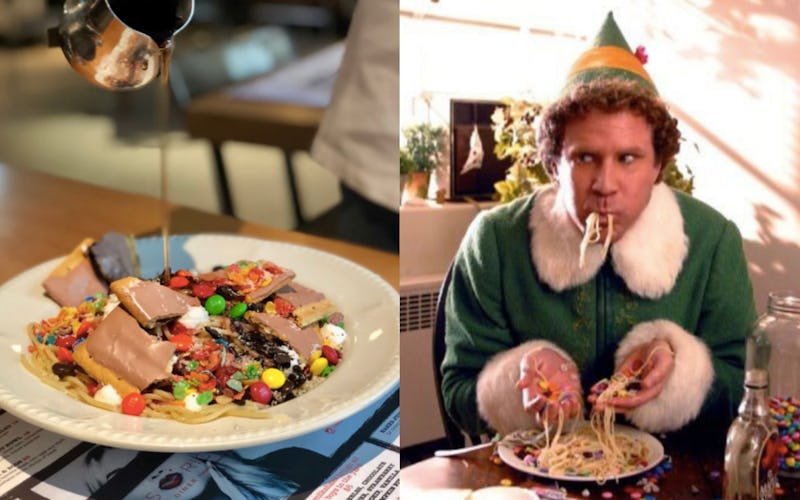 Miss Ricky's; New Line Cinema
This week marked the 15th anniversary of the beloved Christmas movie Elf. In honor of everyone's favorite human-sized elf, one Chicago restaurant is serving the Elf Spaghetti Sundae from now until Dec. 25. It's the menu item equivalent of saying, "Oh, you love Buddy the Elf? Prove it."
Miss Ricky's, the restaurant inside Virgin Hotels Chicago, is to thank/blame for bringing the sugar-loaded treat/terror to life. The restaurant described their "over-the-top dessert" to Bustle via email. Abiding by Buddy the Elf's classic dish, Virgin Hotels Executive Chef Moosah Reaume puts the following on top of cooked spaghetti: marshmallows, s'mores Pop-tarts, M&Ms, Oreos, Fruity Pebbles, and coconut. I can't tell if I have a stomach ache from the nostalgia or the idea of eating—oh, wait...there's more toppings? In addition to the concoction of cookies, breakfast cereals, and other sugary goodies, the Spaghetti Sundae is topped with strawberry sauce, raspberry sauce, chocolate sauce, and syrup. Dentists across the country are weeping.
As Chef Moosah Reaume told ABC7 Chicago, the Spaghetti Sundae will likely be "the biggest sugar bomb of your life." Between now and Christmas, you can try the pasta for yourself for $15. As The Takeout points out, you're probably just paying fifteen bucks for the Instagram photo, so make sure you get that good lighting.
On Wednesday, Nov. 7, the official anniversary of Elf and launch day of the Spaghetti Sundae, Miss Ricky's played the movie Elf on loop all day. Quick math for you: Miss Ricky's is open 7 a.m. until 2:30 p.m. during the week. The movie Elf runs one hour and 37 minutes. So, the movie played a little over 4.6 times on Wednesday. In other words, patrons and staff had to watch the spaghetti eating scene 4.6 times while, I'm assuming, watching other patrons eat the spaghetti in real life.
It's worth mentioning that nowhere in Miss Ricky's press release did they say the dish was "good" or "fine" or even "generally palatable." Honestly, the toppings probably taste fine and delicious mixed together; it's just sugar with crunchy sugar with syrup-y sugar. If you're just scooping from the top, you're probably fine. All I'm saying is Spaghetti Sundae at your own risk.
This is far from the first time a human person has tried to live their life as Buddy the Elf from Elf. People have long tried to recreate the spaghetti from Elf, abiding by the four key elf food groups: candy, candy canes, candy corns and syrup. But how does the spaghetti actually taste? As Mary Grace Garis wrote for Bustle in 2014, "It's perfectly edible, but … there's no reason for it."
If sugar-coated spaghetti isn't your thing, 1) I wouldn't blame you and 2) there is another way you can live your Buddy the Elf truth via food. Pillsbury released Buddy the Elf-themed cookie dough for the upcoming holiday season so you too can say, "Santa! I know him!" The cookies are classic sugar cookies adorned with Buddy's signature green and yellow elf hat. (No sugar spaghetti in sight.) You can a 24-pack of the pre-cut cookies online for $2.50 online at Target.com.
If you're able to get to Miss Ricky's between now and Christmas, you could give the Spaghetti Sundae a try...or you could just indulge on any of the other perfectly edible foods on their breakfast and brunch menu. They've got a Fruity Pebbles milkshake and Fruity Pebbles pancakes for Santa's sake. Also, nothing is stopping you from putting syrup on pretty much any other breakfast food. While those dishes may not be canon, they would definitely all be Buddy-approved foods.