A Rosé Mansion Is Opening, Complete With 14 Rooms & Make-Your-Own-Rosé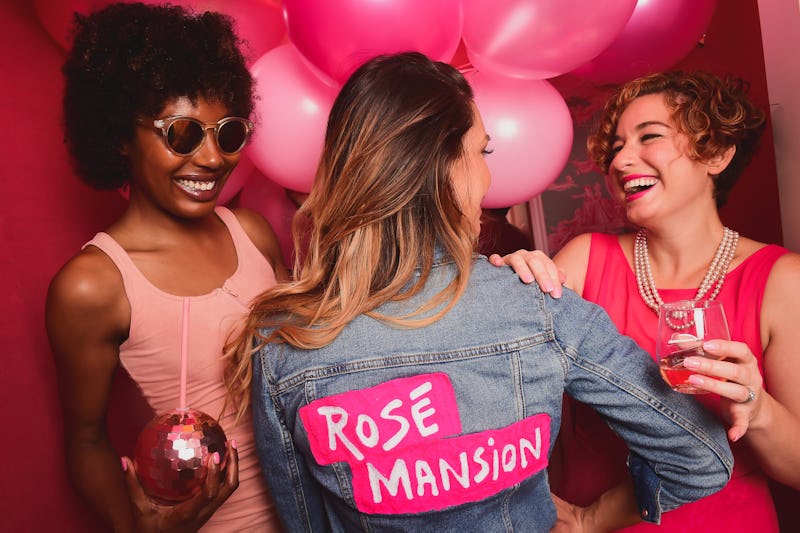 Max Flatow for Rosé Mansion
There's a better, boozier version of Barbie's dream home coming our way this summer, in the form of a literal rose wine mansion in New York City. The Rosé Mansion, aka my new permanent address as of this summer, features two stories with 14 different rosé-themed rooms, all of them dedicated to sampling and learning more about the pink drink that inspired an entire generational obsession/new way of life. Prepare thine Instagrams, fellow fans. The rosé reckoning is truly upon us at last.
The experience, lovely though it looks, is far more than just your usual Instagram bait. According to a press release, participants will learn about the rich history of rosé wine, from the regions it is most popularly produced, to how it's made, to how it came to exist in the first place — a history that originates back a whopping 6,000 years. Along the way guests will get to sample eight different types of rosé — two entire glasses of rosé in total — while learning about their origins, making it a truly hands-on experience.
But rest assured, there are plenty of 'gram opps as well — among other things, the Rosé Mansion will feature a giant swinging chandelier, a bar filled with hot pink sand, and a bathtub full of roses. The true pièce de rosé-sistance (sorry, couldn't rose-ist)? A Blending Lab, where guests can make their own custom rosé to suit their specific tastes. I'm trying to think of a time that human beings have held this much power in the palm of their hands, but I'm coming up short.
The journey ends at a Grand Tasting Lounge, where you can buy bottles of rosé, wine glasses, and snacks. But I think we all know that the journey never truly ends, because if I cannot leave keep my human self there after hours, I will most definitely be leaving my heart.
"This summer we're making all of your Rosé dreams come true. Wander the rooms in the mansion while sipping Rosé from around the world. Each room will transport you to a different place and time. Along the way you will learn about the history, science, and economics of this magical beverage," says the description on the website. "Travel to Ancient Rome, stop by the Finger Lakes, blend your own wine, swing from a gold chandelier, and more before you end your journey in the greatest Rosé wine bar on the planet."
The Rosé Mansion officially opens on Thursday, July 12 ​and will only be around through Sunday, October 7, so if you are truly set on living your best rosé life, you better grab your tickets fast. Tickets go on sale starting June 5 at 10 a.m. EST, and will cost $35 apiece through June 17. After that — assuming there are any tickets left after that — matinée tickets (Monday through Thursday, before 4:30 p.m.) will go for $35 each, and regular tickets (Monday through Thursday after 4:30 p.m., and any time Friday through Sunday) will go for for $45 each. Each ticket will include access to the Rosé Mansion, eight rosé wine samples, a Rosé Mansion collectible pin and wine glass designed by GoVino, and access to the Grand Tasting Lounge, so you really do get the bang for your buck. Especially because, according to the site's FAQ, a walk around the museum could take anywhere between one and three hours to get the full experience!
For more updates about the Rosé Mansion, you can check out their website, or follow their Instagram account, which will reveal information about any special events or ticket packages like private dinners. That, and it will tide you over until you live the dream of WALKING THROUGH A ROSÉ MANSION, which I assume is when each and every one us us officially peaks.