These Teens Allegedly Sent 'Pretty Little Liars'-Inspired Threats — And Were Arrested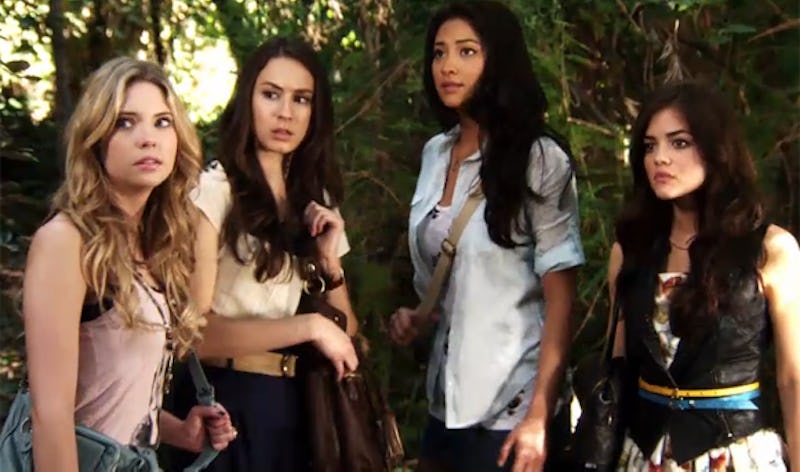 The CW
File this under "life imitating art gone wrong." On Friday, Ohio's Piqua High School cancelled classes after two teenagers allegedly made threats inspired by the ABC Family drama Pretty Little Liars. For those unfamiliar with the show, it's set in a small suburban town, where the primary story line centers on four young women terrorized by text messages from the mysterious "A.," who threatens to expose their secrets. (Considering they were characters in a teen soap, these secrets were worth keeping under wraps.) According to the Associated Press, two 14- and 15-year old girls, whose names have not been released, allegedly made similar threats last week, which reportedly led to unsubstantiated rumors of a planned school shooting.
"We will not tolerate behaviors such as this that distract students from the learning process," the Piqua City Schools Superintendent, Dwayne Thompson, tells Bustle over email. "It is absolutely unacceptable to induce panic such [as] this in any public environment, but especially in a school setting. We will always act accordingly with law enforcement and seek maximum penalties and disciplinary action in situations such as this."
So far, no one affiliated with Pretty Little Liars, which aired its series finale over the summer, has commented on the incident.
Police say the 15-year-old student at Piqua High School allegedly created a Snapchat account under the name "A.," just like the mysterious villain of Pretty Little Liars fame. Like the fictional character, the real-life "A." allegedly posted to say she would expose her peers' secrets. Police say this caused one of these classmates, the aforementioned 14-year-old, to allegedly leave her own message on a bathroom mirror: "I'm still going to shoot up the school. A."
In response, Piqua High School let its students out early on Thursday, and classes were cancelled for Friday. (As of Monday morning, no shooting has been reported.) According to Thompson, the school's staff conducted themselves admirably throughout the incident.
"I was really proud of the Piqua High School staff," he wrote. "They remained calm and worked in tangent with the Piqua Police to keep students safe and orderly through this whole situation. I appreciate their professionalism and 'students first' mentality."
According to police, the two teenagers suspected of allegedly creating the Snapchat account and writing the message in the bathroom have been arrested and charged in juvenile court.
In a year marked by violent shootings across the world, but particularly in the United States, school officials take such threats seriously. On Nov. 14, a gunman went on a rampage in the northern California town of Rancho Tehama, where he reportedly entered an elementary school at one point. Before that, there have been numerous school shootings, from the 2012 killing spree at Sandy Hook Elementary to the 1966 clock tower shooting at the University of Texas.
There have also been incidents of people being moved to commit (or threaten to commit) crimes based on films or TV shows. In 2011, a woman robbed a bank in the suburbs of Chicago, Illinois while dressed as a nun, a choice seemingly modeled after the Ben Affleck movie The Town. Police said the 2009 bombing of a Starbucks in the Upper East Side was a tribute to a similar event in Fight Club. More recently, two young Wisconsin teens pled guilty to stabbing a classmate when they were all 12 years old to please the Slenderman, a popular online fictional character.
Fortunately, the alleged threats inspired by Pretty Little Liars never came to pass, if they were ever intended to do so in the first place. That's the difference between real life and television: On TV, it takes seven seasons to resolve the plot. In real life, it can take just a weekend.