A Teacher Accidentally Fired His Gun In Class & 3 Students Were Hurt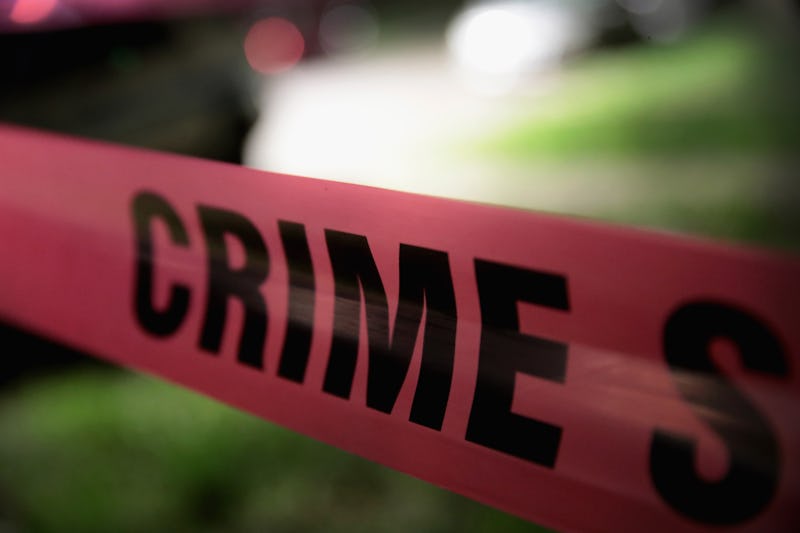 Scott Olson/Getty Images News/Getty Images
KSBW reports that on Tuesday morning in Monterey County, California, a Seaside High School teacher accidentally fired a gun in a classroom while teaching a class on public safety, injuring three of his students in the process. Dennis Alexander, who's also a reserve police officer at the Sand City Police Department and a member of the Seaside city council, was reportedly aiming the gun at the ceiling during his Administration of Justice class when it went off, sending debris flying. It was the third accidental school shooting in less than a week and the second to occur on Tuesday.
Alexander has since been placed on administrative leave, both by the high school and the police department, KSBW reports. The incident is being investigated by police and the school district, Monterey County Weekly reports. Although one of the students was struck in the neck with a debris fragment, which landed him in the hospital for X-rays, Seaside Police said in a statement that nobody suffered serious injuries.
As Monterey Peninsula Unified School District Superintendent Daniel Diffenbaugh told the Associated Press, it's illegal under California law for teachers to bring guns onto school campuses. Although other school employees may do so, Alexander "was not authorized to carry a firearm on campus," Diffenbaugh said.
"I have concerns about why he was displaying a loaded firearm in a classroom," Sand City Police Chief Brian Ferrante told KSBW. "We will be looking into that."
Fermin Gonzales, the father of the student who was hit in the neck, expressed frustration at how school officials reacted in the immediate aftermath of the incident. Gonzales told Monterey County Weekly that "nobody from the office came in and looked at what had happened" after the gun went off, and that the school didn't inform him or the student's mother about the incident at all.
"I'm still really upset no one called a nurse or a paramedic to come check on the students," Crystal Gonzales, the boy's mother, told the Associated Press. "They just sat there until the bell rang."
Alexander was the second school official to accidentally fire a gun on campus on Tuesday. Hours earlier, a resource officer at George Washington Middle School in Alexandria, Virginia also fired his gun by mistake on school grounds. Like Alexander, he also served in the city's police department, and has been placed on leave pending an investigation, CBS News reports. Nobody was injured. Six days earlier, a 17-year-old student at Huffman High School in Birmingham, Alabama was killed in what police say was also an accidental shooting.
Tuesday's shootings also come exactly one month after a gunman shot and killed 17 people at Marjory Stoneman Douglas High School in Parkland, Florida. That shooting reinvigorated the long-running public debate over gun laws and, more specifically, gun violence in schools.
Some Parkland students who survived the shooting have subsequently turned to activism, and helped organize a mass protest in Washington D.C. to demand stronger gun laws. On Tuesday, a different group of activists left 7,000 shoes on the Capitol lawn in Washington D.C. — one pair for every student who's been killed by a gun since the Sandy Hook massacre in 2012 — and the next day, thousands of students across the country walked out of their classes to protest gun violence in schools. Lawmakers in Florida, meanwhile, responded to the Parkland shooting by passing a law that will allow certain school officials to carry guns on school campuses.
On Monday, a study published in Pediatrics found that guns have become the third leading cause of death for American children, killing an average of 1,297 kids in the U.S. every year.