Florida Just Passed Its First Gun Law After Parkland & It's Already Controversial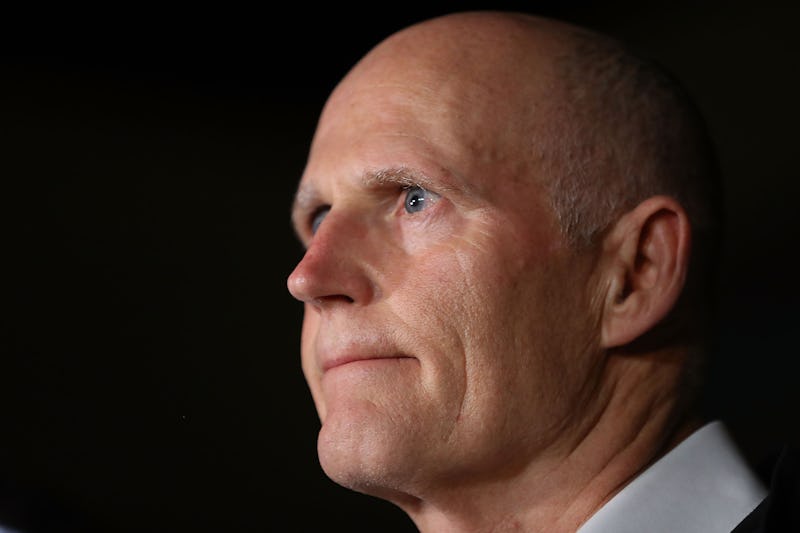 Joe Raedle/Getty Images News/Getty Images
On Friday, the governor of Florida signed a sweeping new gun law, the state's first since the deadly Parkland shooting in February. It combines progressive and conservative policies, so it's probably no surprise that it's drawing criticism from all sides of the ideological spectrum. One component is proving particularly contentious, however, and that's the part of the law that would allow certain school employees to be armed on campus.
SB 7026 includes a lot of different reforms. It raises the age requirement for buying most guns from 18 to 21, imposes a three-day waiting period on most firearm sales, and bans the sale of bump stocks, which allow semi-automatic weapons to fire at a rate closer to that of an automatic weapon. It also makes it easier for courts to ban specific individuals from owning firearms and allows law enforcement to temporarily seize guns from people who've been taken into custody involuntarily for mental health evaluations.
However, the law also permits local sheriff's offices to establish something called the Coach Aaron Feis Guardian Program, so named for the coach at Marjory Stoneman Douglas High School who sacrificed his life shielding his students from bullets during the Parkland shooting. This program would allow schools — within narrow parameters and with plenty of restrictions — to arm certain employees.
Under the new law, only certain employees will be eligible to carry guns on campus. Staff members who "exclusively perform classroom duties as classroom teachers" won't be allowed to do so, per the law's text, unless they teach a Junior Reserve Officers' Training Corps program or have a background in military or law enforcement. School employees who do wish to carry guns must first undergo 144 hours of firearm training, and they can only do this if both the school district in question and the local sheriff's department agree.
Still, the prospect of responding to a school shooting by allowing more guns in schools angered the local teachers' union, which urged Florida Gov. Rick Scott earlier in the week to veto the bill.
"The provision that would arm school employees will do more harm than good," the president of the Florida Education Association wrote in a letter to Scott. "Our teachers and other school employees are ready to fiercely defend our students, but none of them should ever have to choose between shepherding students to safety or confronting an armed assailant where they are sure to draw fire toward the very students they are trying to protect."
Incidentally, the bill was also criticized by the National Rifle Association, which had previously given Scott an A+ rating, as an unconstitutional infringement on Second Amendment rights.
"Yesterday, in a display of bullying and coercion, the Florida House voted 67 to 50 to pass a bill that violates Second Amendment rights and punishes law-abiding citizens for the actions of a deranged murderer," said Marion Hammer, the NRA's lobbyist in Tallahassee, after the state's lower chamber passed the legislation.
Scott, who is believed to be considering a run against Democratic Sen. Ben Nelson, noted at the signing that he objected to portions of the bill, specifically the three-day waiting period and the provision that allows school employees to be armed. However, he said that he was nevertheless committed to "common-sense solutions" for reducing gun violence, and called the bill "an example to the entire country that government can and must move fast."
"I think this is the beginning," Scott said. "There is now going to be a real conversation about how we make our schools safe."
For all of the measures it includes, the new bill omits one of the most sought-after demands of gun control activists: An outright ban on assault rifles.