This 'Hocus Pocus' Tour In Salem Is A Witchy '90s Kid Dream Come True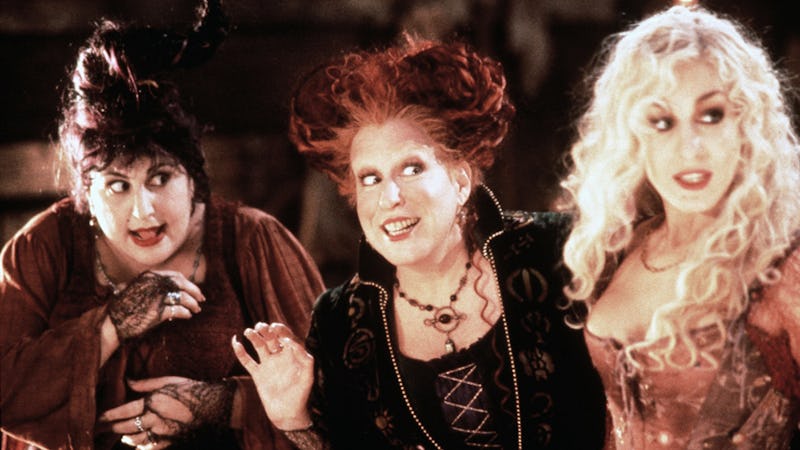 Disney
Halloween is coming, and for Disney fans that means one important thing: Hocus Pocus re-watching. This year, marathoning the iconic movies isn't the only spooky fill you can get: there's a self-guided Hocus Pocus walking tour dedicated in Salem, Massachusetts. Amanda of blog Life at Clover Hill made a post about the Salem tour in 201 — in honor of the 20th anniversary Hocus Pocus' release date.
The first stop on the scenic (and slightly spooky) tour is Max and Dani's house. "Built in the 1870's, this house has become a tourist attraction of its own since the release of the film. We weren't the only ones on the street that day taking pictures," Amanda wrote. The quintessential white house will fill you with a ton of Hocus Pocus nostalgia when you walk past it, and that's something that you don't want to miss. Another highlighted spot is Allison's house (this one was filmed at the Ropes Mansion and built in the 1720's: and people think that the house is super haunted) The spot is now owned by the Peabody Essex Museum and open for public tours, so you can get the total authentic experience.
Old Town Hall, where Max and Dani's parents went to a party in the movie, is another spot — it's big, slightly spooky-looking, and a perfect place for a photo-op. Thackery's Village, the 17th century opening scene location, and the site of fictional John Bailey High School are also on the list. "This is where we're first introduced to Max and Allison, and where they later try to burn the witches in the art room's kiln. The park across the street, Salem Commons, was used for the scene where Allison pretends to give Max her phone number," Amanda of Life at Clover Hill says about the famous setting.
If you can't make it to Salem to take the Hocus Pocus tour to celebrate Halloween this year, you can still get your fix with the amazing merch that's available for the franchise. Disney has released a ton of colorful Hocus Pocus-themed shirts (each one is made to look like one of the Sanderson sisters' costumes from the movie) "Amuck, Amuck, Amuck" sweatshirts, mugs, bags, and snowglobes. You can check out all of the items here, and pick the ones that you think would be perfect for your October festivities.
Spirit Halloween has another fully-fledged line of Hocus Pocus products — including themed cups for your next holiday party. There's stemless glasses that read "It's Just A Bunch Of Hocus Pocus," one that reads "Binx Is My Boo," and even a Museum Of Witchcraft Journal (for plotting world domination, of course). Candles and bows are also available from the line, and it's everything you need to have a great holiday season.
Hocus Pocus is a movie that defined most of our childhoods, and there's no better way to memorialize it than to go on a tour of all the stops during the film and fill your home with all the essential merch items. Happy early Halloween, friends.