Spirit Halloween Just Dropped A Ton Of 'Hocus Pocus' Merch, Including WINE GLASSES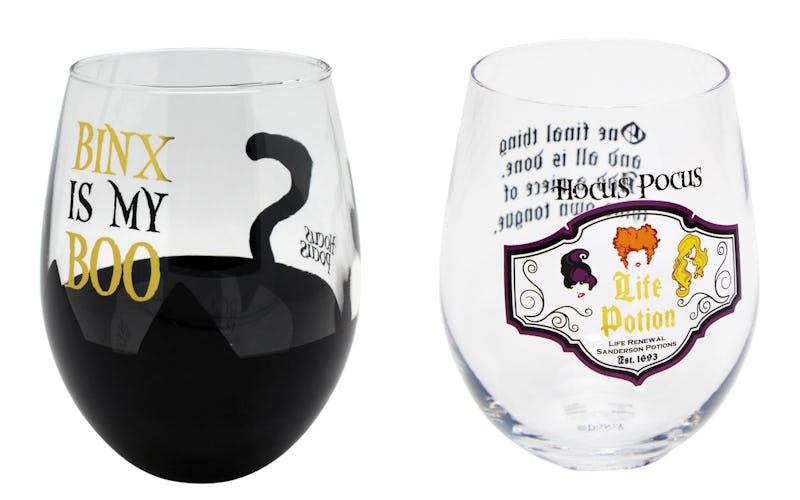 Spirit Halloween
When it was first released in 1993, I don't think anyone knew that Hocus Pocus would go on to become one of the most enduring Halloween classics of all-time… and yet, here we are. And hey, guess what? If you're a Hocus Pocus devotee who's already counting down the days until October, I have excellent news for you: Spirit Halloween's 2018 Hocus Pocus collection is here — and this year, there are wine glasses. Yes, and please.
The Spirit Hocus Pocus line is not, in and of itself, new; we were previously introduced to such delightful items as a "Binx Is My Boo" T-shirt and several adult-sized Sanderson sisters costumes in 2017. Whereas last year's line consisted of only 55 items, however, this year's has grown considerably — by my count, there are now a whopping 147 (a conclusion I reached by adjusting the number of items displayed per page for the collection to 72, painstakingly counting up how many were on the second page, and then adding that number to the existing 72 items displayed on the first page).
The old favorites are still there — you can get yourself another Winnifred Sanderson head mug if you like, or restock your supply of Binx = Boo shirts — but the new items are truly spectacular. And, of course, the first picks I noticed in the line that made me want to break out my wallet immediately were the wine glasses. To be fair, there was one glass available last year; a 22-ounce piece of stemless beauty, it came adorned with stars and the glittery silhouettes of each of the Sanderson sisters' magnificent hairdos. Another four — yes, four — have been added to the mix for 2018, though, and each one is better than the last.
They're all 22 ounces and stemless, which is a bonus if you're klutzy like me (I find I am much less likely to knock over a stemless wine glass than I am a stemmed one); each measures in at $6.99 or $7.99 a pop, depending on which one you're looking at. First, we have a classic:
Then we have one featuring the spell used to turn Binx into a cat:
For the curious, Binx is an unusual spelling for the surname Binks; a topographical name of pre-medieval origins, it's derived from the word "bink" or, alternatively, "benc." It means "bench," a word which would have been used to describe "a raised bank of earth, probably a defensive wall, around a village or farm," according to the Internet Surname Database. Checks out, based on what we know about our feline pal, no?
Then we've got one with an ad for an imaginary life renewal potion company run by the Sanderson sisters, which I love:
The back of the glass includes the final line of the life potion spell: "One final thing and all is done. Add a piece of thine own tongue."
And lastly, we have another "Binx Is My Boo" option — but this one is designed to make the glass look like a cat:
Obviously, it is the best one.
Other notable items in the 2018 line include a journal that looks like a souvenir from the gift shop of the Sanderson Museum of Witchcraft:
A Black Flame Candle (which, y'know, probably doesn't actually have a black flame, but whatever, I'll roll with it):
And delightful little hair bows themed after each of the Sanderson sisters. Here's Winnie's:
Gotta love subtle seasonal attire.
Hocus Pocus turns 25 this year, by the way, so please join me in wishing this ridiculous and loveable classic a very happy birthday — just, uh, maybe without the birthday candles. You never know which ones might be capable of summoning three powerful and very pissed off witches to the present to wreak havoc on us all.