New York City Is Honoring Shirley Chisholm & Her Legacy In A Fitting Way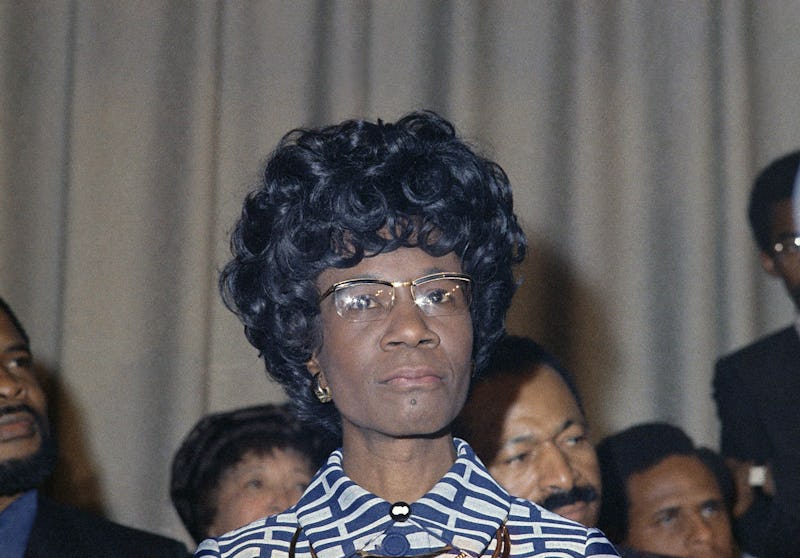 Jim Wells/AP/Shutterstock
New York City has a significant lack of statues featuring women, The New York Times reported, but city officials are trying to change that moving forward. The city's first lady, Chirlane McCray, announced on Thursday that New York City will get a statue of Shirley Chisholm — the first black woman elected to Congress — by 2020.
Chisholm died in 2005 at 80 years old, but Thursday marks her birthday, as well as the 50th anniversary of her election to Congress. Chisholm also made history in other ways; in 1972, she became the first black woman to seek a presidential nomination, and although her campaign was unsuccessful, she was also the first woman to run for president as a Democrat. In an interview with The New York Times, McCray explained that the decision to approve a statue of Chisholm was part of an attempt to "correct a glaring inequity in our public spaces."
"I can't think about her and what she accomplished before and after her run and not think 'Oh, maybe I should do that too, you know?'" McCray told the Times. "She really set an example, for all of us."
McCray added that Chisholm had inspired many other women to run for elected office, and expressed her hope that "putting up the statue now will encourage even more."
Back in June, New York City officials announced the launch of the She Built NYC initiative, an effort to increase the representation of women in public art around the city. As part of this initiative, officials asked city residents to suggest women who have strong connections to New York. Chisholm was ultimately selected as the first She Built NYC monument, and her statue will reside at the entrance of Brooklyn's Prospect Park. Deputy Mayor Alicia Glen told the Times that the artist tasked with designing the statue — "who we hope and expect to be a woman" — will be announced in March. The statue could cost up to $1 million to build, the Times reported.
"From standing up to congressional leadership to taking bold bipartisan action, Rep. Chisholm made sure everyone knew she was 'unbought and unbossed,'" Glen said in a statement, per the New York Post. "There is no one more deserving than Rep. Chisholm of a statue honoring her life and legacy; may New Yorkers of all backgrounds be inspired by her story."
Chisholm's legacy — which New York City aims to honor with this statue — is extensive. Per the National Women's History Museum, Chisholm was actively engaged in efforts to promote racial and gender equality through the NAACP and the League of Women Voters, among other organizations. During her time in Congress, she advocated for an end to the Vietnam War, as well for people living in poverty, and became the first black woman to join the House Rules Committee.
Following her retirement from Congress, Chisholm said that she wanted to be remembered not as the first black woman elected to Congress, or as the first black woman who ran for president. Instead, CNN reported, she wanted to be remembered as "a woman who lived in the 20th century and who dared to be a catalyst of change" — and with this statue, this is precisely the legacy that New York City aims to honor.