A 'Sister, Sister' Reboot Is Happening — Get Ready To Be Super Excited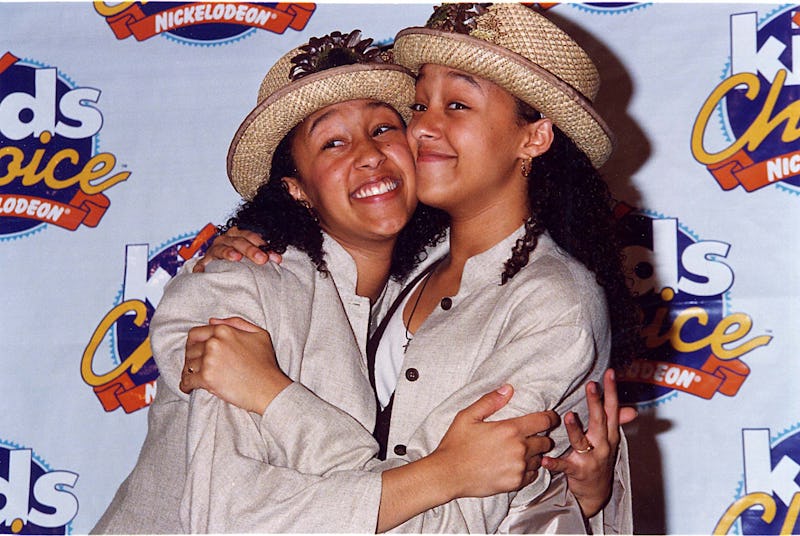 Jeff Kravitz/FilmMagic, Inc/Getty Images
Fans of the 1990s sitcom, Sister, Sister (executive producer: Suzanne Coston), are overjoyed following star Jackée Harry's confirmation that a Sister, Sister reboot is reportedly happening. According to Entertainment Weekly, Harry confirmed the revival of the show on Steve Harvey's talk show on Tuesday, though, no television network has officially announced the series' relaunch yet.
Sister, Sister was a popular '90s show that debuted in 1994. It was based on the premise that two identical twins (played by actresses Tia and Tamara Mowry) were separated at birth and reunited when they discovered each other's existence at the age of 14. The show aired for six seasons and concluded in May 1999.
Harry, who confirmed the revival, played Lisa Landry Sims on the show — Tia's adoptive mother. The revelation of the reboot came as Harvey was interviewing her as a guest on Tuesday's episode of his talk show. Harvey indicated that there had been rumors of a Sister, Sister revival for some time and then asked if there were any updates related to the potential reboot.
In response, Harry pointedly asserted, "Yeah, it's happening," grinning widely as she revealed the news to massive audience applause. "Yeah, I'm excited," Harry added.
Harry also revealed her excitement at reuniting with the Mowry sisters, saying to Harvey, "I'm excited. Tia and Tamera [Mowry] … they my babies, too. They won't leave me alone. I can't get rid of none of these women!"
According to US Weekly, the Sister, Sister reboot has actually been in the works for quite some time, with the Mowry sisters reportedly leading the campaign for the series' revival.
Indeed, Tia told the magazine back in November that the prospect of a reboot was very likely, saying:
[It's] amazing and wonderful. My sister and I are taking meetings as we speak, so it's definitely closer than ever to making this reboot happen. We are being told that they want it to be or happen next year in the fall. So, it's going by so fast, everything.
The paper also reported that, in addition to reuniting the original cast, the revival will likely include some members of the original production team as well.
As Buzzfeed reported back in October, Tia noted that she hopes that the revived show will focus on the "power of sisterhood" while also showcasing how the twins' lives have evolved since the show ended. As Tia put it,
I think I would want it to kind of pick up with where our lives are now: we're married with kids. But I think I'd definitely want it to focus on the power of sisterhood. You know, how wonderful and amazing that sisterhood and relationship can be.
Fans of the show were ecstatic on social media when Harry confirmed news of the revival. Many indicated that they were incredibly excited by the news and could not wait for the beginning of the series.
One fan noted, "To say I'm excited about the #SisterSister reboot is an understatement!!!! I'm thrilled ... I loved that show!! Hope @netflix picks it up so I can binge the season."
Another Twitter user indicated that the relaunch is "honestly the best thing I've heard in a while ... " A fan also speculated on the plot prospects for the show's relaunch, saying in a reply to another fan's tweet that with "... All these writers, all this imagination, all the different pairings of people, all the stories to be told - especially in 2018," there are a lot of possibilities for the show's evolution.
It is very clear that many Sister Sister fans are thrilled by Harris' revelation — and that they will eagerly be awaiting official network confirmation of the show.