All Of Trump & Comey's Interactions According To The Testimony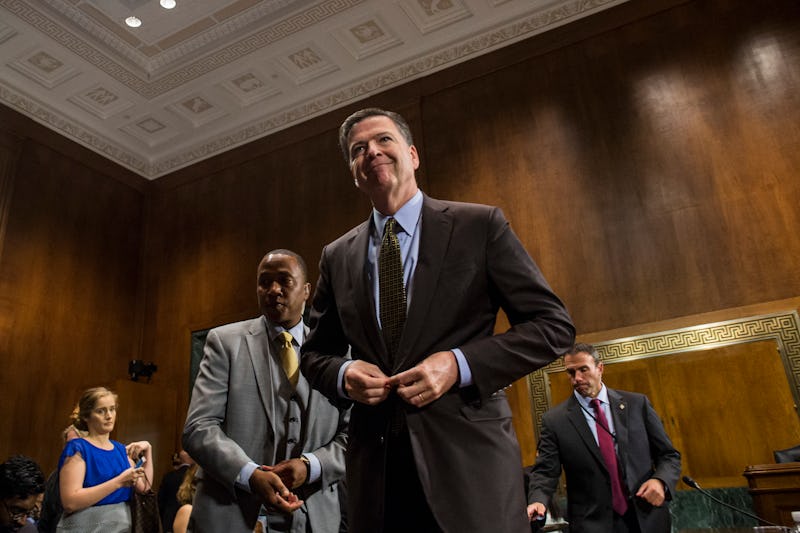 Zach Gibson/Getty Images News/Getty Images
On Wednesday, the day before his much-anticipated testimony before the Senate Intelligence Committe, Comey released the timeline of his interactions with Trump. The insight it provides into his relationship to the president is nothing short of fascinating. And if his claims are true, they don't reflect positively upon Trump.
Among the most shocking parts of his testimony include Trump's alleged demand for loyalty, his supposed insistence that Comey drop the investigation into former national security advisor Michael Flynn, and the fact that Comey recorded the alleged details of their conversations at all. At a news conference in May, Trump denied ever asking Comey for his "loyalty." Furthermore, after Comey released his memo on his alleged conversations with Trump, the White House firmly denied the president requested that Comey stop investigating Flynn.
Since the complete release of Comey's statements on Wednesday, one of Trump's lawyers, Marc Kasowitz, released a statement. Apparently, Comey's testimony doesn't worry him.
The president is pleased that Mr. Comey has finally publicly confirmed his private reports that the president was not under investigation in any Russian probe. The president feels completely and totally vindicated. He is eager to continue to move forward with his agenda.
If you don't have time to read through Comey's prepared statements, take a look at this condensed version of his and Trump's interactions, organized by date.
Jan. 6, 2017
According to Comey, he and then-President-elect Trump met in person for the first time on January 6, 2017, at Trump Tower in New York. He said that the purpose of the January 6 meeting was to explain the information that the IC had concerning Russia.
He said that afterwards, he stayed behind to personally inform Trump of "potentially sensitive aspects" of their acquired information. While Comey did not outright state what this "salacious and unverified" information was, it was assumedly the controversial Christopher Steele dossier. During this meeting, Comey allegedly assured Trump that he was not under investigation, the first of many times. Trump has called the dossier "fake news" and said that he had nothing to do with Russia.
It was after this that Comey decided to begin documenting his conversations with the president, despite it not being his practice before. He reported that over the next four months, he would have three in-person meetings with the present and six phone conversations. However, there were only two phone calls and three in-person meetings mentioned in his report.
Jan. 27, 2017
Trump invited Comey to a dinner at the White House that ended up being one-on-one. He allegedly opened the conversation by asking Comey if he wanted to stay on as FBI director, citing the abuse that Comey had been subject to. This worried Comey, who wrote:
My instincts told me that the one-on-one setting, and the pretense that this was our first discussion about my position, meant the dinner was, at least in part, an effort to have me ask for my job and create some sort of patronage relationship. That concerned me greatly, given the FBI's traditionally independent status in the executive branch.
It was during this part of the conversation that Trump allegedly said, "I need loyalty, I expect loyalty." Despite the awkward silence that ensued, Comey claimed to explain the separation of the executive and judicial branches of government, and how former presidents garnered distrust in trying to keep the FBI and Department of Justice close.
At the end of the dinner, Comey claimed Trump repeated his need for loyalty, to which Comey replied, "You will always get honesty from me." Allegedly, Trump paused and agreed that he wanted "honest loyalty," which Comey agreed to. In this part of his opening statement, Comey speculated that he and Trump may have had different understandings of the phrase "honest loyalty."
When the details of this dinner was first reported, the White House disputed the details of this conversation. "We don't believe this to be an accurate account," said Sarah Huckabee Sanders, the deputy press secretary. "[President Trump] would never even suggest the expectation of personal loyalty, only loyalty to our country and its great people."
Feb. 14, 2017
Following a counter-terrorism briefing in the Oval Office on Feb. 14, Trump allegedly told Comey, "I want to talk about Mike Flynn," who had resigned the day before. Trump supposedly explained that Flynn was fired because he had misled the Vice President, not because he had done anything wrong. "[Flynn] is a good guy," Trump supposedly assured Comey. "I hope you can let this go."
The White House released a statement that denied this version of events, saying that "While the president has repeatedly expressed his view that General Flynn is a decent man who served and protected our country, the president has never asked Mr. Comey or anyone else to end any investigation, including any investigation involving General Flynn."
March 30, 2017
Comey noted that he received a phone call from Trump to talk about Russia. Trump supposedly discussed a "cloud" that he asked the FBI director to lift. Even though the then-FBI director assured the President that he was not being investigated, Trump allegedly asked for that to be made clear to the public.
April 11, 2017
On April 11, Comey allegedly received what would be his final phone call from the president. He claimed that Trump called to ask if anything was being done about "the cloud." He supposedly stressed that he had been "very loyal to you, very loyal," to Comey. Comey told him to contact the Acting Deputy Attorney General with his concerns.
According to his lawyer, Trump doesn't seem aggravated by Comey's testimony just yet, but that could all change after the former FBI director presents it in front of the Senate Intelligence Committee and America itself.