A Comprehensive Timeline Of Trump's Gold Star Family Debacle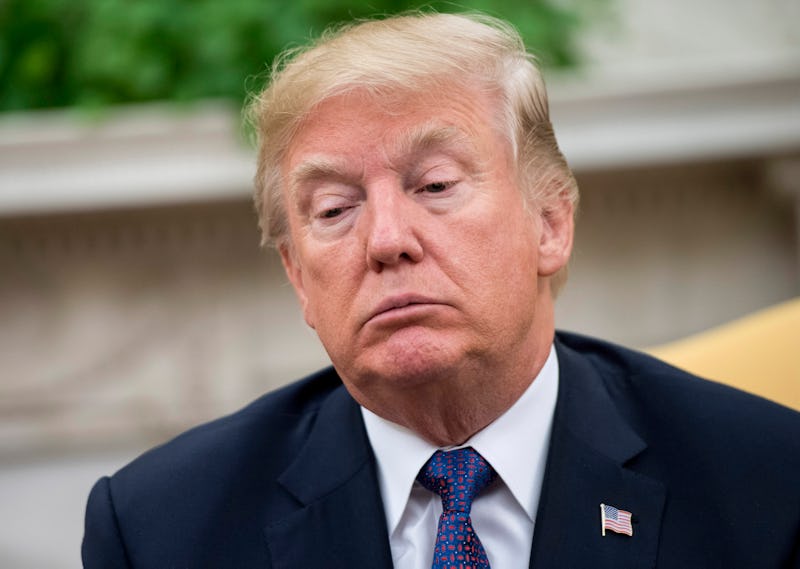 Pool/Getty Images News/Getty Images
The Trump White House is absolutely consistent on one thing — when attacked or facing a public relations crisis, the president and his staff will never back down, they'll only fight back harder. This has perhaps never been clearer than in the past week, when the president's alleged words (and lack of words) to the families of fallen military veterans enveloped what was supposed to be "Character Counts Week" in a bizarre, metastasizing scandal over Trump's treatment of Gold Star families.
The issues started when Trump was asked about the deaths of several American servicemen in Niger, a country that many Americans hadn't realized American troops were even in. When he responded to a question about the event by falsely claiming that previous presidents had neglected to directly speak with families of fallen troops, he set off a series of events involving multiple claims from the White House, a reportedly insensitive call to a widow, and claims that Chief of Staff John Kelly couldn't be questioned on any comments he makes because he is a four-star general.
If you're confused, that's OK. Below is a full timeline of what happened around the topic this week:
October 4: An Ambush In Niger
Before any of this turned into a scandal, it started with a real human tragedy. On Oct. 4, a 12-member team of US Green Berets, stationed in Niger to aid local forces combat terrorists, were ambushed by an ISIS-linked group, close to the border with Mali in the western part of the country. Details of the event are still mostly unknown, but it is clear that four US servicemen, Sgt. La David Johnson, Staff Sgt. Bryan Black, Staff Sgt. Jeremiah Johnson and Staff Sgt. Dustin Wright, died.
The White House did not make public statements about the ambush.
October 16: Trump Is Asked About Niger
President Trump held a joint press conference alongside Senate Majority Leader Mitch McConnell, where the pair attempted to end rumors that they were at odds amid a growing civil war within the Republican Party. A pool reporter asked the president about the ambush in Niger, and why the White House had been so slow to respond to the loss of American lives.
Trump replied that he had written letters to the families of the slain troops, and then threw out a (false) criticism of previous presidents. "If you look at President Obama and other presidents, most of them didn't make calls," Trump told reporters. "A lot of them didn't make calls. I like to call when it's appropriate."
The response by former employees of the Obama White House was swift and furious.
Fact checkers quickly determined quite how wrong Trump's claim was.
October 17: Trump Doubles Down
On Tuesday morning, after a day of controversy over Trump's false comments, the president claimed he had called "virtually everybody" among the families of fallen soldiers. In a radio interview with Fox News' Brian Kilmeade, Trump said, "You could ask General Kelly, did he get a call from Obama?"
Kelly, Trump's chief of staff, lost a son in battle in Afghanistan in 2010. At the time, President Obama reportedly did not contact Kelly directly, which Kelly seemingly did not have much of a problem with, not wanting to receive special treatment as a general. Obama and Kelly did meet over his son's death at a breakfast Obama held for Gold Star families in May of 2011. Kelly also reportedly had told Trump about his experience losing a son in combat without expecting Trump to share it publicly.
October 17: Trump Calls Sgt. Johnson's Widow
The evening of the comments Trump made about Kelly, Trump did call the family of Sgt. La David Johnson, one of the men killed in the Niger ambush, whose body took more time to recover than the others. He spoke with Myeshia Johnson over speaker phone while she was in the car with others.
One of the people in the car was Rep. Frederica Wilson (D-FL), who had been a mentor to Sgt. Johnson when he was young and a long-time friend of the family. Wilson alleged shortly after the call that Trump had spoken like he was joking, and had told Johnson's widow, "he knew what he was getting into when he signed up, but I guess it hurts anyway," which made her cry.
October 18: Trump Escalates Against Rep. Wilson
By Wednesday morning, the president was hitting back against Rep. Wilson and her telling of the story. He tweeted out an attack against the Congresswoman, claiming she had lied about the call, and that he had proof of it. Since the tweet, neither the president nor anyone in his administration, has offered proof.
During a meeting with Senate leaders, the president again denied to reporters that he had said what Wilson claimed.
However, Johnson's mother Cowanda Jones-Johnson spoke out and affirmed Wilson's telling of the phone call, which she says she overheard as well. "President Trump did disrespect my son and my daughter and also me and my husband," Jones-Johnson told the Washington Post.
When asked about the president's supposed "proof," White House press secretary Sarah Huckabee Sanders replied simply that there were others in the room with the president listening in on the call, implying there was no hard proof beyond the words of the president's advisers.
By this time, news organizations had worked to check Trump's claim that all families of military who had died since Trump's inauguration had received calls. The Associated Press reached out to all 43 families of fallen soldiers since Jan. 20, and of those who addressed the question, only half had received a call or letter from the president. The Washington Post also reported that Trump had promised a military father $25,000 after his son had been killed, but that no check had ever reached him. The White House claimed after the story was published that the check had been sent by mail.
October 19: John Kelly Gets Involved
On Thursday, the White House chief of staff stepped out in front of the White House press corps, trying to put the scandal to rest. The former general recounted his own experience of losing a child in battle, and said he told the president about the solace he had felt knowing that his own son had been prepared for the risk of losing his life. He lamented the way that military families had been politicized, said women were sacred back when he was younger, and allowed questions only from members of the press corps who knew Gold Star families.
Kelly also lashed out at Rep. Wilson, saying he was stunned that she would listen in on the conversation, and that she would attack the president over his remarks. He attacked Wilson beyond this incident, bringing up an incident in 2015 when she had spoken at the dedication of a new FBI building, named after two slain agents. Kelly alleged that her speech had been focused on herself, and how she had managed to secure funding for the building.
Reactions to Kelly's speech were mixed, with some pointing to how moving his words were about military service, and others complaining of how he had spun criticism of the president's seeming disrespect toward the families of fallen troops into disrespect for the troops.
Also that evening, Trump tweeted out an attack on Wilson, alleging she had been "SECRETLY" in on the call, which conflicted with the account of Sgt. Johnson's family.
October 20: Kelly's Story Gets Debunked
Wilson hit back on Kelly's description of her speech in 2015, saying that the funding for the FBI building had come before she'd been elected to Congress, and that she hadn't talked about the funding at the dedication. On Friday morning, The Sun Sentinel, a local newspaper in Florida, backed up Wilson's version of the story, with video of her speech. Wilson had not actually discussed the funding of the building in that speech, and had focused instead on the lives of FBI agents the building had been named after.
At the Friday press briefing, reporters asked Sanders about the inaccuracy of Kelly's claims about Wilson. Sanders insisted that Wilson had said things not included in the video provided by The Sun-Sentinel. She further insisted that "if you want to get into a debate with a four-star Marine general, I think that that's something highly inappropriate," raising concerns about the administration using the military as a shield against criticism.
Quickly, opponents of the president dredged up old tweets he had fired off criticizing other generals, from before he was president.
Also on Friday, Roll Call reported that according to leaked internal emails between the White House and the Pentagon, the administration scrambled to come up with a list of all the troops who had died on duty since Trump had claimed to contact all of them. The emails highlighted the falsity of Trump's initial statement that he had contacted all the families — the White House could not even identify all the families when he said it.
October 21: Trump Keeps Tweeting
On Saturday morning, the president fired off another tweet blasting Rep. Wilson, who at this point had been accused of lying by the president and of making an insensitive speech by the White House Chief of Staff that she did not make.
It was quite a week for the White House, as Trump's off-the-cuff statements turned a simple question from a reporter into a series of debunked falsehoods and political fights over dead military veterans. But even through all the mess, one thing got through — the Pentagon is now investigating what actually happened in the ambush in Niger, trying to find out why these four soldiers are dead in the first place.