A Tiny Harry Potter Manuscript Is About To Go On Sale For $150,000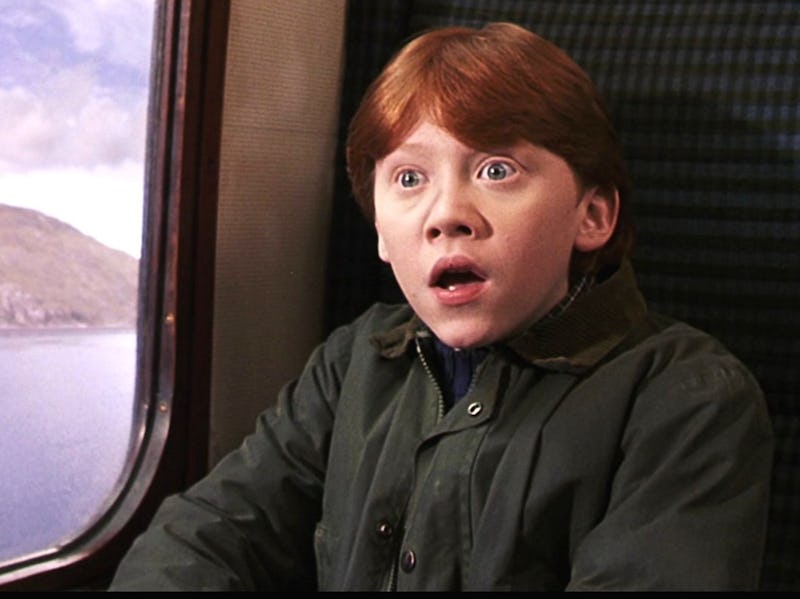 Warner Bros.
Harry Potter and the Sorcerer's Stone may span over 300 pages, but now, you can fit all of its magic and wonder in your pocket with this tiny manuscript written and illustrated by J.K. Rowling herself. That is, if you have £120,000 (about $161,000), which is the estimated value of the one-of-a-kind literary keepsake according to the auctioneers selling it, Bloomsbury of London.
It is no secret that Potterheads love collecting Harry Potter swag. From Hogwarts house-themed holiday home decor, to Luna Lovegood-inspired accessories, there is no extreme a true Harry Potter fan won't go to in order to properly express their love for the series, including spending hundreds of thousands of dollars to get an original piece of it, apparently.
The ultimate piece of Harry Potter memorabilia, a mini illustrated manuscript of Harry Potter and the Philosopher's Stone recently went up for sale, and if anything shows just how much the series means to Potterheads, it's the 31-page book's £120,000 price tag. Featuring short extracts and complimentary sketches inspired by the first book in the beloved series, this unique manuscript was written and illustrated by J.K. Rowling in 2004. Although it is over 13 years old and has had one previous owner, it is still in perfect condition.
Inside of the hardback green and gold cover of this incredible mini manuscript, readers will find 31 pages of black ink text and drawings created by the author's own hand. The short but bewitching book includes a list of supplies Hogwarts students need for class, a description of the school uniform, and important reminders for parents, among other important details Harry Potter fans will recognize. It also features enchanting drawings of a cauldron, a wand, a witch's hat, and more. The final page is complete with an inscription from Rowling that reads, "From Harry Potter and the Philosopher's Stone, by me."
(Dear Santa: is it too late for me to add this to my wishlist? I swear I've been a good Potterhead this year.)
The mini manuscript is currently owned by a private collector who bought the ultimate Harry Potter keepsake at a charity event in 2004 for around £10,000. Like many other professional Potterheads who have decided to sell their rare, limited edition, and first edition copies to enthusiastic fans, the collector has decided to capitalize on the heightened interest in the books and sell their one-of-a-kind manuscript in honor of the series' 20th anniversary this year.
According to the auctioneers in charge of the sale, the mini manuscript's current value is up to £120,000, a whopping 12 times more than it originally sold for. The serious price increase is a direct result of the series' 20th anniversary status, and the fact that several first edition copies of the novel have sold for over £100,000 this year. None are quite like this manuscript, though, whose handwritten pages and charming doodles make it feel less like a hundred-thousand dollar book and more like a magical story crafted specially by J.K. Rowling for whichever lucky fan gets it at auction.
"This is the first complete book of its type and is incredibly rare and unique," Clive Moss of Bloomsbury told The Telegraph. "It is in perfect condition and is exactly the sort of thing that will get the serious Potter fans very excited. At the moment with the 20th anniversary, Philosopher's Stone items are sky-rocketing in price and we're really hoping to get some good interest in this over the next few weeks."
In case you're in London and happen to have a Rowling-sized fortune hidden away in Gringotts, you can participate in the sale happening on December 14.