This Harry Potter Bag Collection Is What Every Fashionista Saw In The Mirror Of Erised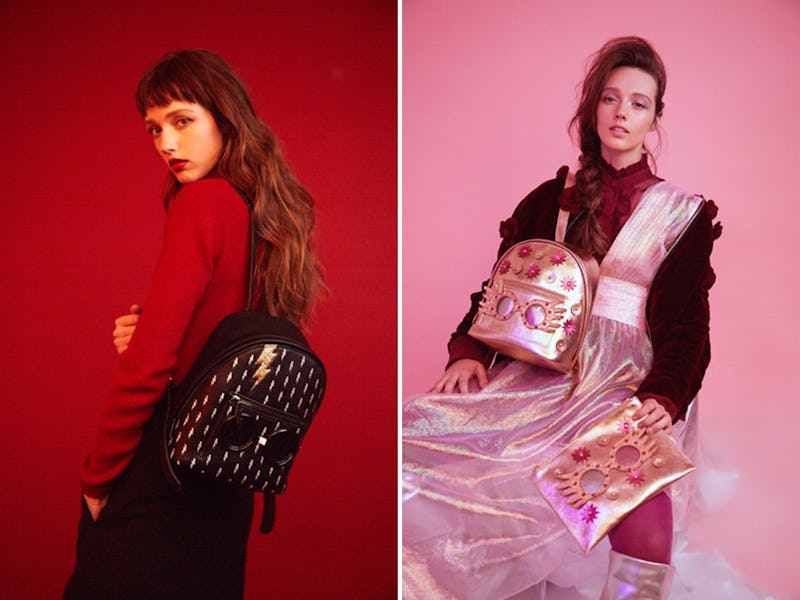 Jae Eun Seok
If there's one thing all HP fans can agree on it's that the more Harry Potter merch we've got to choose from, the better. From the kitschy to the chic, the wearable to the decorative, there is not a Harry Potter-inspired release out there that I, at least, have not been super stoked to check out. And a new collaboration between Warner Bros. and accessories and jewelry designer Danielle Nicole is bringing the Harry Potter merch obsession to a whole new level of luxe. Basically, if you or someone on your list is a fashionista bibliophile, prepare your vault for a major Galleon loss, because you're going to want to buy one of everything in this line the moment it's released on Danielle Nicole's website on Dec. 1.
Danielle Nicole, who is already known for her Disney and Rugrats inspired lines of handbags, pouches, and other cool bags, has tackled the world of Harry Potter in stunning fashion, with backpacks and pouches for each of the Houses, as well as a couple of special items for all of you Luna Lovegood fans out there. The items range in price from $38 to $78, but whatever you choose will fit in seamlessly with whatever style you like, wardrobe you have, or event you're attending, from work to play.
Now, you might not think "fashion" when you hear the word backpack, but I think its high time we reclaim the convenience of this carry-all without sacrificing the style. And Danielle Nicole's lightning bolt covered backpack does exactly that. Made in a chic black leather material, with on trend metallic bolts and the must-have Potter glasses, you can show off your love for Harry and your killer style for every day. Just think about how many books you can tote around in this!
Bolt Backpack, $78, Danielle Nicole
Now when it comes to those of us who like to minimize the amount of stuff they carry with them (or who are just looking for a fandom-centric purse for fancier occasions) these gold chain bags made to look like each of the four House robes is the one to pick. With glittering ties, metallic trim and a crest emblazoned on each one, you'll never be prouder to rep your House than when you've got one of these bags slung on your shoulder.
House Robe Chain Purse, $48 each, Danielle Nicole
And if you're the type to run out for lunch or a cop of coffee with nothing more than your wallet and phone in tow, these House mascot pouches are the ideal thing to grab-and-go. Again utilizing those classic house colors and motifs, even down to the wrist-strap stating your House name, this pretty pouch is not only convenient, its totally gorgeous, too.
House Mascot Pouch, $38 each, Danielle Nicole
And if you are the ultimate Luna Lovegood fan (and really, who isn't?) these pretty pink and gold bags are an absolute must-have. The backpack features knobbly magenta material and Luna's famous Spectraspecs in glittering purple for a carry-all that as functional as it is fun.
Luna Backpack, $78, Danielle Nicole
And if you're looking to create an ethereal holiday look, just think of pairing this gorgeous gold metallic pouch with a guazy winter white dress. You might have never thought you'd wear Harry Potter merch to that Christmas dinner or New Year's Eve bash...but I bet you're changing your mind about that right about now.
Luna Pouch, $38, Danielle Nicole
All of these items will be available on the Danielle Nicole website starting on Friday, Dec. 1, so check back there for all the purchase details.