A Trans Woman Could Run Against A Republican Who Sponsored A Bathroom Bill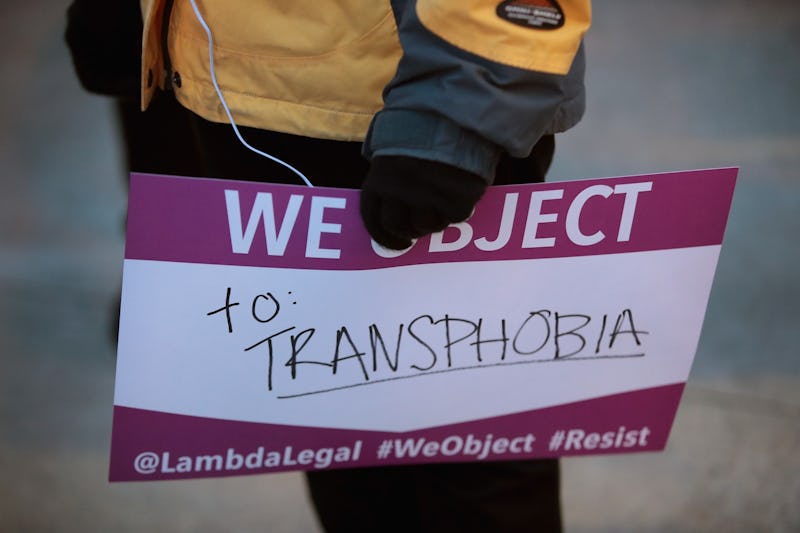 Scott Olson/Getty Images News/Getty Images
If Danica Roem wins a Democratic primary race on Tuesday, she will become Virginia's first-ever transgender candidate for the General Assembly. It would be an ironic victory, too, since the winner of that primary will be up against Bob Marshall, a longtime Republican state representative who in January sponsored a bathroom bill that even his fellow GOP state lawmakers saw fit to kill.
"There is no reason why a transgender person should feel disqualified from office because of who they are," Roem, a 32-year-old former journalist, told NBC News. "Transgender people have as much right to bring their public policy ideas to the table as much as anyone else."
Roem's platform touts her credentials as a reporter, which she said gives her an intimate knowledge of Virginia's District 13, which she's vying to represent as a delegate in the state's House. "She probably has a better grasp of the issues in the 13th District than anybody else. She was a reporter for the better part of a decade, so everybody knew who she was," Don Shaw, a Virginia Democratic Party leader who encouraged Roem to run, told Rewire.
The main policy issues she is interested in are traffic, schools, jobs, and equality. Roem has labelled Marshall, her potential opponent, as too political, even saying that he supports "alternative facts, which we in the newsroom would call BS," according to Rewire. Marshall's bill, which aimed at regulating access to bathrooms and locker rooms in schools, highway rest stops, and other government-owned buildings, went too far even for his Republican colleagues. "Delegate Marshall's legislative priorities are more concerned with where I go to the bathroom than how you get to work," Roem told Teen Vogue.
According to the Washington Post, when Marshall proposed the bathroom bill in January 2016, he said its goal was to protect women: "Some guys will use anything to make a move on some teenage girls or women. Mere separation of the sexes should not be considered discrimination."
Roem is one of the many transgender candidates supported this year by the Victory Fund, a national advocacy organization that seeks to get LGBTQ political candidates elected. The Victory Fund, which has supported politicians such as U.S. Senator Tammy Baldwin, has declared 2017 the year of the transgender candidate. "We have more transgender people running this cycle than almost all other cycles combined," Victory Fund President Aisha C. Moodie-Mills told NBC News.
For Moodie-Mills, the election of transgender candidates to local political offices would help combat some of the negative effects of the Donald Trump presidential administration. Moodie-Mills called candidates like Roem an "antidote" to Trump's policy moves, which have included rolling back Obama-era protections for transgender people.
But before Roem can take on the Republican Marshall, she must beat out three other Democrats. Nonetheless, she is undeterred and looking ahead to running against Marshall. "I wouldn't have entered this race if I didn't' think I have a more than 50 percent chance of beating him. I've analyzed the numbers. I can win this race," Roem told NBC News. "Democrats think I can win this race. I have proven I have the infrastructure to do it. I am a lifelong member of the district who is thoroughly versed on the issues and whose campaign has knocked on 6,000 doors to date."