A Tribe Called Quest Tells Us To Resist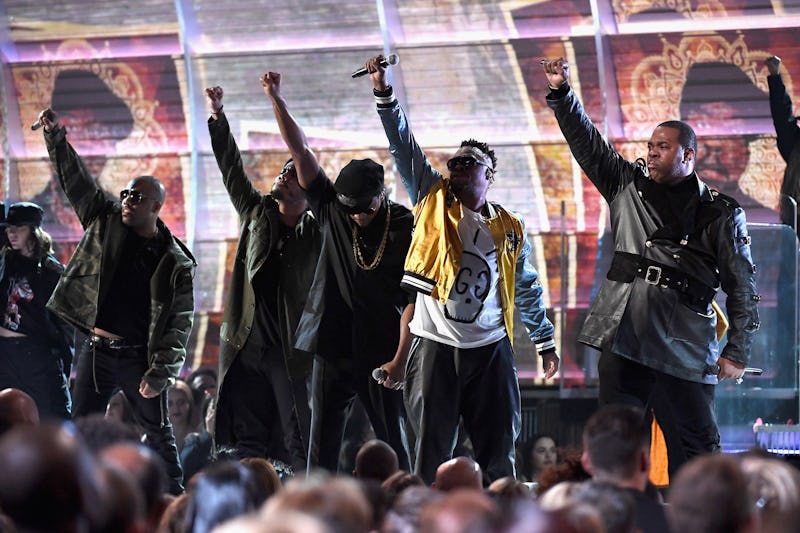 Kevork Djansezian/Getty Images Entertainment/Getty Images
The Grammys featured a very wide variety of performances this year, but one of the most powerful was A Tribe Called Quest's performance, which called out Donald Trump and featured guests included Busta Rhymes and Anderson .Paak. After being introduced by Solange, the performance began with remaining the Tribe members noting that it was dedicated to people all around the world who are suppressed by those in power and to Phife Dawg who died in March of last year. The group opened with some snippets of their old hits, including "Can I Kick It" and "Award Tour," but soon they were joined on stage by Busta Rhymes and Consequence. After that, things took a much more overtly political turn.
Busta Rhymes called out Donald Trump by repeatedly saying, "President Agent Orange" — no mistaking who that's about. Several people then busted through what appeared to be a fake wall on the stage, and things got even more political as the group launched into Tribe's 2016 song "We The People..."
For instance, the hook of the song is a comment on the state of our country and how not all citizens' lives matter in the eyes of the people in power:
All you Black folks, you must go
All you Mexicans, you must go
And all you poor folks, you must go
Muslims and gays, boy, we hate your ways
So all you bad folks, you must go
The song also touches on the distrust many people have of those in charge:
We don't believe you 'cause we the people
Are still here in the rear, ayo, we don't need you
The group ended their performance with a chant of "resist, resist, resist" and were joined on stage by a variety of people from all different backgrounds. In a night of many political moves — from Paris Jackson speaking out against the Dakota Access Pipeline to Beyoncé commenting on her hopes for her children's future in this world — A Tribe Called Quest, .Paak, Busta Rhymes, etc.'s performance was the most blatant, and will definitely be remembered for many Grammys to come.