Meghan McCain's Husband Slammed Twitter For Letting A Threat Against Her Stay Up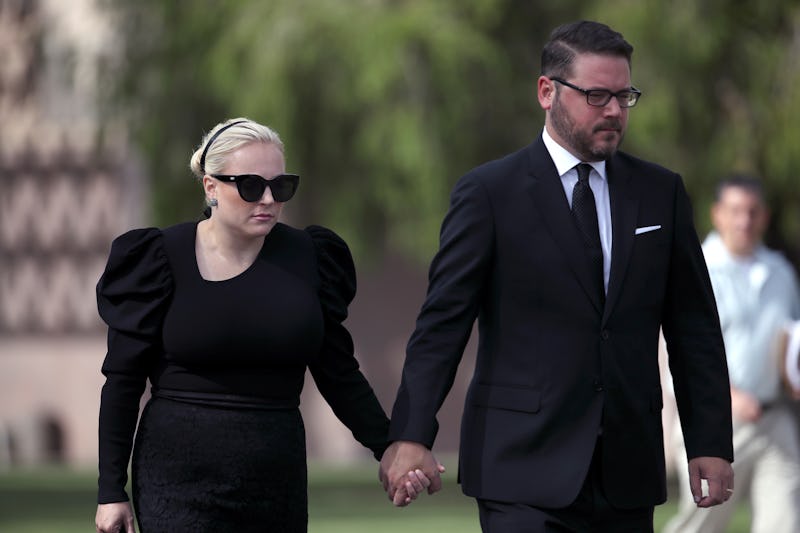 Justin Sullivan/Getty Images News/Getty Images
A tweet containing an image that appeared to threaten the daughter of the late Sen. John McCain with gun violence has spurred Meghan McCain's husband to criticize Twitter for what he perceived to be their slow response in removing the image. The tweet included a photo of a visibly emotional Meghan at a private memorial service for her father that had been edited to show a handgun being pointed at Meghan.
"Hey @jack, this has been up for half a day," Meghan McCain's husband, Ben Domenech, said in a tweet to Twitter CEO Jack Dorsey that shared a screenshot of the offending tweet. "It has been reported 100+ times. No response. Tell me why this is cool by you."
According to USA Today, the tweeted image appears to have been an edited version of a photo snapped Wednesday during McCain's father's memorial service at the Arizona Capitol. In the edited image two hands point a handgun at McCain as she stands crying next to her father's casket. "America, this ones for you," a caption accompanying the tweeted image read.
"You should prepare an answer for the people pissed off at you," Domenech wrote in a second tweet that also appeared to be directed at Dorsey. "A hint: the entire committee."
Although Twitter reportedly did not immediately remove the image, as of late Friday morning, the account that initially posted it appeared to have been suspended. Twitter confirmed to Bustle that the account was suspended for violating the social media networks policies around violent threats.
Twitter's rules explicitly state that users "may not make specific threats of violence or wish for the serious physical harm, death, or disease of an individual or group of people." The social media network further clarifies that it "will not tolerate behavior that encourages or incites violence against a specific person" in their policy guidelines regarding violent threats and glorification of violence.
Twitter also notes that it has "a zero tolerance policy towards violent threats" because of "the serious potential for offline harm." According to the social media network, any and all accounts discovered to be posting violent threats on Twitter "will be permanently suspended."
Last year, amid heavy criticism regarding what some perceived to be Twitter's failure to enforce its own policies and protect users, Dorsey vowed the social media network would "take a more aggressive stance" on enforcing its rules.
In tweets posted later in the day Thursday, Domenech bemoaned the fact that simply reporting the offending image to Twitter did not appear to have been sufficient enough action to result in the photo's quick removal from the network. "It took my hours later tweet to finally get a reaction," he wrote. "Did not want to elevate it but that is what Twitter requires apparently."
But according to Domenech, the initial reaction his tweet spurred didn't come from Twitter — it came from the user who first posted the image. "The reaction was from the guy, not Twitter," Domenech tweeted. "Looks like he set his account to private."
Twitter suspended the user shortly after they marked their account private.