We Tried That EXTREMELY Controversial Peanut Butter & Pickle Sandwich Recipe & It Was *Chef's Kiss*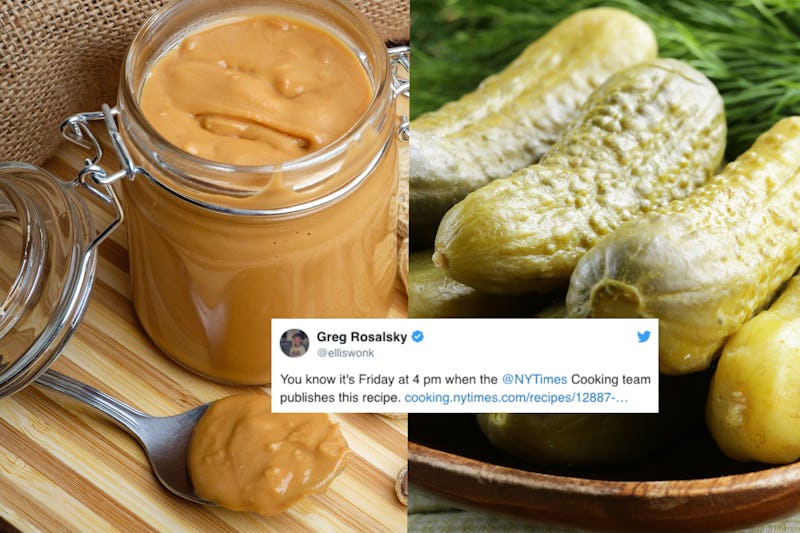 Hendraxu/dream79/Fotolia
When your fridge is close to empty, you might pool its contents to try to whip up something edible, like, say, a peanut butter and pickle sandwich. When The New York Times tweeted out a recipe for this controversial sandwich the afternoon of April 5, it practically broke the internet: Twitter users were extremely divided over whether the flavor profile would be lawful neutral or chaotic evil. So, obviously, the Bustle team had to try it out for ourselves, and the verdict? Not bad at all — in fact, extremely good.
The recipe is pretty self explanatory. Basically, you make yourself a toasted peanut butter sandwich and add your favorite pickles. Something so simple didn't need to divide the internet, but, divide the internet it did.
"As an avid fan of pickles and unexpected flavor combos, I was all in about this recipe from the get-go," says Associate Lifestyle Editor Melanie Mignucci. "It's sweet, it's tangy, it's salty — it's everything I want in a sandwich. The tip to toast the bread in the recipe is a literal must-do — it elevates it from a humble sandwich to something Michelin-star level."
"I was skeptical at first but this is something I would GLADLY eat again," Bustle's Deputy Lifestyle Editor Kathryn Kattalia says. "The textures works surprisingly well together?! And it's extra salty but the sweetness of the peanut butter keeps it from being overwhelming, and BRB going to make myself another one right now."