A Viral Peanut Butter & Pickle Sandwich Recipe Is Tearing The Internet Apart, But Here's What It Actually Tastes Like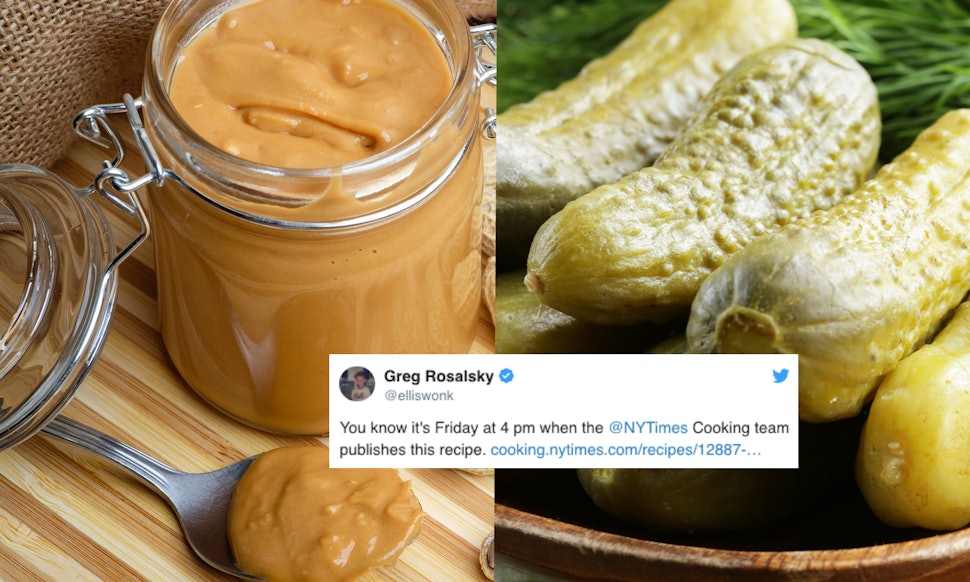 Hendraxu/dream79/Fotolia
When your fridge is close to empty, you might pool its contents to try to whip up something edible, like, say, a peanut butter and pickle sandwich. When The New York Times tweeted out a recipe for this controversial sandwich the afternoon of April 5, it practically broke the internet: Twitter users were extremely divided over whether the flavor profile would be lawful neutral or chaotic evil. So, obviously, the Bustle team had to try it out for ourselves, and the verdict? Not bad at all — in fact, extremely good.
The recipe is pretty self explanatory. Basically, you make yourself a toasted peanut butter sandwich and add your favorite pickles. Something so simple didn't need to divide the internet, but, divide the internet it did.
"As an avid fan of pickles and unexpected flavor combos, I was all in about this recipe from the get-go," says Associate Lifestyle Editor Melanie Mignucci. "It's sweet, it's tangy, it's salty — it's everything I want in a sandwich. The tip to toast the bread in the recipe is a literal must-do — it elevates it from a humble sandwich to something Michelin-star level."
"I was skeptical at first but this is something I would GLADLY eat again," Bustle's Deputy Lifestyle Editor Kathryn Kattalia says. "The textures works surprisingly well together?! And it's extra salty but the sweetness of the peanut butter keeps it from being overwhelming, and BRB going to make myself another one right now."
Afternoon Snack Anyone?
OK, I will admit that I have not tried this yet. However, I love peanut butter, and I love pickles so much that I am going to ask for this rad pickle gift box for my birthday, which means I'm definitely game. Bustle's Sex and Relationships Editor Michelle Toglia confirms that the PB&P combo is a must try. "I've tried a lot of pickle snacks in my day — pickle ice cream, chocolate pickle sliders, fried pickles, pickle popcorn, etc. — and PB and pickle sandwiches are by far the best pickle snack."
But, Not Everyone Is In love With This Sandwich
And, the discord over whether or not peanut butter and pickles should get married and have a baby is reminiscent of the great strawberry pizza debate of 2017.
No, Just, No
If there are two things that should never join forces it's peanut butter and mayonnaise. This is where I draw the line. However, apparently this combo was popular for sandwiches during the 1930s. "The sandwich has been around for a while. The most notable story about it is from 1931, where a man found his car robbed, with nothing touched except two of the groceries in his trunk — peanut butter and mayonnaise," Wide Open Country reported. "The two ingredients spread on bread became a popular meal during the Great Depression for many families."
Ready To Try It?
OK, I realize that I'm going to contradict myself here because I just shunned the peanut butter and mayo sandwich, but I actually don't like mayo. If you're on the fence about either the peanut butter and pickle or the peanut butter and mayo sandwich, and you do like all three of these things, don't knock it until you try it. After all, there was a time in the not-too-distant past where avocado toast sounded totally bananas. Speaking of bananas, maybe try adding them to your PB&P sandwich too.