How Abbi Jacobson Made Sure Her New Netflix Show Was Actually Feminist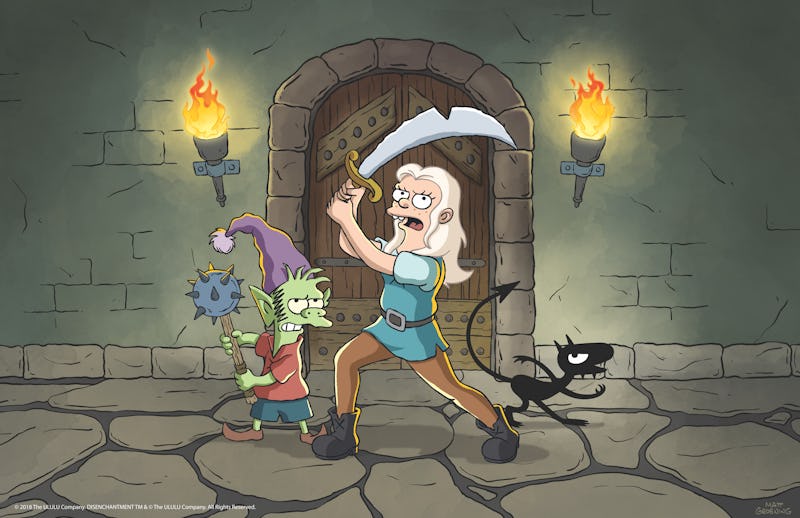 Netflix
It's pretty exciting for any feminist television fan to see that Broad City star Abbi Jacobson's new show on Netflix, Disenchantment, is a deconstruction of the well-tread princess trope that so many of us grew up attempting to resist. But then, taking a look at the credits, this progressive, outspoken, heck of a woman isn't credited as a writer; she's only listed as the lead voice actor. Sure, it's an easier gig for our girl than hand-crafting seasons of television with her right-hand woman Ilana Glazer, working on writing an Amazon series version of A League Of Their Own, and writing actual books like the upcoming I Might Regret This, but how progressive can the Matt Groening-created series be without the Jacobson's voice in the writers' room? Luckily, it turns out that writer vs. actor distinction didn't stop Jacobson from offering her two cents throughout production.
"Abbi took what we considered very feminist lines and made us realize how mild we were. She kicked it into another level," says Groening during a roundtable at San Diego Comic-Con. He's better known for creating The Simpsons and Futurama, and while both are considered integral parts of comedy history, the first was very recently in hot water for flippantly addressing its long-running use of Hank Azaria, a white man, to play Apu, an Indian convenience store owner who started out as a racial stereotype played for laughs. For Netflix's Disenchantment, however, it seems that Groening and executive producer, Josh Weinstein, are very committed to making sure they've got other perspectives, especially those of young women, represented in their pen of actors and in the writers' room.
"We really count on [the actors] and Abbi to kick it up and kind of make it real, because she'll say, 'I don't know if Bean would say it like this, she might say it like that.' It's also important that we have a number of female writers as well," notes Weinstein. "I'm a fat, 50-year-old white guy. And there's only so much I can do even though I think I'm a sensitive guy."
Bean, for the uninitiated, is Jacobson's lead character, a 19-year-old princess who has no interest in getting married for the good of the kingdom, and who'd rather run around like a tempestuous teenager, engaging in underage drinking and occasionally screwing up, than do pretty much anything her father wants her to do. So she's, you know, a teenager.
For Weinstein, embracing her teendom was integral in busting the trope of the perfect princess, something he says he hasn't seen done quite the way Disechanment does it. "Nowadays I think writers make the mistake of going too far the other way, where [the princess is] totally kickass and she's perfect, so we wanted to bust that trope and actually make it so what if the princess were just like a realistic 19-year-old young woman faced in that situation," he offers, adding that it was also important to include real issues that historical princesses have faced, like the fact that Bean cannot rule simply because she is a woman, and exploring how frustrating and unfair those laws were The result is a very Jacobson young woman, who's trying to figure out how to make out with boys and host parties without getting in trouble, who's frustrated by the system that requires her to have a husband or let her dufus younger brother take the crown, and who usually makes terrible decisions along the way. (It helps that she's got a literal personal demon, Eric Andre's character Luci, who is so damn good at convincing her to fall prey to her baser, teenage instincts.)
She's also not drawn in any way that adheres to typical beauty standards, with Groening intentionally giving her a more awkward, disheveled look. "She's an unusual type and we did that on purpose, it's like we're gonna do the opposite of what you'd expect," he says, adding that he still considers her to be "beautiful."
The series, in many ways, still has that old Simpsons-style humor, a hallmark of days gone by, but as the episodes continue (and I'd guess, as the younger writers got more comfortable piping up), the show starts to grow a bit more modern, delivering a bit more on its promise to flip the princess trope upside down.