The 'Dirty Dancing' Remake Soundtrack Will Take You Back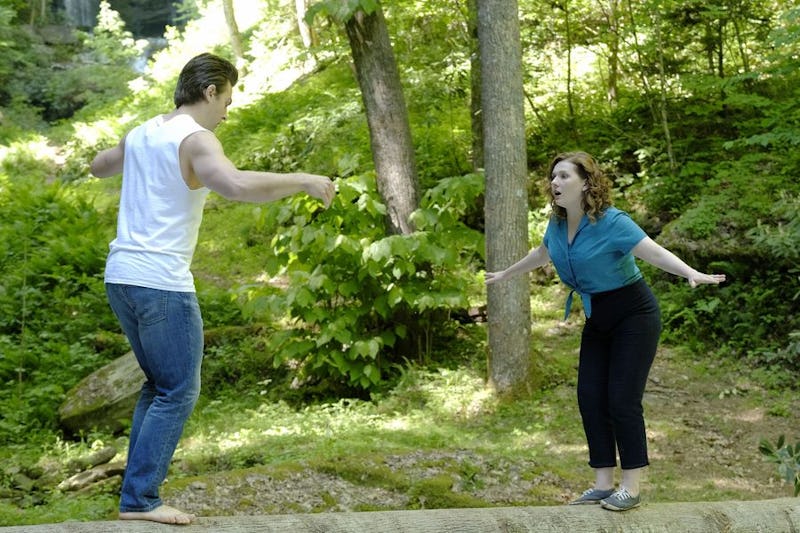 Guy D'Alema/ABC
When the Dirty Dancing remake premieres May 24 on ABC, fans both old and new will probably expect two things: great dancing and an iconic soundtrack. To prepare properly for the premiere, you can listen to the Dirty Dancing soundtrack, which has already been released. It should sound pretty familiar to fans of the 1987 film, since it features covers of songs from that soundtrack, sung both by members of the cast and popular artists.
The album that accompanies the TV event became available on May 19, the day after the remake's premiere in Beverly Hills. It's available on Spotify and it can be purchased from iTunes, Amazon, or Target (which features two bonus tracks for the die-hard Dirty Dancing fan).
The first single released from the soundtrack was "Be My Baby" by Bea Miller, who was a contestant on Season 2 of The X Factor. The song was originally performed by The Ronettes and was featured in the opening of the original film. Dirty Dancing followed that up with a Lady Antebellum cover of "Hey! Baby." Rolling Stone's Jeff Gage wrote approvingly about their tack on it. "Lady A give the loping tune a faithful rendition, complete with the signature harmonica part (originally played by Delbert McClinton in 1961)," he wrote. "But Hillary Scott and Charles Kelley flip the narration on its head, turning it into a duet between the male and female love interests." Their cover sparks an immediate nostalgia, since the original song played as Patrick Swayze's Johnny taught Jennifer Grey's Baby how to dance on a log. It scores one of the most memorable Dirty Dancing scenes.
The collection of tunes has a mix of pop artists and singing actors. On the musician's side, Seal covers Solomon Burke's "Cry to Me." Meanwhile pop duo Karmin will put their own spin on Frankie Valli's "Big Girls Don't Cry." "Wipe Out" gets the modern treatment courtesy of American Authors and Lindsey Stirling. YouTube star Greyson Chance covers Eric Carmen's "Hungry Eyes." And Britain's Got Talent alum Calum Scott takes over for the late Patrick Swayze on "She's Like The Wind."
The soundtrack also features a few TV stars showing off their vocal range. Modern Family's Sarah Hyland, playing Baby's older sister Lisa, lends her voice to a new addition: a cover of Bob Dylan's "Don't Think Twice It's Alright" with J. Quinton Johnson (Marco). Sons of Anarchy and Pitch Perfect 2 star Katey Sagal, as "Bungalow Bunny" Vivian Pressman, sings "Fever" with Colt Prattes (Johnny). As Baby's mother, who's struggling in her marriage, Debra Messing has a solo with "They Can't Take That Away." "Do You Love Me," recorded first by The Contours, is now performed by Prattes, former Nicole Scherzinger (Penny), and J. Quinton Johnson. Prattes and Abigail Breslin (Baby) do their best Sylvia and Mickey on "Love Is Strange." And that doesn't even cover the whole album.
But the most interesting cover of all is the signature end-of-season number from the original Dirty Dancing. "(I've Had) The Time Of My Life" is performed by the entire cast. This is in stark contrast to the original, Academy Award-winning Bill Medley and Jennifer Warnes version which is often synonymous with the film itself.
Choosing to remake an iconic movie is always tricky, but choosing to turn that iconic movie into a musical may prove to be an interesting move. As Breslin and Prattes take on the familiar roles of Baby and Johnny, this new version of Dirty Dancing may create its own unforgettable musical moments.