Abdul El-Sayed Lost His Michigan Primary, But "The Work Continues"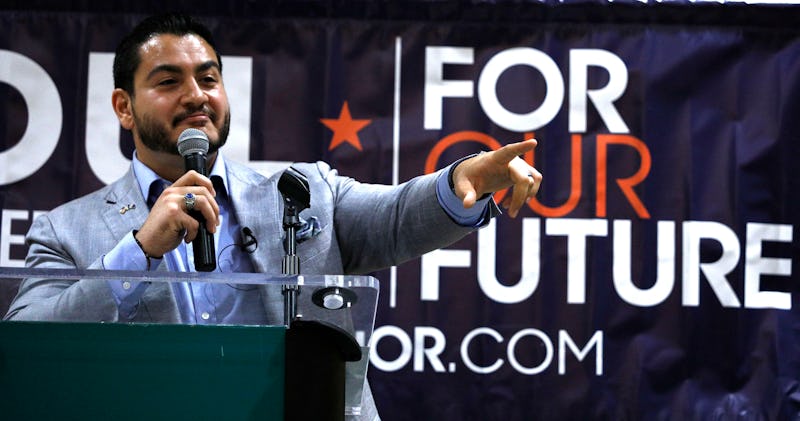 Bill Pugliano/Getty Images News/Getty Images
This Democratic candidate for Michigan governor spent his day like most would on the primary, casting his vote and then ensuring his campaign is maximizing turnout by supporters. He posted videos of support from Sen. Bernie Sanders and tweeted ways to get help reaching the the right polling station. After a day of voting across the state, Abdul El-Sayed lost the Michigan Democratic gubernatorial primary.
El-Sayed's candidacy had been closely watched by progressives hoping to elect him as the first Muslim governor in the country. He was visited on the campaign trail by far-left trailblazers like Sanders and the winner of the upset Democratic primary in New York where Alexandria Ocasio-Cortez won the nomination and will all but win in November.
But with the results on Tuesday night, Aug. 7, El-Sayed had lost the primary race to Gretchen Whitmer, a former Michigan state senator who served as minority leader there. She won 52.1 percent of the vote on Tuesday, while El-Sayed garnered 30.2 percent of the vote. Ultimately, Whitmer received over 200,000 more votes than El-Sayed.
Still, El-Sayed does not seem deterred in working towards progress on the values he campaigned on.
"The victory was not ours today, but the work continues," he wrote in a tweet on Tuesday night, where he also congratulated Whitmer on the win. "Tomorrow we continue the path toward justice, equity, and sustainability."
Ocasio-Cortez was positive that El-Sayed was going to win in the state. At a rally in Dearborn in July, she said:
I will not listen when folks say it is not possible in the Midwest again. We would not be packing high school auditoriums in Grand Rapids unless there was an audience and unless you were fighting for this issue with us.
Democrats are in a prime place to win the state, now that the outgoing Gov. Rick Snyder, a Republican, is limited by term limits. The only question was who would be the candidate come November. Now it's clear.
The polls released just before Tuesday showed former Senate minority leader Whitmer as the frontrunner with 31 percent according to an NBC/Marist poll released on July 27. Next up was Shri Thanedar with 27 percent. El-Sayed followed in third place with 22 percent, leaving 20 percent of the electorate undecided before election day.
Whitmer and Thanedar's supporters were more strongly committed to their candidate before polling day — if only slightly. They were supported by strongly committed people at a rate of 53 percent, compared to El-Sayed's 49 percent.
As for whether the state can actually be flipped from a Republican governor to a Democrat is another question in and of itself. The Cook Political Report has the state rated as a toss-up, along the likes of Florida, Iowa, Maine, Nevada, and Ohio.
The only comparison between Republicans and Democrats for the Michigan gubernatorial election was between Whitmer and the Republican frontrunner Bill Schuette in the NBC/Marist poll. Withmer lead that with 47 percent of registered voters compared to Schuette's 38 percent. Another 14 percent are undecided.
Now that the primary is decided, the enthusiasm will move onto the November general election. Michigan voter are likely to stay active and engaged according to the polling. Some 69 percent of voters see the 2018 midterm election as "very important." Democrats are the most enthused with 82 percent saying the election is critical; Republicans agree, but only 66 percent of them.
As the enthusiasm around all the Democratic candidates in the state shows, Democrats were ready to turn up and vote. Now, organizers may need to focus on building bridges among those voters who supported a different candidate in the primary race.
With so many seeing November as critical, it may not be as difficult as it sounds.