Can I Still Get An Abortion If Roe V. Wade Is Overturned?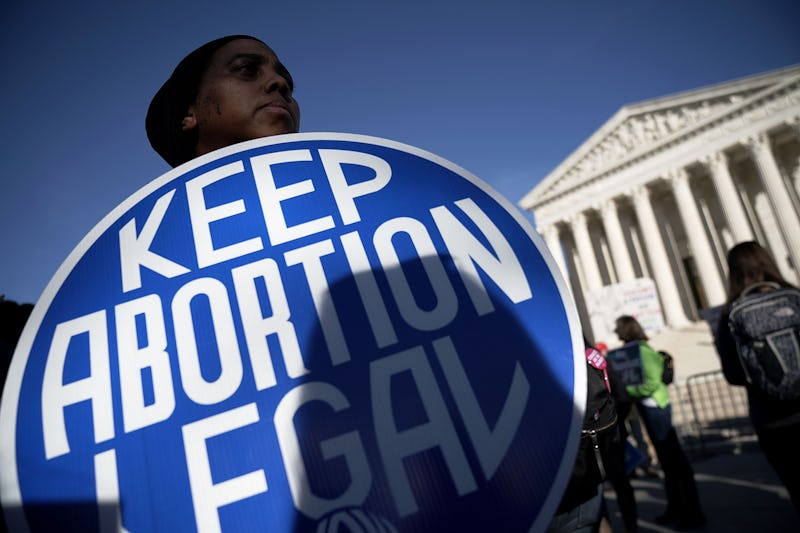 Alex Wong/Getty Images News/Getty Images
Welcome to Bustle's Abortion AMA column, where reproductive rights advocate and Romper editor Danielle Campoamor will speak to experts and medical professionals to answer people's questions about abortion in a way that is educational, unvarnished, and judgement free. Ask us anything.
On Wednesday, June 27, Supreme Court Justice Anthony Kennedy announced he was retiring after 30 years on the court, opening up a seat to be filled by a replacement who President Donald Trump appoints. As news of Justice Kennedy's retirement spread, so did a haunting question: can I still get an abortion if Roe v. Wade is overturned?
The answer is yes, but it would depend on where you live and your financial resources. Simply put: for many women, especially lower income women from conservative states, it would be incredibly difficult to access a safe medical procedure that one in four American women have in their lifetimes.
During a presidential debate in 2016, then-presidential candidate Donald Trump said, "I am pro-life, and I will be appointing pro-life judges," telling moderator Chris Wallace that overturning Roe v. Wade would happen "automatically" if and when those appointments were confirmed, leaving the legality of abortion up to each individual state. So, based on Trump's words and a sudden Supreme Court vacancy, grave concern for the constitutionally protected right to abortion care isn't hyperbolic: it is very real, and arguably necessary.
According to a 2017 report from the Guttmacher Institute, in spite of the fact that most of the population supports abortion rights, "58 percent of American women of reproductive age lived in a state considered either hostile or extremely hostile to abortion rights. Only 30 percent of women lived in a state supportive of abortion rights." Four states, Louisiana, Mississippi, North Dakota, and South Dakota, have already passed laws that would automatically ban abortions if Roe v. Wade is overturned, 10 states retain their unenforced, pre-Roe v Wade abortion bans, and a reported seven states "have laws that express their intent to restrict the right to legal abortion to the maximum extent permitted by the U.S. Supreme Court in the absence of Roe." Last week, CNN legal analyst Jeffrey Toobin predicted that abortion will be illegal in 20 states in as soon as 18 months, saying, "You are going to see 20 states pass laws banning abortion outright. Just banning abortion. Because they know that there are now going to be five votes on the Supreme Court to overturn Roe v. Wade."
Meanwhile, California, Connecticut, Delaware, Hawaii, Illinois, Maine, Maryland, Nevada, Oregon, Vermont, and Washington have laws that protect a woman's right to abortions even if Roe v. Wade is overturned.
In other words, where you live will determine whether or not you can have a legal abortion, and your financial status will determine whether or not you can travel to obtain an abortion in a state that continues to ensure the procedure is legal. And, unfortunately, that's not all that different from the current reality. There are already laws on the books that make it difficult for individuals in certain states to seek the abortion care they need.
"Abortion will still remain legal in the United States, but it will be different state to state. So it will be a scenario similar to what we have now, but exponential in its disparity," Dr. Ghazaleh Moayedi, OB-GYN and Fellow with Physicians for Reproductive Health, tells Bustle. "Women will have to travel even farther, people will have to come up with even more money, and it will be a scenario similar to what we have now and what we've seen before where certain groups will be able to access abortion care, but not everyone will be able to access abortion care."
Dr. Moayedi provides abortion care in both Hawaii and Texas and has seen, firsthand, what happens when abortion care isn't readily available to her patients. "I have many patients that have to drive one or two days to get to their abortion care, and then we have laws that say they have to wait 24 hours so they have to stay overnight in a town they don't live in. They have to arrange for childcare, take time off work, come back to the clinic the next day, then drive back [home]," she says. "So in many states in the country, these sorts of barriers already exist." Ironically, the individuals hurt most by these laws — low-income people and people of color —  is the same population with the highest unintended pregnancy rates.
Should Roe v. Wade be overturned, though, there will still be options for people in states with restriction abortion access. There are organizations dedicated to providing the kind of financial support that those living in states that severely restrict abortion access need, and they have been preparing for this very scenario. "Abortion funds are ready. Abortion funds have been doing the work of connecting people with abortion providers, often in different states, to help overcome financial and geographic barriers," Yamani Hernandez, Executive Director of the National Network of Abortion Funds, tells Bustle. "Make no mistake, the overturning of Roe v. Wade is an abortion access emergency, but abortion funds across our network will ramp up their work to get people to the abortions they need."
The benefits of these organizations are already apparent, according to Nikia Paulette, a Missouri-based We Testify Abortion Storyteller, board member at the Gateway Abortion Fund, and grassroots organizer focused on economic justice. "There's only one abortion clinic [in the state] located in St. Louis, so folks do have to travel from far away," she tells Bustle. Missouri also has a 72 hour mandatory waiting period and mandates that the abortion provider who counsels a patient is the same abortion provider who performs the procedure, so more often than not, according to Paulette, patients have to wait much longer than 72 hours — sometimes five days, and even as long as a week. "What we do is supplement the cost of an abortion," she says, "And it's part of the National Network of Abortion Funds." From providing funds to pay for an abortion procedure, to providing transportation, lodging, and child care, this network of abortion funds is already making sure those who need abortion care can access it... regardless of their zip code or financial status. Individuals in at-risk states with restricted abortion access should expect this type of care and help to continue, regardless of Roe v. Wade's status.
So, what can you do? If you are in need of an abortion right now and already living in a state with limited access, you can contact the National Network of Abortion funds here. You can also locate an abortion provider here via the National Abortion Federation, and here via Planned Parenthood.
If you do not require an abortion but are worried about your future ability to be able to access abortion care — or worried about others' access if Roe v. Wade is overturned — there are action items that everyone can focus on today. "People should connect with their local abortion funds now, begin learning about the laws in their state, and the legislators who control the conversation about abortion," Hernandez says. "Donate to abortion funds. Volunteer your time and resources so everyone has transportation, childcare, lodging, and support during their abortions. This moment is an all-hands-on-deck situation, and we'll need all the supporters possible to mitigate the damages this will impose and build the future of abortion access we want." According to Hernandez, abortion funds are only able to help a third of the people who call for help, so every dollar helps increase their ability to help give care to those who need it.
Dr. Moayedi also encourages us all to share our stories, and make access to abortion personal for our elected officials. "I think it's really important that we don't fall into despair. All of us can do something," she says. "And I can't stress enough how important it is to tell a story — a personal story. If one in four women in this country has had an abortion, then everyone knows a story. We should be sharing those stories with lawmakers and making it personal. Talk about your abortion, talk about your mom's abortion, talk about your grandmother's illegal abortion, and let lawmakers know what that means to you."
That message is one Dev H., 68, takes to heart. Dev had an abortion pre-Roe v. Wade when she was 20 and living in South Carolina. "I was working my way through college," she says. "I had a part-time job and found out I was pregnant through the student health center when I kept throwing up and couldn't figure out why. I thought I had the flu." After connecting with a friend of a friend who knew someone who would provide an abortion, Dev was taken in the middle of the night to a hotel where someone she was told was a doctor was going to perform her abortion. "They just took me into this hotel room and told me to lie down on the bed. I followed orders," she says. "She did the procedure with a rubber tube. They put a rubber tube up into your uterus, I guess, and basically to trigger a miscarriage. So it wasn't really aborted at that time, it had to stay in my body for a long time. I can't remember if I had to pull it out or it fell out, but essentially it was a miscarriage that was induced by this rubber tube that they put into me."
Even though she had no idea who the person performing her procedure was, or if they were even a licensed physician, Dev says she was bound and determined to end her pregnancy. "Part of me was on a mission to get it done, and the other part of me was terrified. So I didn't feel like I had any other choice, but at the same time I was really scared that something was going to go wrong." Dev says she later had to visit an OB-GYN because of complications. "I had to go to a gynecologist eventually because I had a lot of bleeding that wouldn't stop," she says, "and I remember he reprimanded me and told me I was lucky to be alive."
Dev knows what's on the line and wants people to remember that if abortion is made illegal, abortions will still happen. "I feel like I have to tell my story so the younger generation has some idea of what it's like if you don't have access to safe abortion," she says, "and share the fact that abortions are not going to stop just because they're illegal. They're going to be unsafe, and they're going to happen anyway." According to a 2015 study from the Texas Policy Evaluation Project (TxPEP), and as the result of anti-abortion legislation, an estimated 100,000 to 240,000 women in Texas have attempted a self-induced abortion at some point in their lives.
Stories like Dev's used to be the norm, and while overturning Roe v. Wade threatens to make those kinds of stories multiply once again, Andrea Miller, President of the National Institute for Reproductive Health Action Fund (NIRH Action Fund), says medical advancements in abortion can, hopefully, help curb a rise in maternal deaths. "We know that when women take matters into their own hands, sometimes that's dangerous, and our history shows that," she tells Bustle. "But we're also in a very different time now. The advent of and the increasingly widespread use of medication to terminate pregnancies might give women in those states a different option." Medication abortion — an abortion induced by two forms of medication — is a safe alternative, according to Dr. Moayedi, and one that doesn't require constant supervision. "Medication abortion, like surgical abortion, is exceedingly safe, and there are few complications associated with it," she says. "Every step of it does not need to be supervised by a health care provider, so this is a medication that could be dispensed directly from a pharmacy without necessarily having to see a doctor or a nurse practitioner or a midwife." Currently, 19 states require a clinician be physically present when medication abortion is distributed to a patient, so it's important to research your state's medication abortion restrictions now, and with the knowledge that more anti-abortion laws are sure to be enacted in the future if Roe v. Wade is overturned.
Dr. Moayedi is part of a telemedicine project in Hawaii, called tele-abortion, that allows people to stay on their home islands to access abortion care. "People on their home islands can have an ultrasound to confirm that the pregnancy is in the uterus, and then we're able to video conference them to counsel them on taking the medical abortion pills," she says. "We walk them through the whole process, just like we'd do in the office, but it prevents the person from having to fly to us in Honolulu. Once the consolation is complete and we've checked some labs and their ultrasound, which they can do all near their home, we mail the medication to them and they're able to complete the medical abortion at home." Hopefully, and as the possibility of Roe v. Wade being overturned becomes more real, more "safe haven" states will adopt tele-abortion practices and provide patients the care they need without the undue burden of travel, taking time off work, and paying for child care and lodging. Currently, however, 18 states ban the use of telemedicine, according to the Guttmacher Institute.
Finally, you can contact your representatives with a set of demands that will ensure Roe v. Wade remains intact. "What everyone, absolutely everyone, can do immediately is to demand that the U.S. Senate not accept any nominee that refuses to stay true to and value women's health and equality," Miller tells Bustle. "We need to be clear that they must affirm that the Constitution and the rule of law protects us, and not just the wellbeing of the powerful, and that includes women's ability to make their own choices about their reproductive lives. That's what the Constitution recognizes, and we need a jurist that agrees." And statistics show that's what the majority of women and men in the United States want. According to a 2018 Kaiser Family Foundation poll, 53 percent of Republicans, 76 percent of Independents, and 86 percent of Democrats oppose overturning Roe v. Wade. And according to a 2018 survey by PerryUndem, 72 percent of voters would prefer the Trump administration protect women's rights on abortion, rather than restrict them, including 45 percent of Trump voters.
Miller says it's also vital that voters tell their representatives that there should be no consideration for a Supreme Court nominee until the American people have had a chance to weigh in in the midterms. In 2016, Senate Majority Leader Mitch McConnell refused to hold any confirmation hearings of then-President Barack Obama's nominee for Supreme Court Justice, claiming it was too close to an election year. "Well, what's good for the gander should be good for the goose," Miller says.
Like Dr. Moayedi advised, it's important that we don't fall into despair. There are already organizations in place that help provide financial support, travel, lodging, and child care to those who need abortions but have very limited or almost nonexistent access to them. For better or worse, many organizations and the people who run them, volunteer for them, and champion them have been preparing for this very circumstance. You're not alone when trying to access abortion care now, and you won't be alone when trying to access abortion care tomorrow. Or a week from now. Or a year from now.
Or ever.
Have questions about abortion? You can email them safely and anonymously to Abortion AMA at askabortionama@bustle.com, and we'll answer them. Together.