A Woman In Argentina Died From An Unsafe Abortion Days After A Legalization Bill Failed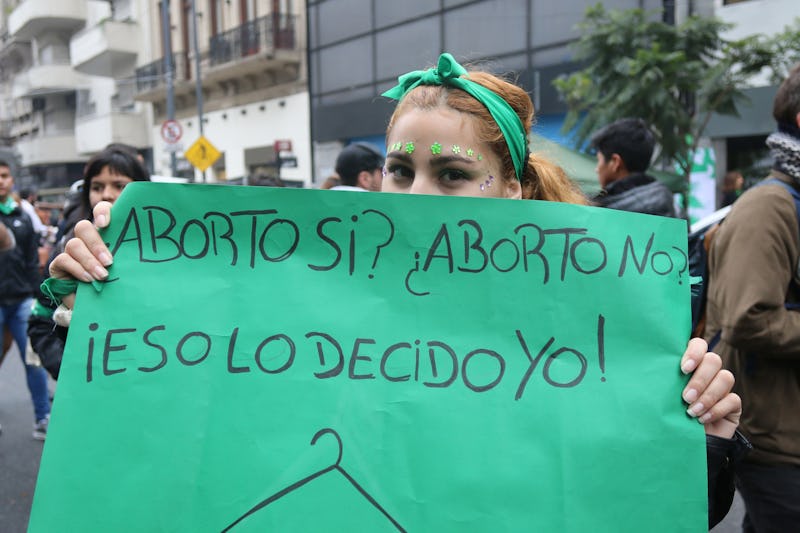 Getty Images/Getty Images News/Getty Images
Elective abortion remains illegal in Argentina, after the senate voted against legalizing the procedure just last week. Now, an Argentine woman has died from an at-home abortion gone wrong, and abortions rights activists say that her death could have been avoided.
"There might not be a law, but abortions will continue, and if it's without a law, the woman's life is at risk," Senator Eduardo Aguilar wrote on Twitter, referencing the woman's death, per a translation provided by Newsweek.
According to Telesur TV, a network funded by multiple Latin American countries, the woman, identified only as Elizabeth in news reports, attempted to administer an at-home abortion. The woman inserted parsley in her vagina, according to reports, which eventually became infected.
She sought treatment from the Belgrano Hospital in San Martin on Sunday, where Telesur reports she was diagnosed with septic shock and generalized infection. Her uterus was removed, and she was reportedly placed into intensive care at a different hospital, but she died two days later, according to Telesur.
There is no recent data on how many abortions are performed in Argentina on a yearly basis, but organizations like Human Rights Watch (HRW) point to Health Ministry statistics. Those reports indicate that unsafe abortions are among the leading cause of maternal death in Argentina. Earlier this month, the AP reported that the Argentina Medical Society supported the effort to legalize abortion because, by their estimates, between 400,000 and 500,000 women undergo clandestine abortions every year.
Many took to Twitter to express their disappointment that yet another woman in Argentina died from administering a secret abortion.
"Liz, the 24-year-old young woman that was hospitalized in Buenos Aires after a clandestine abortion, has died," tweeted Raquel Vivanco, head of "Ni una menos," a grassroots feminist group in Argentina, according to a translation provided by Telesur. "This is the outcome of the voting session in the Senate. They don't care about the lives of the women. Legal abortion or clandestine abortion, that's the discussion."
Ni Una Menos (Not One More) has been fighting for Argentinian women's access to abortion for three years. According to a New York Times op-ed penned by Argentinian journalist Jordana Timerman in May, the group began with a 2015 protest against the hundreds of reported femicide victims in Argentina that year. According to Timerman, abortion soon became an essential tenet of their movement and legislative goals.
Not all abortions are outlawed in Argentina. They are legally permitted in instances of rape, or when the mother's health is severely at risk. Earlier this month, activists were hopeful that such staunch restrictions on abortion procedures would be lifted. The now-failed bill had made it successfully through the House, offering hope.
Argentine President Mauricio Macri said he planned to sign it if the bill made it to his desk, even though he didn't personally support it. However, the legislation stalled, and ultimately failed, in the Senate, which narrowly struck it down. In the end, 38 senators voted against it, 31 voted in favor, and two abstained, according to the Times. Advocates describe the bill's failure as only a temporary setback, and say they intend to keep on fighting.