An 'Ace Ventura' Reboot Is Probably On The Way, Because Of Course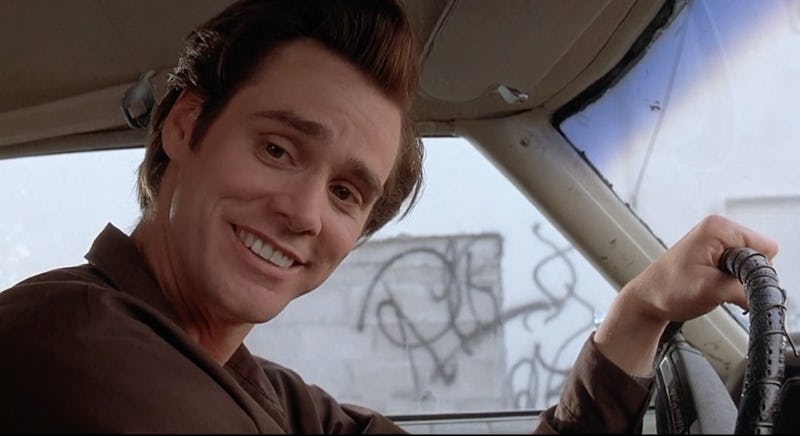 Warner Bros.
Alrighty then! According to Deadline, there just might be an Ace Ventura reboot sometime in the near future. After almost 30 years, Morgan Creek Productions is changing its name to Morgan Creek Entertainment Group, all while looking to possibly revive one of its most well-known franchises, which was originally made famous thanks to Jim Carrey in the title role.
When it comes to the potential revival, it seems that Ace Ventura could either return as another movie or as a TV series. According to MCEG president David Robinson, it wouldn't be an exact replica of 1994's Ace Ventura: Pet Detective or 1995's Ace Ventura: When Nature Calls. Rather, the idea right now is to create "a new movie in the spirit of the original," as Deadline notes. As for the possibility of the comedic franchise being turned into a TV series, Robinson told Deadline, "Because it's episodic in nature, about a pet detective, it also lends itself to a traditional single-camera series franchise." He also added that with this particular remake "we wanted to do a mainstream theatrical production relaunch."
The potential new version of Ace Ventura is described as "a baton-handing," per MCEG's head of content Barbara Wall. It could focus on either a long-lost son or daughter of Ace Ventura's, who may show up on his doorstep and then take over as pet detective. Of course, there's always a chance Carrey would return and reprise one of his most popular roles. Robinson said that MCEG would gladly welcome him back. Both Wall and Robinson said they want to also make sure the original creators of the franchise are OK with a reboot.
For those unaware, there was already kind of an Ace Ventura reboot about his son. In 2009, Ace Ventura: Pet Detective Jr. was released straight to video. "The son of an eccentric detective steps into his father's shoes after his mother is wrongly arrested for stealing a baby panda," IMDb's description reads. Carrey didn't have anything to do with the film nor did the writers of the original two films.
Of course, reboots all the rage these days. From Netflix reviving Gilmore Girls and The CW maybe bringing back Roswell to a Party of Five reboot and a Hocus Pocus TV movie, series and movies that fans remember and love all appear to making some type of comeback on either the small or big screen. There are usually mixed reviews when it comes to remaking a beloved TV or movie. Many fans don't understand why an already successful project needs to return, but, then again, there are others who want more from a series or film that they once adored.
As for Ace Ventura, if it does make a triumphant return, it'd probably be best if it took a different shape by potentially focusing on Ace's child, especially because there's a chance that Carrey won't want anything to do with the reboot. Also, in the time since its original release in 1994, Ace Ventura: Pet Detective has been called out for poking fun at those seeking treatment for mental illnesses and making jokes about LGBTQ individuals. So, if a remake does happen, here's hoping it's nowhere near as insensitive.
Ace Ventura fans have already taken to Twitter to express their opinions — and a lot of them aren't happy about the idea of a reboot. One person wrote, "Remaking Ace Ventura is the stupidest idea in the history of stupid ideas. Nobody can replace what Jim Carrey did for those films." Another Twitter user posted, "The world doesn't need another Ace Ventura."
In addition to Ace Ventura, MCEG is also looking to reboot Young Guns, which starred Emilio Estevez and Kiefer Sutherland, and Charlie Sheen's Major League. As you can see, this Twitter user isn't happy with any of these possibilities: "Nooooo!!!!! Now they are planning on remaking Ace Ventura, Young Guns and Major League. Leave the classics alone!"
If any of these remakes become reality, well, it'll certainly be interesting to see the final products — and whether they can live up to, and in some ways surpass, the originals.