Acne Studios' New Collection Will Definitely Make You Smile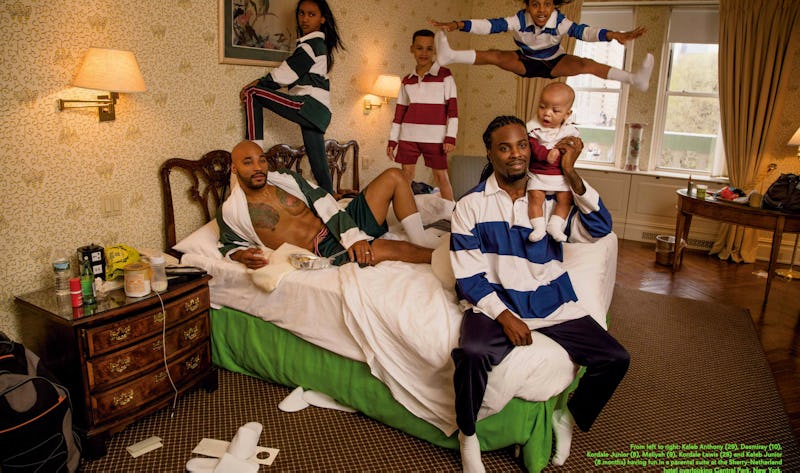 When you see an Acne Studios salmon pink bag with white embossed writing, you know something special is in there. The Swedish brand is known for their edgy and playful designs, and the Acne Studios Face Motif Collection is their newest line that definitely does not disappoint on the quirky and classic fronts.
Launching on Aug. 17, the Face Motif collection celebrates their iconic face logo, seen on their accessories and clothing, from t-shirts to beanies. And while the face motif is nothing new, this is the first time that it'll be a standalone collection rather than elements of a particular line. It's getting its own family, y'all!
Here's a little history on the face motif: It actually was born when the brand was trying to design a bag for a show. Acne's creative director, Jonny Johansson, came up with a square face with a straight line and two dots, claiming it was a reflection of a Swedish man: "not too happy, not too sad."
From there, the face motif spread like wildfire, making appearances even on their sneakers. Seeing the little face became synonymous with seeing the brand.
The collection, featuring hats, sweatshirts, sweaters, scarves, t-shirts, track pants, and more, all contain the Acne aesthetic when it comes to their basics: simple and timeless.
This collection features not only men's and women's, but kidswear as well. With a focus on family, including Johansson own, and the Acne Studios family as a whole, this collection really explores what it means to be one.
"I have been thinking about families for a long time. Since Acne Studios started as a collective, we would see each other as a family back in the days. I therefore wanted to portray households of today, in all constellations," Johansson said in the press release.
From there — the collection's campaign was born. Featuring Kordale, Kaleb, and their family, the brand felt that this was a great way to represent the collection's concept. You probably know this family from Instagram, when a post of the two fathers brushing their daughter's hair went viral.
The campaign features Kordale and Kaleb's entire family, including their four children, Desmiray (10 years old), Maliyah (9), Kordale Jr. (8), and Kaleb Jr. (6 months). Shot by Inez and Vinoodh, the campaign follows the family in a New York City hotel they were staying in during the holiday season.
OK, but could this family be any more adorable?
Two beautiful fathers.
And one incredibly cute baby.
Acne's Magazine features these gorgeous photos plus an interview with this modern, dynamic family. Starting Aug. 17, you can shop this collection at Acne Studios stores and at acnestudios.com. You'll be seeing this campaign all over the world, from New York to Paris to Milan to Berlin and more.
And while the face motif is not too happy or sad — this cute campaign will definitely have you smiling from ear to ear.