These Are The Actresses Who've Worked With Harvey Weinstein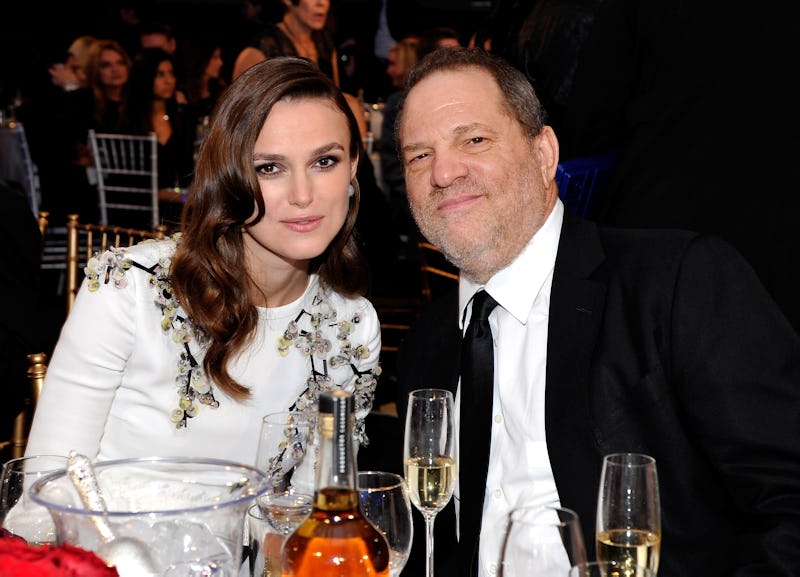 John Sciulli/Getty Images Entertainment/Getty Images
Harvey Weinstein is taking a leave of absence from his production company The Weinstein Company after allegations of sexual harassment went public in an explosive exposé from The New York Times on Thursday, Oct. 5. Those alleging harassment by the longtime film producer include actor Ashley Judd, raising questions as to what other Hollywood stars with whom Weinstein may have allegedly acted inappropriately. Actresses who worked with Harvey Weinstein include many major Hollywood hitters, including Amy Adams, Julia Roberts, Patricia Arquette, Jessica Alba, Jennifer Lawrence, Gwyneth Paltrow, and more. All these women are actors of great caliber, and people will now likely be asked to comment on the allegations against Weinstein.
UPDATE: According to The Hollywood Reporter, attorney Charles Harder says Weinstein is planning to sue the New York Times. The statement reads,
"The New York Times published today a story that is saturated with false and defamatory statements about Harvey Weinstein. It relies on mostly hearsay accounts and a faulty report, apparently stolen from an employee personnel file, which has been debunked by 9 different eyewitnesses. We sent the Times the facts and evidence, but they ignored it and rushed to publish. We are preparing the lawsuit now. All proceeds will be donated to women's organizations."
EARLIER: A statement from Weinstein's lawyer to the Times states, "He denies many of the accusations as patently false." In another statement, Weinstein himself told the Times, "I appreciate the way I've behaved with colleagues in the past has caused a lot of pain, and I sincerely apologize for it. Though I'm trying to do better, I know I have a long way to go." In a longer statement, Weinstein added that he will be taking a leave of absence from his company to deal with his issues, which he says he's been tackling for "10 years."
The allegations detailed in the piece cover over 20 years, with some women claiming sexual harassment as recently as 2015 (after Weinstein says he started working on his problems). A handful of the allegations come from various Weinstein employees and assistants, such as Emily Nestor, a temporary employee, who alleged that in 2014 Weinstein offered to advance her career in Hollywood in exchange for sexual favors. For women working for Weinstein's company, such advancement could mean a possible promotion or recommendation. For female actors, however, this kind of alleged quid pro quo could possibly mean landing a star-making role.
Ashley Judd, who has worked multiple times with Weinstein, claimed to The New York Times that he had an inappropriate meeting with her in 1997, arguably at the height of her "It" girl status. Judd told the newspaper that Weinstein allegedly invited her to join him for breakfast at a hotel in Beverly Hills. Seeing this as a huge career opportunity, the young actor went to the alleged meeting only to find herself alone in a hotel room with an allegedly bathrobe-clad Weinstein. Judd claims that Weinstein invited her to his hotel many times, sometimes allegedly asking her if she could give him a massage or shoulder rub, or perhaps if she would watch him shower. "I said no, a lot of ways, a lot of times, and he always came back at me with some new ask," Judd claims. "It was all this bargaining, this coercive bargaining."
In a memo uncovered by the Times, former Weinstein Company employee Lauren O'Connor claims that she knew of alleged private meetings Weinstein conducted with young female actors in his hotel room. O'Connor wrote that she believed she and other employees were allegedly being used by Weinstein to prey on "vulnerable women who hope he will get them work." Weinstein responded to the allegations made public in the memo through lawyer Lisa Bloom, who said in a statement to the Times that some claims described in the memo are "off base."
Judd, who said that she has worked with Weinstein without incident since the alleged hotel meetings, claimed to the Times that Weinstein's alleged inappropriate behavior with women has been an open secret in Hollywood for years. "Women have been talking about Harvey amongst ourselves for a long time, and it's simply beyond time to have the conversation publicly," Judd claimed.
Judd is the only female actor quoted in the piece, however, despite the Times article noting several other alleged incidents involving actors. Yet it's clear that as the fallout from this Weinstein expose continues and in light of the Times specifying that other female actors are allegedly involved, more and more women will be asked to comment on the allegations. Only time will tell if some will step forward.
Gwyneth Paltrow, for example, is one of Weinstein's most successful collaborators. Paltrow began working with Weinstein in the '90s, collaborating on movies The Pallbearer and Emma, both released in 1996. Their most successful collaboration, however, came in 1998 with Shakespeare in Love. The film won both Weinstein and Paltrow Oscars at the 1999 Academy Awards, for Best Picture and Best Actress in a Leading Role, respectively. But in a '90s New York profile about Weinstein, the actor claimed that he called in some uncomfortable favors, like asking her to pose in an S&M outfit for Talk magazine. "There were certain favors that he asked me to do that I felt were not exploitive but not necessarily as great for me as they were for him," Paltrow told the magazine. "I brought this to his attention, and he said, 'I will never do that again.' And he's been true to his word."
Paltrow isn't the only female actor who has famously worked with the mogul. Jennifer Lawrence also won an Oscar for a Weinstein-produced project, Silver Linings Playbook. Other actors such as Minnie Driver (Good Will Hunting), Anna Faris (Scary Movie), Jessica Alba (Sin City), and Sienna Miller (Factory Girl) also worked with Weinstein early in their careers, often times making movies that helped launch them further as Hollywood stars. Whether any of them will have a story to tell remains unknown.
If you or someone you know has been sexually assaulted, call the National Sexual Assault Telephone Hotline at 800-656-HOPE (4673) or visit online.rainn.org.