The 'New York Times' Uncovers Sexual Harassment Allegations Against Harvey Weinstein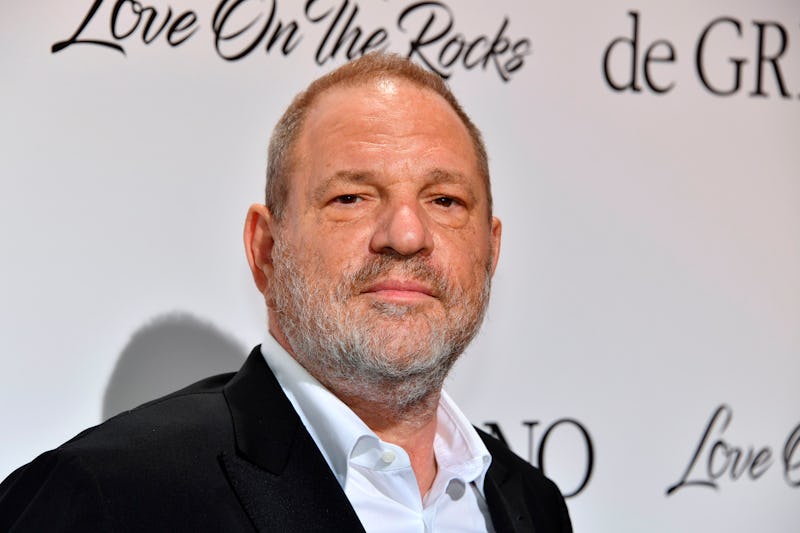 YANN COATSALIOU/AFP/Getty Images
On Thursday, the New York Times released a bombshell report, including decades of sexual harassment allegations against Harvey Weinstein. A statement from Weinstein's lawyer to the Times states, "He denies many of the accusations as patently false." However, Weinstein also released the following statement to the Times:
"I appreciate the way I've behaved with colleagues in the past has caused a lot of pain, and I sincerely apologize for it. Though I'm trying to do better, I know I have a long way to go."
UPDATE: According to The Hollywood Reporter, attorney Charles Harder says Weinstein is planning to sue the New York Times. The statement reads,
"The New York Times published today a story that is saturated with false and defamatory statements about Harvey Weinstein. It relies on mostly hearsay accounts and a faulty report, apparently stolen from an employee personnel file, which has been debunked by 9 different eyewitnesses. We sent the Times the facts and evidence, but they ignored it and rushed to publish. We are preparing the lawsuit now. All proceeds will be donated to women's organizations."
EARLIER: The Times story begins with an anecdote about Ashley Judd, who went up to the producer's hotel room for what was assumed to be a business breakfast meeting 20 years ago, according to the article. However, when she arrived, Weinstein was allegedly wearing just a bathrobe. According to Judd, he offered her a massage and asked if she wanted to watch him shower. Judd told NYT she remembers thinking, "How do I get out of the room as fast as possible without alienating Harvey Weinstein?"
The Times reports that their investigation found previously undisclosed allegations against Weinstein that spanned the course of nearly three decades. The outlet claims to have interviewed current and former employees and workers in the film industry, reporting that dozens of Weinstein's former and current employees knew about alleged inappropriate conduct. However, Weinstein allegedly "enforced a code of silence," according to the Times report.
Regarding the allegations, Kathy DeClesis, Bob Weinstein's assistant in the early '90s told the Times, "It wasn't a secret to the inner circle." A young woman she supervised reportedly left abruptly after an alleged encounter with Weinstein, and the Times claims she later received a settlement. According to the report, at least eight women had received settlements after allegations including sexual harassment and unwanted physical contact. It should be stated that those details came from two company officials who spoke to the Times on the condition of anonymity.
In terms of alleged settlements, many of which are claimed to be private, the Times also reports that in 1997, actor Rose McGowan received a $100,000 settlement from Weinstein at the age of 23, after an alleged incident in a hotel room at Sundance Film Festival. However, per legal documents, this was not "an admission" of guilt on the part of Weinstein, but a way to "avoid litigation and buy peace," according to the Times. McGowan declined to comment on the report, and Weinstein and his representatives did not discuss the settlements or who paid them.
The Times also noted that Weinstein will be working with a therapist and taking a leave of absence to "deal with this issue head on," he said. After the report came out, he also released a longer statement via his lawyer Lisa Bloom. Here's an excerpt:
"I came of age in the 60's and 70's, when all the rules about behavior and workplaces were different. That was the culture then.I have since learned it's not an excuse, in the office - or out of it. To anyone. I realized some time ago that I needed to be a better person and my interactions with the people I work with have changed. I appreciate the way I've behaved with colleagues in the past has caused a lot of pain, and I sincerely apologize for it. Though I'm trying to do better, I know I have a long way to go. That is my commitment."
Bloom also released her own statement to Bustle, which reads, "Harvey Weinstein and I have had many wide ranging conversations over the last year about rumors and allegations against him. He denies many of the accusations as patently false. Nevertheless, I have explained to him that due to the power difference between a major studio head like him and most others in the industry, whatever his motives, some of his words and behaviors can be perceived as inappropriate, even intimidating."
After the news spread about the allegations, plenty of people have voiced their thoughts on Twitter, including celebrities Amber Tamblyn and Lena Dunham. Both showed support for the women who came forward with claims.
Though it's unclear what will happen from here with Weinstein, his career, and the accusations, it sounds like this is only the beginning.
If you or someone you know has been sexually assaulted, call the National Sexual Assault Telephone Hotline at 800-656-HOPE (4673) or visit online.rainn.org.