Adele Thanks Beyoncé In Her Acceptance Speech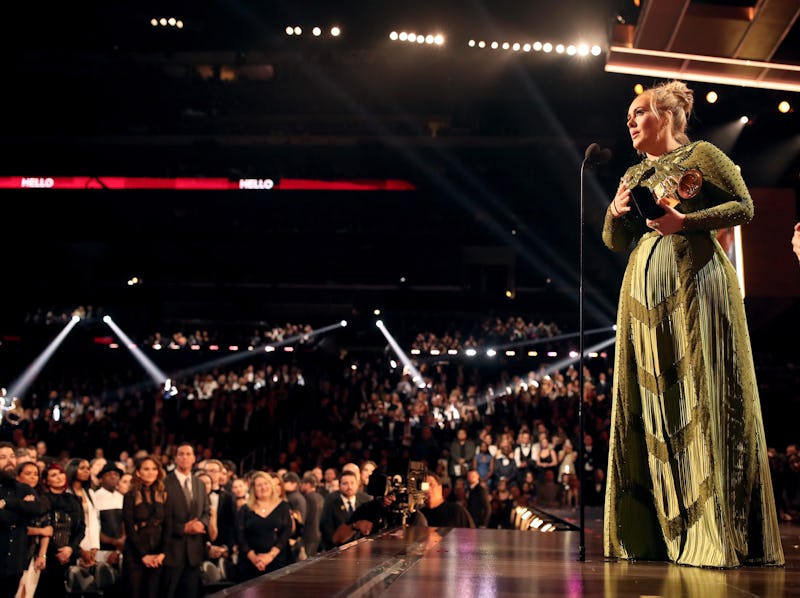 Christopher Polk/Getty Images Entertainment/Getty Images
The biggest Grammy race in 2017 was between two idols: Adele and Beyoncé. While their albums and songs went head-to-head, Adele thanked Beyoncé and proved there was no bad blood during her acceptance speech for both Record of the Year and Album of the Year. As she accepted the award for Record of the Year, she said, "I adore you and I want you to be my mommy."
Adele squashed any sense of competition between the two by paying tribute to the effect that Beyoncé and the effect the album Lemonade had on her. After winning Record of the Year for "Hello", Adele dedicated part of her time to Beyoncé, saying "My dream and my idol is Queen Bey, and I adore you. You move my soul every single day, and you have done for nearly 17 years." That tribute was only a taste of what was to come when Adele later won Album of the Year for 25. Adele took the the stage and soon began praising Beyoncé's artistic achievements.
After starting her speech, Adele quickly shifted from thanking those who helped on her album to stating,
"I can't possibly accept this award. I'm very humbled and I'm very grateful and gracious, but my artist of my life is Beyoncé, and this album for me, the Lemonade album, is just so monumental, Beyoncé, so monumental. And so well thought out and so beautiful and soul-baring and we all got to see another side to you that you don't always let us see. And we appreciate that and all us artists here adore you. You are our light. And the way you make me and my friends feel, the way you make my black friends feel is empowering and you make them stand up for themselves. And I love you and I always have and I always will."
Adele's entire speech is a truly moving display of love and respect from one superstar to another, who both refuse to let anyone pit them against each other. When it comes to music in 2017, Adele may have won the big award, but she reminded us that we are all winners for getting to hear Lemonade in our lifetimes.