Adele Confirms That She's Married At The Grammys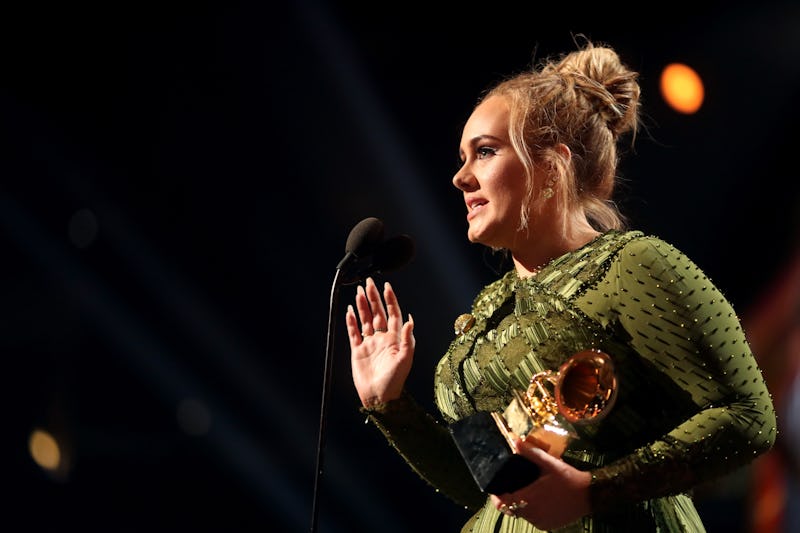 Christopher Polk/Getty Images Entertainment/Getty Images
OK, we all kind of guessed this, but there's a difference between guessing it and having it confirmed on the Grammys stage. Adele revealed that she's married during her 2017 Grammys acceptance speech, while she was accepting the award for Album of the Year. Or not accepting it, as the case may be, since she devoted quite a lot of her speech to how Beyoncé should have gotten the statue instead.
To be honest, I was more focused on Adele saying everything that I was thinking as she stood on that stage, so much so that I almost missed her sneaky confirmation. But when she was done thanking Beyoncé for everything that she'd done for her, and for musicians in general, she took some time to throw out a general thanks, saying, "My manager, my husband, and our son, you're the only reason that I do it." Hold on, rewind. Your husband, you say?
Adele has been with her partner, Simon Konecki, since around 2012, and the couple have a son named Angelo together. They seemed perfectly content as a family unit, until January 2016 when rumors began to fly that Adele and Konecki had finally tied the knot. After all, the singer had been seen around with a ring on her finger, and Konecki was allegedly spotted wearing one as well. But she didn't say anything, and he didn't say anything, and we might have all forgotten about it if not for this speech.
Listen, it was a gorgeous speech that perfectly squashed any rumors of a feud the two women and encompassed what I've been thinking all year, which is that Beyoncé changed the game with Lemonade and it deserves literally all of the awards. But the fact that, at the tail end of that speech, Adele threw out the little nugget of confirming that she is now happily married made the moment even sweeter for me as a fan of both women.