Adele Wins Record Of The Year At The 2017 Grammys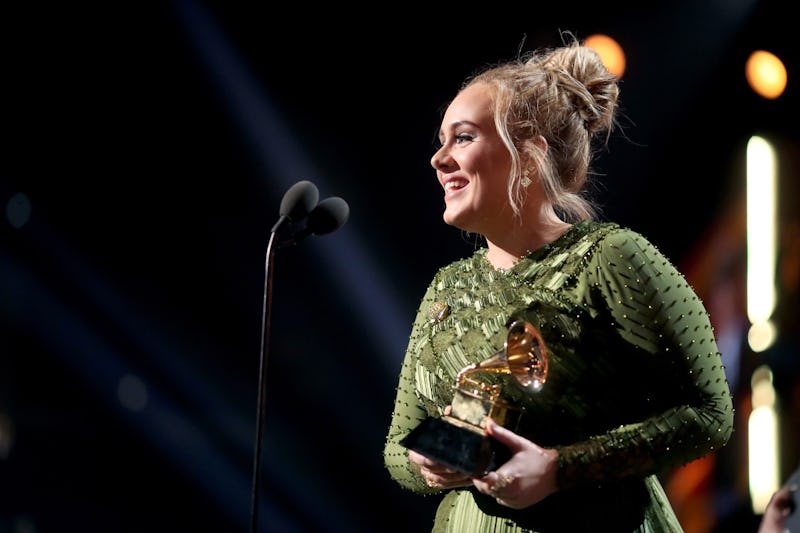 Christopher Polk/Getty Images Entertainment/Getty Images
The Grammys can often be a controversial show, surprising audiences (and often the celebs themselves) by awarding honors to unexpected people and albums, but in one category this year, I doubt anyone was surprised by who won. Adele won the Grammy for Record of the Year, beating out Lukas Graham's "7 Years," Rihanna's "Work," Twenty One Pilots' "Stressed Out," and, of course, Beyonce's "Formation."
It's so great to see Adele take home the trophy in this category, as it was a richly deserved honor, considering how great a song "Hello" is. You'd be hard-pressed to find a person out there who hasn't gotten this tune stuck in their head for at least a few days this past year, as it was pretty much ubiquitous. And, for good reason — it's simply a great song, and the Record of the Year award couldn't have gone to a better choice.
Accepting her award, Adele gave a moving speech that shouted out Beyonce; she even jokingly asked Bey if she could be her "mommy" too. (Same.) It's great to see that Adele has so much love and respect for her competitor, and that she used her time at the podium to talk about the work other artists have done this past year. Seriously, no one would've blamed her if her speech focused entirely on her own life and success, but it speaks to Adele's character that she chose to spend that time complimenting another woman.
Congrats, Adele, on an amazing honor!