Beyoncé Shuts Down The Grammys Stage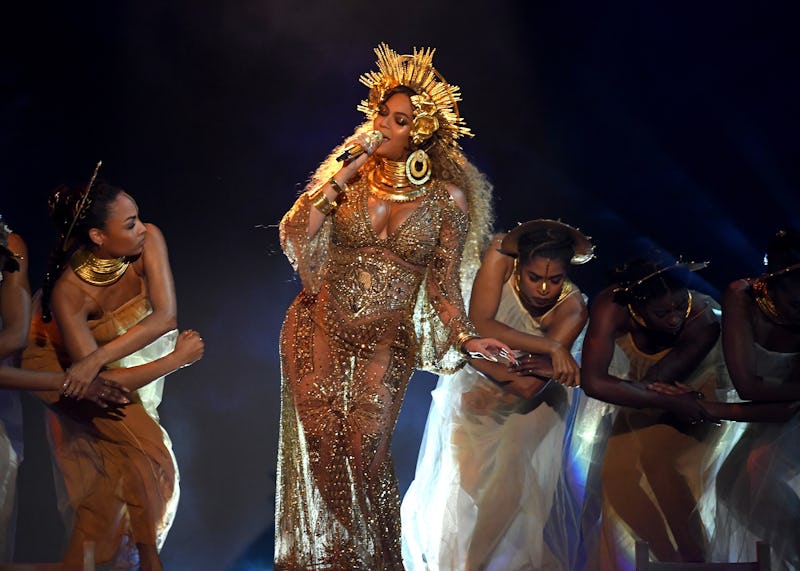 Kevin Winter/Getty Images Entertainment/Getty Images
Have you accepted Beyoncé as the personal savior of 2017? If not, maybe this will change your mind: Beyoncé's 2017 Grammys performance was everything that we dreamed it would be. And, yes, she performed while heavily pregnant. Say it louder in the back for those who assume a woman becomes an invalid once she starts growing a human inside of her. Beyoncé's growing two of them and yet still shut it down at the Grammys with the kind of performance that will live on for a long, long time. Even as a big fan of hers, I was concerned going into this. I mean, the kind of back-breaking moves for which Bey is famous would be risky for anyone, let alone someone pregnant with twins. But I should have trusted Queen Bey, and, honestly, I'll never doubt her again.
Starting with the words of Warshan Shire, which will be familiar to fans of Lemonade, Beyoncé's performance was more of a performance piece. It was downright psychedelic, featuring Beyoncé in a show-stopping outfit with a headdress. With lights and effects, we saw multiple Beyoncés, we saw multiple Blues race around her, and then we saw multiple women of color lining the stage and swaying from side to side behind her. (They were actually real.)
Beyoncé then walked through them to settle into a chair and sing "Love Drought."
If you ever thought it would be boring to watch Beyoncé sit in a chair, and then stand and sway, and then sit back in a chair, the queen proved you very wrong very fast. Beyoncé's outfit was carefully coordinated to emphasize her radiant pregnancy glow, the crown of lights surrounding her head displaying her as a goddess and a queen. As she launched into "Sandcastles," the sheer imagery of the performance was absolutely breathtaking. It basically revealed that her pregnancy photoshoot was really a preview of her Grammys performance, and none of us even knew it.
"If we're going to heal, let it be glorious," rang out to end the performance as the crowd erupted in applause and Beyoncé blew a kiss to her husband and daughter. Guys, I was in tears. I was screaming. Chrissy Teigen was screaming. I think we were all screaming.
Beyoncé can't seem to do a performance that isn't also a statement of some kind, which is what makes her an artist rather than just a singer. She's a powerhouse at the top of her game, and she's growing two humans inside her while being at the top of that game. I'm in awe, guys, and I think I'll be in awe for the rest of the week.