Adele's Grammys Performance Is A+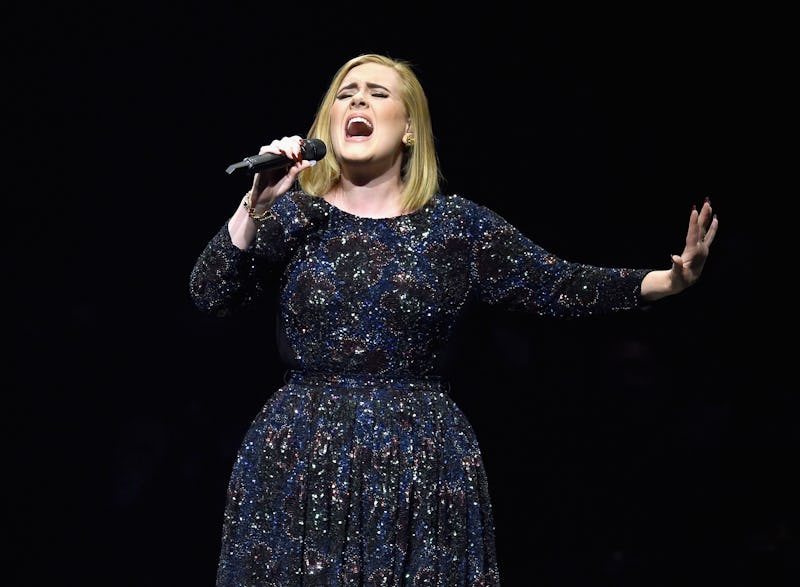 Kevin Winter/Getty Images Entertainment/Getty Images
Let's be real here: there's no one alive who thought that Adele's 2017 Grammys performance would be anything less than perfection. The singer, who's nominated for five awards at this year's show, is known for stunning live performances of her most-loved songs, and her Grammys appearance at the start of the show was no exception. Adele sang "Hello" from her nominated album 25, and the whole performance was just as beautiful and moving as fans have come to expect from the talented star.
Adele's Grammy night was already bound to be great, considering that she's nominated for so many awards, including Album of the Year and Record of the Year (for "Hello"). Giving such a killer live performance and receiving such a warm reaction from the audience must just be icing on the cake for her. For fans, though, seeing that performance was an absolute treat, as Adele never fails to bring her A-game to live shows and infuse already-great songs with even more power and passion.
That doesn't mean her 2017 Grammys performance was bound to be total perfection, though. At last year's show, Adele famously suffered technical difficulties while performing "All I Ask" from 25. Her microphone dropped onto the piano, causing the show to switch to a backup sound system which led to a loss of sound for a few moments. Adele handled it gracefully, but she told Ellen DeGeneres later on that she cried all day after the show, and that she was "so embarrassed" by the issue. And later in the 2017 Grammys show, Adele's tribute to George Michael contained technical difficulties, causing her to restart it midway through.
Thankfully, her first 2017 Grammys performance went off without a hitch. "Hello" was performed beautifully against a simple backdrop, with Adele giving the song the amazing power that's kept it such a beloved hit all these months after its release. Leave it to the singer to start off the Grammys with a pitch-perfect performance.