'The Get Down' Highlights Afrika Bambaataa & His Iconic Zulu Nation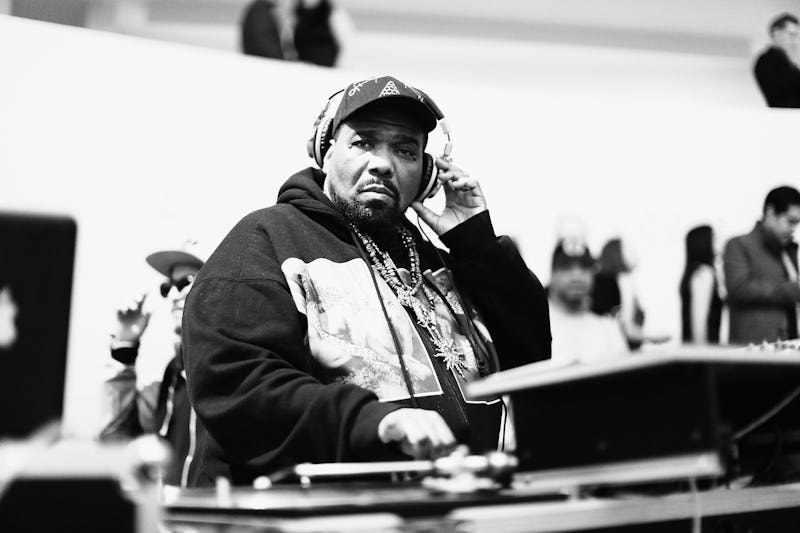 Neilson Barnard/Getty Images Entertainment/Getty Images
The Get Down may be fictional, but it's done well to flank its narrative with plenty of real-life touchstones. As it reimagines the music boom that flooded '70s New York, many of the figures that helped pioneer hip hop have appeared as actual characters. Mamoudou Athie plays the sage Grandmaster Flash, Eric D. Hill Jr. takes on the famed DJ Kool Herc, and now, the freshly released second half of Season 1 has ventured into Zulu territory to introduce the genre's third pillar: Afrika Bambaataa (Okieriete Onaodowan). But for those less familiar with hip hop history, you may be wondering who Afrika Bambaataa and the Zulu Nation are and what their impact has been.
Much like his contemporaries, Afrika Bambaataa is considered one of the founding fathers of hip hop. According to Rolling Stone, he quit the notorious Black Spades street gang in the mid-'70s and formed Zulu Nation, a music-oriented youth organization comprised of socially and politically conscious rappers. It was designed to protect and promote hip hop culture, championing messages of peace, love, and unity — a mission that's reiterated in The Get Down. When Ra-Ra (Skylan Brooks) brings his crew to Zulu's neighborhood in Episode 11, they're told, "The Nation of Zulu is not a gang. It is an organization of individuals in search of success, peace, understanding, and the righteous way of life."
Though Bambaataa himself was never particularly commercially successful, his contributions to music remain some of hip hop's most defining. Rolling Stone writes in the same article that his "encyclopedic knowledge of funk grooves" propelled him to prominence in the nascent South Bronx rap scene, where he earned the nickname "Master of Records" and formed two rap groups: Jazzy 5 and Soulsonic Force. His early work was characterized by round-robin rapping backed by live bands, but it was his use of electronic synthesizers and beat-box rhythms that most revolutionized rap. His seminal 1982 single, "Planet Rock," pushed the boundaries of what hip hop could sound like, going on to spawn an entire school of dance-oriented "electro-boogie" music.
In the decades since, Bambaataa has largely pulled back from the spotlight. He remained active throughout the '90s and early 2000s, releasing upwards of 20 albums across the course of his career.
In recent years, however, his once-esteemed reputation has come under major scrutiny. Billboard reported that in April 2016, former Zulu member Ronald Savage claimed Bambaataa had molested him multiple times in the 1980s, when Savage was a teenager. In the weeks following, three more men came forward alleging similar sexual abuse. Bambaataa has repeatedly denied the allegations, releasing a statement to Rolling Stone that asserted they were "baseless," "cowardly," and meant to "tarnish [his] reputation and legacy in hip hop." According to Pitchfork, Zulu Nation later restructured its leadership to dismiss "all accused parties and those accused of covering up the current allegations of child molestation."
Nonetheless, Bambaataa's legacy presses on, in The Get Down and in the music business.