Hillary Clinton Joked That, After 2016, She Seriously Considered Moving To New Zealand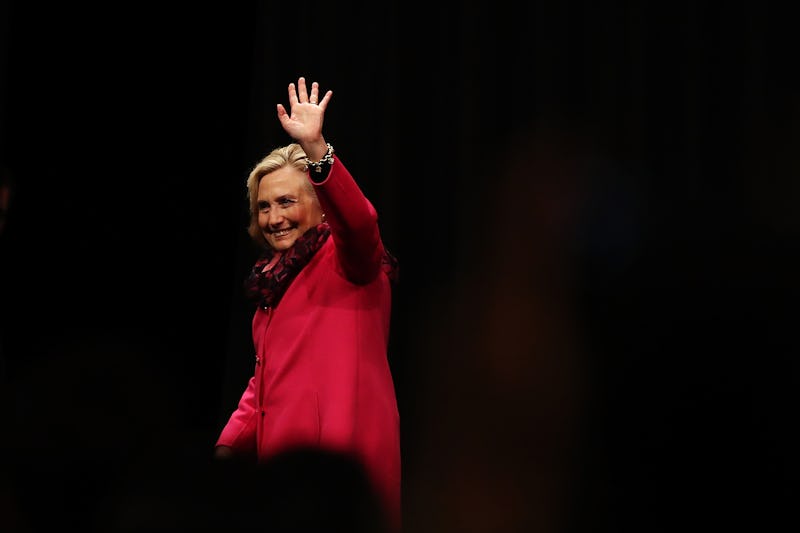 Hannah Peters/Getty Images News/Getty Images
It's been a year and a half, but the 2016 presidential election is still on everyone's minds, both inside the United States and outside of it. While visiting New Zealand this week, Hillary Clinton spoke about her presidential bid, and reflected on how it changed the way she views her role as a public figure.
"You know, in the past I felt like I had to be kind of careful in public, sort of keep my guard up," Clinton told a crowd in Auckland's Spark Arena. "Well, those days are over."
Some friends suggested she moved to New Zealand after her loss, she added. "And I appreciated the offers. Gave them some thought," she joked.
Referencing her book What Happened, a 2016 election post-mortem, Clinton told those gathered that she was glad to have the chance to "pull back the curtain" on the presidential race that still dominates headlines. She described the 2016 as "the first reality TV election in American history."
Though reflecting on the election is, at times, painful, Clinton said that looking back is also a rewarding experience.
"Those times I want to remember forever. The way it felt... to become the first woman to accept a major party's nomination to be president," she said. "And I'm still proud of the campaign we ran and the 65.8 million people who supported it.
Writing her book, she said, was "ultimately reinvigorating."
Many critics have suggested that Clinton should stop talking about her election bid so frequently, and in such depth. And as she has said before, there were times after her loss that she didn't even want to get up in the morning. But instead of giving up hope, she told the crowd in Auckland, she spent time recuperating with family and reading mystery novels. And during this time, while she wrote her book, Clinton said she came up with life lessons that other women — and Americans, in general — can and should take away from her experiences.
"As a person, I'm OK," Clinton said of her emotional experience post-loss. "As an American, I'm concerned. Because what happened is as much about the future, as the past. ... Everyone in life gets knocked down. What matters is whether you get back up and keep going."
Later in her talk, Clinton suggested to the crowd that Americans still struggle with the idea of female leaders. "People like me when I'm serving in a supporting role," she said, pointing to her tenure as first lady and secretary of state within President Obama's cabinet.
"But the minute a woman, at least in our country, stands up and says, 'Now I'd like a chance to lead,' everything changes," Clinton said. "And I can't think of a single woman in any walk of life who doesn't have stories to tell. So yes, there are plenty of reasons why being a woman in politics can be frustrating."
But, Clinton recognized, it's not just about her. She referenced a talk given by former First Lady Michelle Obama on Sunday, in conversation with Tracee Ellis Ross at the United State of Women Summit in Los Angeles.
At the talk this past weekend, Obama suggested that some of the battle for increased women's leadership has to take place between fellow women. "If [we] still have this crazy, crazy bar for each other that we don't have for men, if we're still doing that today — if we're not comfortable with the notion that a woman could be our president — compared to what? We have to have that conversation with ourselves, as women," Obama said.
As is often the case, Clinton demonstrated an acute awareness of her position as an international role model for women. Though she has failed in the past, she was overflowing with advice.