After Comey Memo, Bernie Sanders Demands Action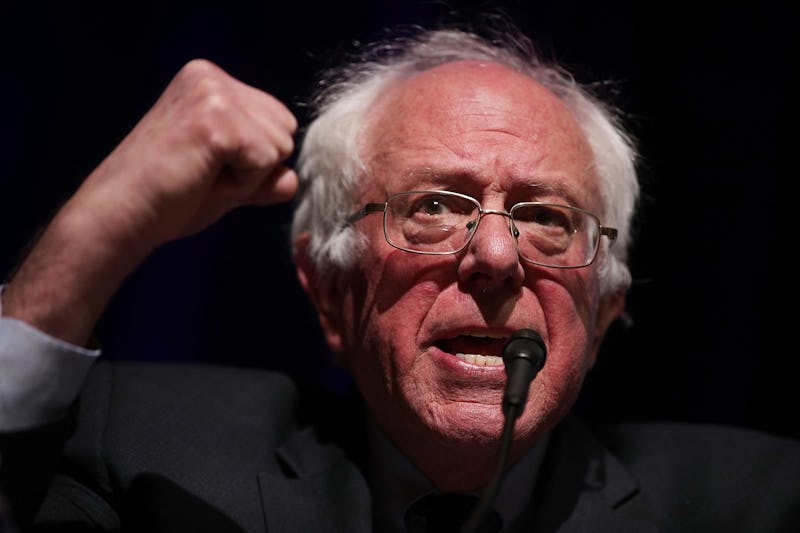 Alex Wong/Getty Images News/Getty Images
After reports that President Donald Trump asked then-FBI Director James Comey to shut down an investigation into former National Security Adviser Gen. Michael Flynn's alleged ties to Russia, Bernie Sanders was more heated than ever. The Vermont senator, who has long been critical of Trump's words and actions during the presidency (and well before), spoke out to make several requests for the future. Sanders' statement on the Comey memo doesn't hold back from what he thinks needs to happen.
In the official statement sent to Bustle, Sanders calls for four things he believes we need "now more than ever" — a special prosecutor for the Russia investigation, public recordings from the Oval Office, an independent FBI director, and Republicans holding Trump accountable.
Now more than ever we need a special prosecutor to determine whether there was collusion between the Trump campaign and Russia. Now more than ever we need to make public any recordings from the Oval Office. Now more than ever we need to make sure that the next FBI director is independent of the Trump administration. Now more than ever we need Republican members of Congress to work with us in demanding that Trump be held accountable for his actions.
Sanders has been calling for a special prosecutor to lead the investigation into the Trump administration's possible ties to Russia, as well as for an independent FBI director who is not involved with the Trump administration, at least since Comey was fired last week.
"It is clear that whomever President Trump handpicks to lead the FBI will not be able to objectively carry out the Russia investigation," he said. "We need an independent investigation into the Trump campaign's ties to Russia."
And when Trump tweeted a threat to Comey, stating he "better hope that there are no 'tapes' of our conversations before he starts leaking to the press," Sanders demanded that if there are tapes, they should be made public.
"No president since Nixon has secretly recorded conversations in the White House," Sanders wrote on Twitter. "If Trump did make recordings they must be made public."
Sanders has also stated a need for bipartisanship when it comes to the Russia investigation and Trump. The day after Comey was fired, Sanders said, "For the sake of our nation, democracy and the rule of law, it's time for bipartisanship and a search for truth on Trump's ties to Russia."
So far, no Republicans have stepped forward to loudly call for a deeper investigation. But it seems some members of the GOP are beginning to question Trump. Rep. Jason Chaffetz, chairman of the Oversight & Government Reform House Committee, said his committee is "going to get the Comey memo, if it exists. I need to see it sooner rather than later. I have my subpoena pen ready."
Sanders clearly think it's time for that, now more than ever.