Aid Workers Have Reportedly Demanded Syrian Women Perform Sexual Favors For Food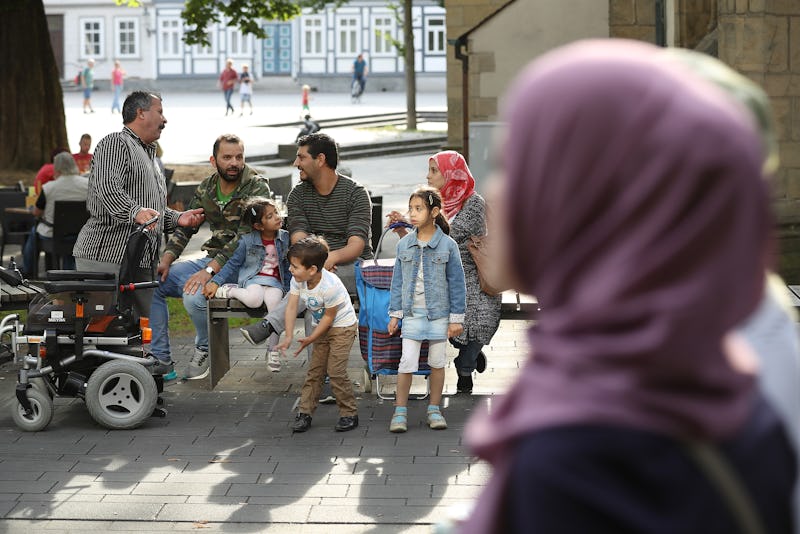 Sean Gallup/Getty Images News/Getty Images
According to a BBC report on Tuesday, Syrian women are being sexually exploited by aid workers working for the United Nations and other humanitarian organizations. Syrian women have reportedly been forced to perform sexual favors in exchange for basic aid such as food and supplies, and the reported accounts of sexual manipulation are so egregious that women have been reluctant to seek aid in the war-torn country.
In response to the report, the UN and other organizations have stated to the BBC that that they have no leniency or tolerance for such abuse and were not aware of specific details concerning such manipulation and abuse in Syria. Andrej Mahecic, a spokesperson for the United Nations High Commissioner for Refugees told the BBC that it was "important to understand that in any aid emergency there is a risk of sexual abuse and sexual exploitation, and to abuse somebody who is in need of assistance is despicable."
This is not new, however. Three years ago, a humanitarian worker named Danielle Spencer discussed with the BBC reports of sexual violence at aid camps in Dara'a and Quneitra areas in Syria. According to Spencer, male workers "were withholding aid that had been delivered and then [used] these women for sex."
In a report carried out by the United Nations Population Fund entitled "Voices From Syria 2018: Assessment Findings of the Humanitarian Needs Overview," researchers said that focus groups in Syria detailed examples of "women or girls marrying officials for a short period of time for 'sexual services' in order to receive meals; distributors asking for telephone numbers of women and girls; giving them lifts to their houses 'to take something in return' or obtaining distributions 'in exchange for a visit to her home' or 'in exchange for services, such as spending a night with them'."
In the same report, one adolescent girl from Homs, Syria told the UN researchers, "We heard about women being blackmailed were the distributor asked for favors from women in exchange for services — such as spending a night with them." Alleged sexual violence against Internally Displaced Persons (IDPs) was exceptionally heightened, according to the report. Such women, along with widows and female orphans, were "regarded as particularly vulnerable to sexual exploitation."
Participants also shared examples of women refusing to go to camps unless they were accompanied by their brothers or fathers as they feared being forced to perform sexual acts for aid. In addition to the alleged sexual violence, the report stated that "separated children, the elderly, and widows are humiliated during the distribution [of aid]" by allegedly being forced to take photos by the third parties working with global charity organizations.
Spencer told the BBC in 2015 that the stigma associated with seeking and gaining aid, like basic items including soap and blankets, was so toxic and debilitating that Syrian women wouldn't go to the aid agencies for help. "I remember one woman crying in the room and she was very upset about what she had experienced," Spencer said.
"Women and girls need to be protected when they are trying to receive food and soap and basic items to live. The last thing you need is a man who you're supposed to trust and supposed to be receiving aid from, then asking you to have sex with him and withholding aid from you," she added.
Spencer also said that the United Nations was deliberately ignoring the plight of Syrian women. However, the UNHCR spokesman, Mahecic, told the BBC that such a description leveled against the organization was false. "The mere suggestion that the UN can somehow control the situation in a war zone is rather simplistic and disconnected from the reality of what an aid operation looks like in an open and fierce conflict," Mahecic said.